London to Amsterdam Charity Bike Ride
Nikki Bone our newest Anerley member, relates her four countries cycling achievement.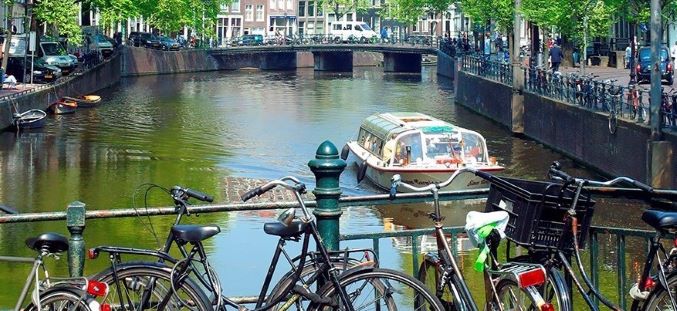 I joined the Anerley bike club in April this year, as in a moment of weakness at Christmas, my sporty younger sister convinced me to sign up for the London to Amsterdam charity bike ride. She had done several London to Paris bike rides and had been asking me for years to join her. I thought if I don't do it now, when will I do it, so I said yes.
Although I had regularly commuted into work when we lived in Streatham, I hadn't done much riding at all for several years. She informed me that I would need to buy a road bike (De Vere cycles in Streatham sorted that out for me) and I needed cleats (didn't even know what they were) as it would make my cycling considerably more productive. So, after spending a small fortune on a bike, accessories and clothing (gosh it's pricey) I had all the gear – but no idea! I was really pleased to find Anerley bike club, and Vince was super helpful in corresponding by message and email and sending me all the club information. He suggested I join Des for my first ride which I did at the beginning of April and so I made my way to Purley for the first time and my training began.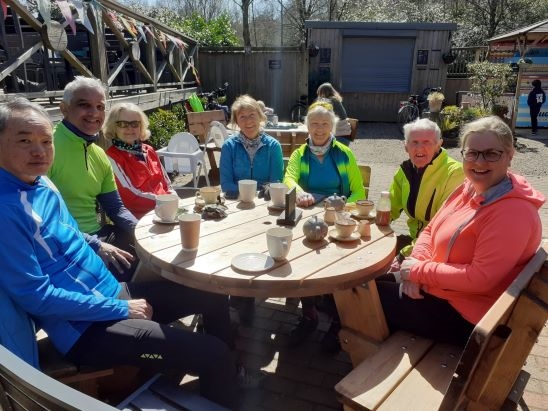 My first Anerley Ride to N.T Clarendon Gardens 7th April
I am super grateful to everyone at Anerley for their support and encouragement and especially Des who was super supportive and even threw in some longer rides to help me get to 70 miles.
I must admit that when I agreed to do the ride, I really did not appreciate that training for a challenge like this, takes so many hours in the saddle. The ride was at the end of May so with two months training under my belt and with three longish rides (2 just under 70 miles and 1 of just over 70 miles as I cycled around the roads near home to break the 70 mile barrier!) I had run out of time. I was nervous that I hadn't done enough training and that I would be scooped up by the support vehicle, so with trepidation I got the train down to Canterbury the night before. We met the group of 20 other cyclists who were a lovely bunch, had a very nice Italian meal together and then retired for an early night in readiness for the early morning start.
DAY 1 – ENGLAND, FRANCE & BELGIUM
The first section was Canterbury to Dover (about 20 miles) and we had to get there at 8.30 a.m to catch the ferry. I was pleasantly surprised that this leg was pretty easy and we made it in plenty of time – clearly the Box Hill training had helped!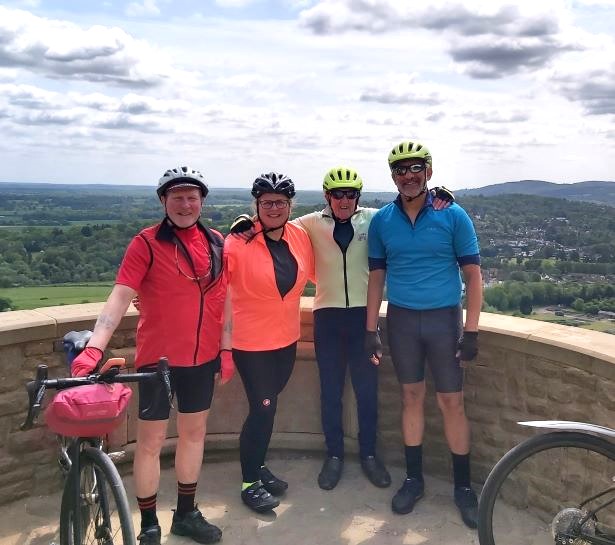 Training ride, circuit including to the top of Box Hill
The ferry ride to Dunkirk was a welcome break and then we rode 60 miles through France and Belgium to get to Bruges for the evening. That first day was tough, there was a strong head wind and a lot of cycling down a canal which felt a bit like Groundhog Day as it just kept blowing, but we made it and stayed in a great cycle themed hotel in Bruges.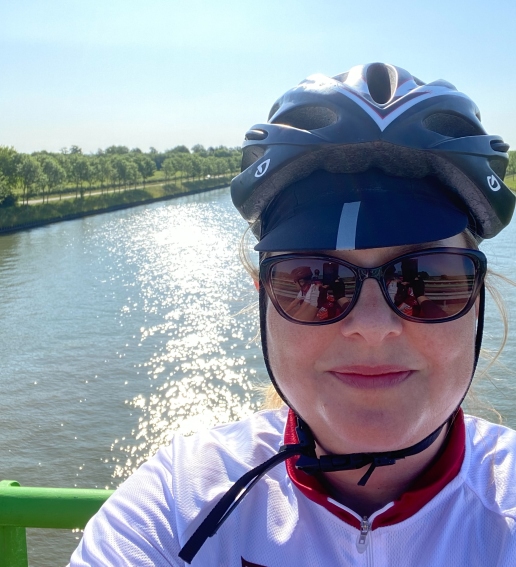 Mile after mile along wind swept canals!
DAY 2 – BELGIUM into HOLLAND
It was 87 miles from Belgium to the Netherlands and it was a beautiful sunny day. We stopped off at a wacky bike museum which had some crazy bikes which was fun. Our support crew were fabulous and it was lovely to cycle with different people throughout the day.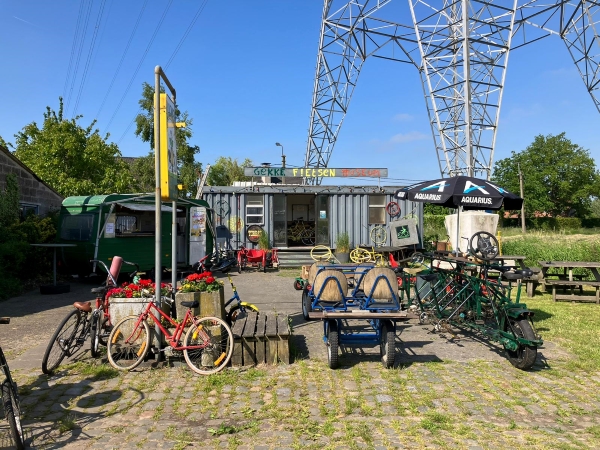 The tea stop at a quirky bike museum in Belgium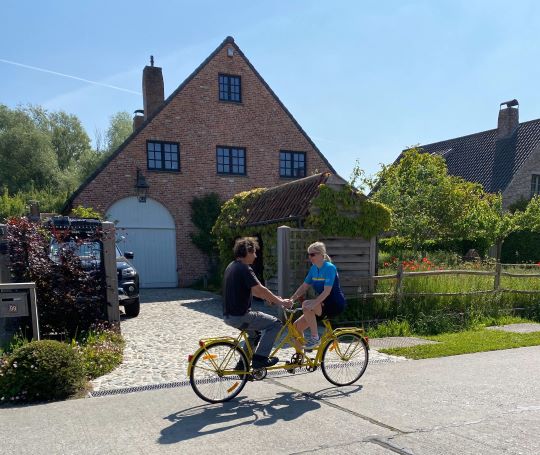 ​Something different! The quirky bike museum had loads of crazy bikes. A Push-me-pull-you bike!
DAY 3 – THROUGH THE NETHERLANDS
This was 93 miles through the Netherlands, catching small ferries across rivers. Cycling along their wide, smooth cycle paths was fabulous. Some of the group carried on cycling that day to break the 100 miles barrier, but I decided to save that for another day when my legs were fresher.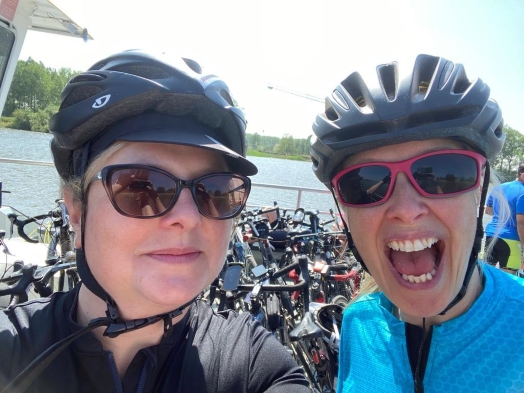 A ferry loaded with our group's bikes on one of the several rivers that we had to cross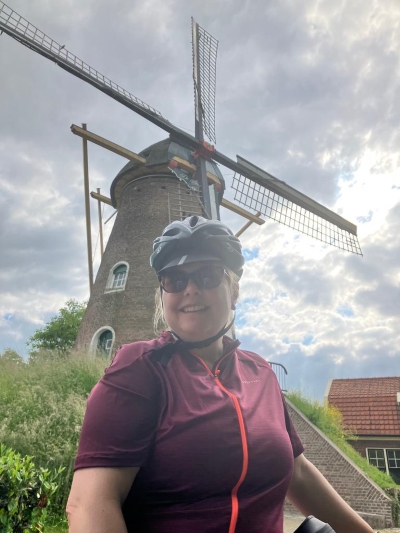 And of course Dutch windmills!
DAY 4 – CONTINUING across HOLLAND to AMSTERDAM
Another 80 miles and we finally arrive in Amsterdam – my quads were pretty solid and took a while to warm up that morning, and stopping for a break it was hard to get going again – but we persevered. It was amazing to get to Amsterdam and finish at a historic windmill with family and friends there to greet us at the end of the day.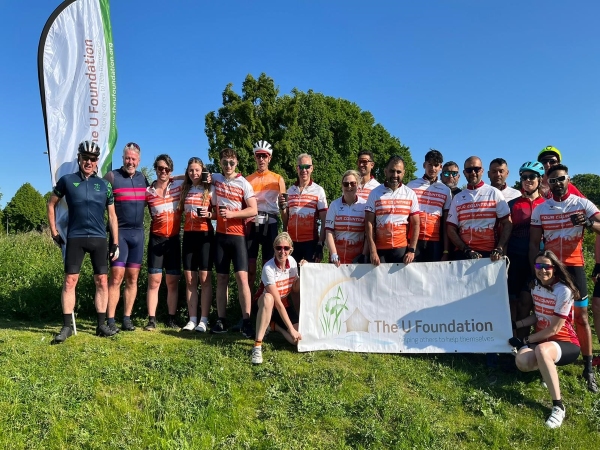 I was very proud of myself -340 miles in total – and I broke a personal record every day with the most miles I had ever ridden. And the last day, due to a tailwind, my fastest average speed. I even learnt how to draft which I particularly enjoyed!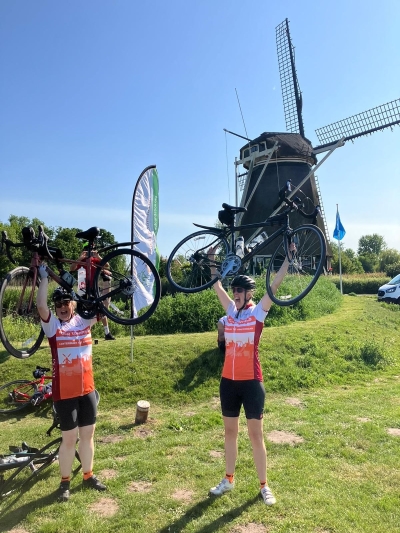 Elated! My sister and I at the finish in Amsterdam (I am on the left)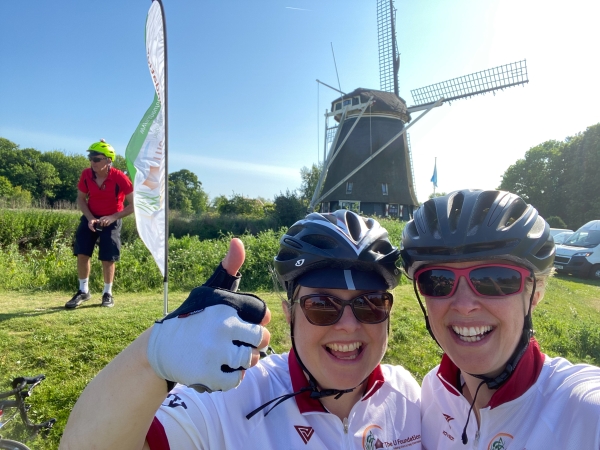 All in all, it was a great challenge and I feel very proud of myself for achieving it and there was no question of me having to get into the support vehicle which I was really pleased about.
This charity event is the https://theufoundation.enthuse.com/cf/four-countries-cycle-challenge, for which I have raised £1,790 – https://theufoundation.enthuse.com/pf/nikki-yates
The only downside was that unfortunately I trapped my ulnar nerve so developed cyclist palsy and a clawed left hand. My hands had started hurting on day 2 and the crew did help adjust my bike as much as they could so it did improve, but I was still tipped too far forward and the further two full days of cycling just exacerbated it. One month later and several weeks of physio, it is thankfully improving but medical advice is to stay off the bike until it's completely healed. So it'll be a while yet before I can join Des and crew, but confident I'll get there. Hopefully see you all soon as I'm missing cycling, although I think I prefer to do between 40-60 miles on a ride rather than 80!
Nikki Bone
Editor's Note: After all the effort that Nikki has put in, perhaps Anerley B.C can continue to provide a little more support to help boost her fund raising total.