Gossip from our Roving Reporter!
Anerley riders as far as the eye could see!
It reminded me of pre Covid days, but this was 1 Feb, a beautifully warm sunny day when 2 groups met at Shurgard – Des's group of 10 heading for Priory Farm and beyond and Tom V's group of 8 heading for Ripley. A 3rd group of 4 met at Farthing Downs heading for Horne Golf Club. So a total of 22 riders out on a Tuesday, can't be bad and it's only February!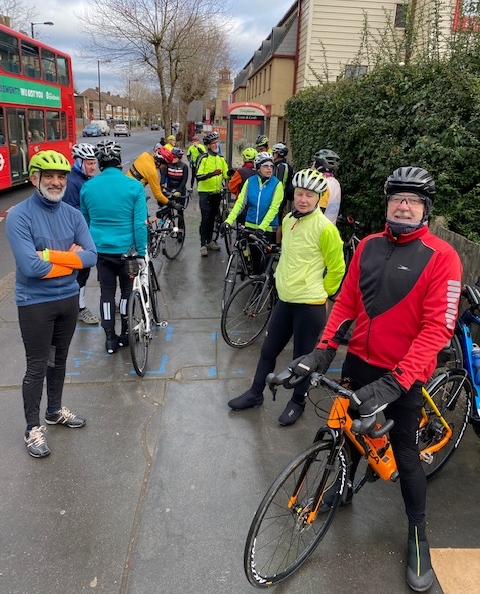 You may have noticed, I've been featuring new members in my column, which I think has been a great way of introducing them, to all of us, who might not necessarily ride with them regularly. I've now decided to expand this further and profile 1 member a month and get them to tell us a bit about themselves, that we may not already know!

So it's over to you. Just be ready when I ask you to write a few words about yourself!
And to start off this month, I'll introduce new member Sharon Scott: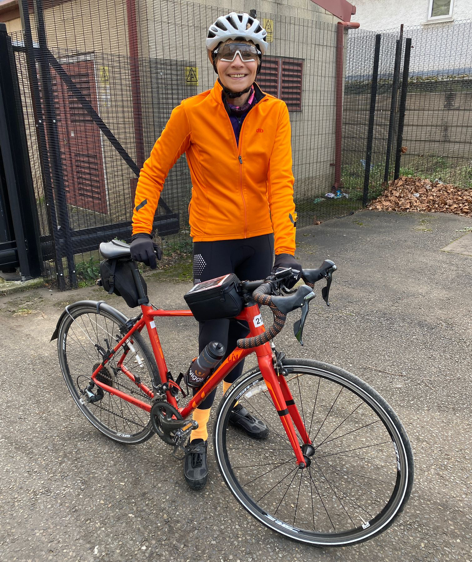 Hello Everyone
I've just joined Anerley as I am doing Ride London in May and although I've done a few triathlons, cycling 100 miles is definitely a step up and I therefore need to be with some hard core cyclists who can help put me through my paces!
Ride London is part of me looking to secure the London Classic medal this year. So am intending to do the Swim Serpentine this year as well, which will get me the medal as I've already done the London Marathon a couple of times.
I've only been cycling since 2018 as part of my Tri training and am thrilled that at this stage of my life I've managed to find something new that I really enjoy as well meeting a great group of people.

Sharon

What's in the panniers Des?

I've often wondered why Des's panniers always look so full and we often see a vast array of tools coming out together with a selection of jackets (some are carried for others!). I've even seen an Amazon parcel pop out (it contained his latest cycle training book) but this day's little wheeze was a milk carton, a 2 litre one which thankfully was empty.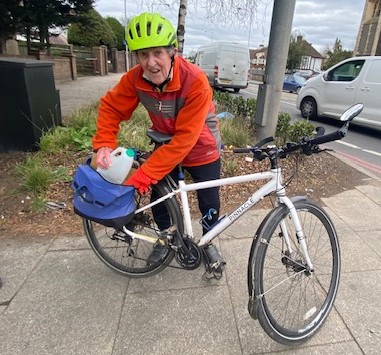 Why you might ask! Well Des wants us to do more weight training and he wanted to share his thrifty idea of lifting used milk cartons filled with water, which he tells us weigh 2 kilos each, " much better than paying out for fancy weights." And he gave us a demonstration of squats! (I think it might be the onset of dementia)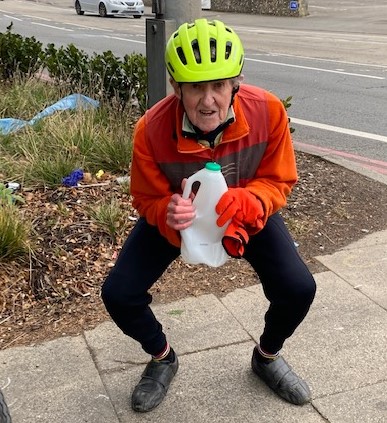 But imagine how quickly he'd get up his beloved hills if he was on a carbon road bike!

A breezy ride to Squires Garden Centre, Buckland. Wed 16 Feb

Six of us set off on this short, hilly and blustery ride. Des was trying out his new training regime (which I'm sure he'll write an article about ) so we knew we were in for some hills! We started off with the steep climb up up Portnals Rd to Chipstead, Mugswell and onto Reigate. Then over Reigate Heath and Betchworth where the River Mole was in flood after the torrential rain of the night before.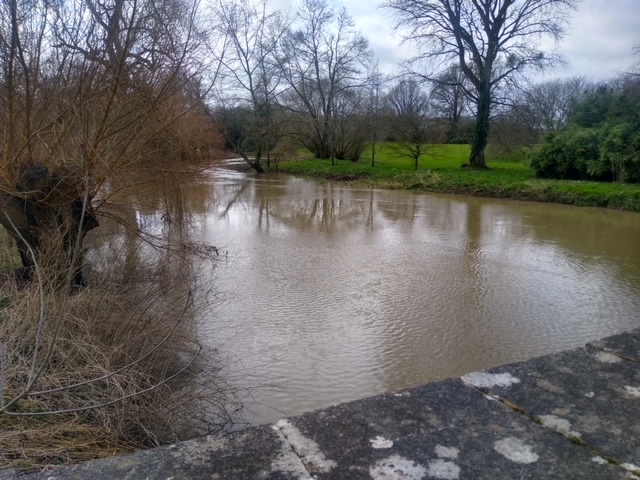 Then we continued onto to Brockham, where we stopped by the old village pump.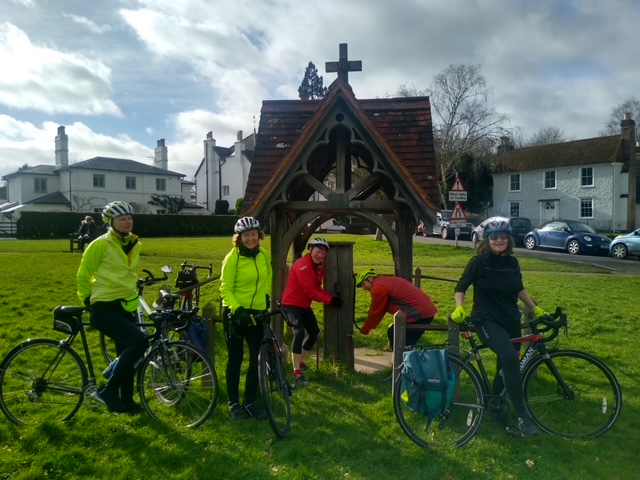 So we knew we were in for some hills again as we looped back to Betchworth and Buckland for the tea stop at Squires G.C. After that ,and suitably refreshed, we only had the climb up to Gatton, Merstham and the A23 to home.
It was great to have Fiona riding with us, (far right on the photo above) she is a long term friend of Sally and Tim Styles, but a fairly new member of Anerley BC. It was also the first time she'd been out with our little group.

Denise