Coast to Coast Tour of Spain, April 2022
My inspiration for the Grand Tour was this book and it was worth every penny!
https://www.cicerone.co.uk/cycling-the-ruta-via-de-la-plata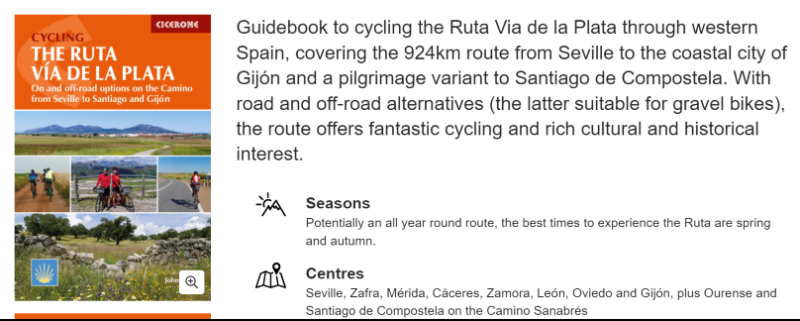 So not LJOG, but maybe the Iberian equivalent. In this case an unsupported cycle ride, South to North, Malaga to Santander. I have been thinking about this ride since the beginning of the pandemic, perhaps realising that my usual trip to the Americas was a little ambitious. Having researched the route I found it was largely already well travelled, specifically from Sevilla to Santiago. It is one of the many pilgrim routes traversing the Iberian peninsular. The route, or Camino in Spanish, is also known as Via de la Plata and was originally a Roman way. However, I adjusted and lengthened it with a leg from Malaga to Sevilla, a dog leg into Portugal, a detour North to Gijon and then a ride west to Santander for my ferry home.

Luckily the cycling guide book covering the main part of the route was published 2 weeks prior to my departure and daily plans were largely premised on that guide. It identifies on and off road routes and is purchased with links to with downloadable gpx files.
I arrived in Malaga by air but with a ticket to leave a few weeks later by sea. Fortunately I had an old bike bag that had languished in my loft for 10 years. I disposed of on arrival by leaving it by the side of the rubbish collection bins outside my Airbnb. I had worried unnecessarily about the transfer from the airport to my city Airbnb but arriving at 11.45 pm a waiting taxi driver dropped down his back seats for the large bag, charged me €20, refused a tip and safely saw me to the door. I returned home with Britanny Ferries from Santander, more costly than airfare but the service is excellent and you get some free food, a talk on marine conservation and time to decompress on this 29 hour crossing. I arrived punctually at Portsmouth at 8pm but leaving the ferry port by cycle is tricky and poorly signposted. I booked a £6.50 ticket to Clapham Junction and was safely home in Croydon by midnight.

Generally I stayed in small hotels, pensiones or Airbnb, costing between €25 and €60 euros a night. None of these were booked more than 2 days in advance. The whole business of accommodation is worth thinking about. Camping doesn't really suit me anymore; I'm not set up for it. I have tried albergues (Spanish hostels) but I am not up for communal sleeping and in any case they closed during the pandemic and many have yet to reopen. For me, booking ahead a day or 2 gave sufficient certainty and flexibility. There was one exception, Bejar in Castile and Leon which seemed like a pretty nice place but was fully booked over Semana Santa (Easter) so I had to push on to Salamanca. Otherwise I was never disappointed. Except on one occasion I was allowed to keep my bike close at hand and only had to use a padlock in one location with a particularly strict pension owner who wouldn't let me guard it in my bedroom.

Few of the rides were particularly difficult but there were some notable exceptions. I did miss my way towards Sevilla and had to take a taxi to get back on track; and, as mentioned above, Easter created accommodation problems meaning I needed to do 2 legs in one day into Salamanca.
The ride over the Cantabrian mountains towards Oviedo (below) was the most extreme. The road had been cut through the mountains and I hadn't anticipated snow, sub zero temperatures and the windchill. Also from Gijon to Llanes I encountered a westerly storm with 40mph winds and constant rain for over 60 miles.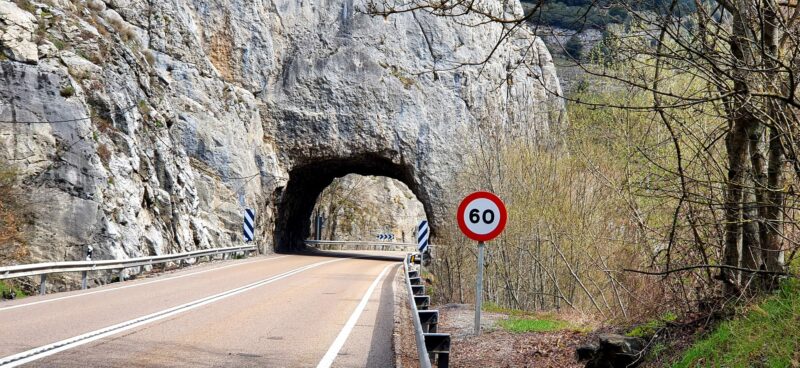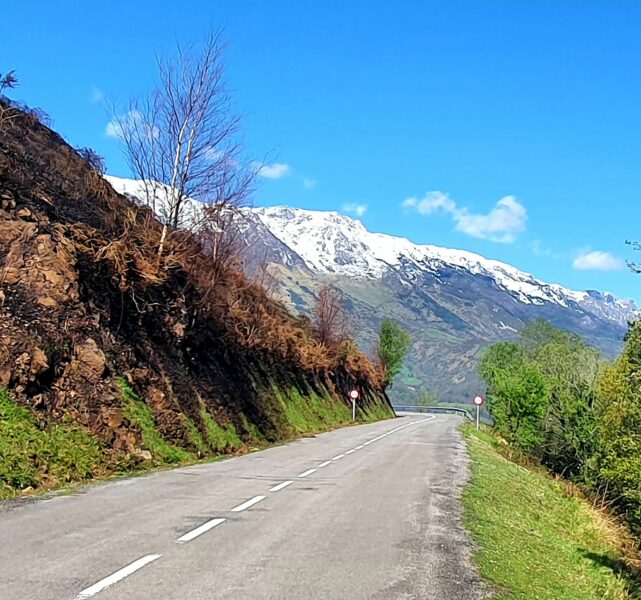 Also from Gijon to Llanes I encountered a westerly storm with 40mph winds and constant rain for over 60 miles.
The mix of trail and road offered by the guide book rides was pretty good. The guide gave advice on trails, difficult sections and boring stretches. The N630 road is also part of the route and a fairly constant companion. It is almost always empty of traffic since the nearby motorway takes the bulk of traffic; often it has a generous margin for cyclists and walkers. You can also navigate trails by plentiful camino signs with the familiar clam shell or yellow arrows.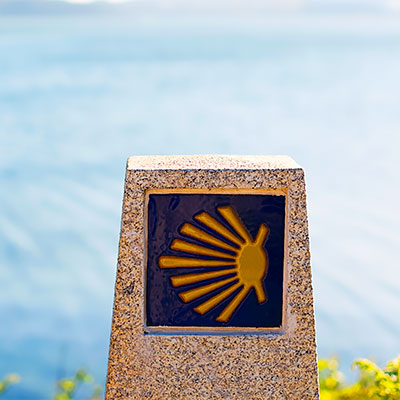 Occasionally the signpost route parallels a busy roads and alternative routes may offer a better experience if sometimes travelling a little further. Off the guided route I used Komoot and Wikiloc Apps. The former optimises for previously travelled routes and filters between off road, gravel, tour bike and road bike; you need to be careful since it sometimes selects unnecessary detours on steep ascents. To use Komoot in Spain you pay a one off price to give access to the world map, otherwise it is free. Wikiloc is an application favoured by Spanish travellers and is a ride repository by previous travellers, sometimes with photos and descriptions (in Spanish). Both of these apps, Bluetooth routes directly from your mobile phone to a Garmin device. I used the Garmin Edge 1030 and since I depended on it so much I sometimes wondered if I should have brought a backup device or mount for my phone.
My bike is a steel all purpose job made in Colombia and assembled in the UK. This is it below, stowed away on the car deck on the ferry from Santander to Portsmouth. As you can see I had to carry a lot of luggage!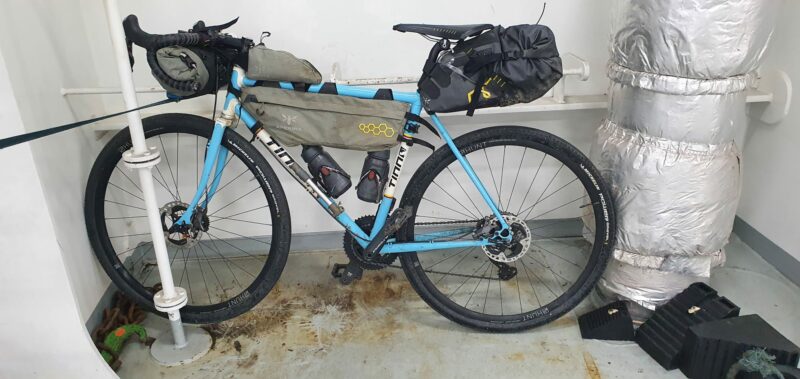 The bike served me well but I had a few ongoing issues around transmission and saddle fixing; however, all problems were kept under control. It also has, and I love, Di2 electronic shifting, but it was a faff charging it on such a long journey and I was suffering some accelerated battery drainage that kept me guessing as to whether I would have power. Otherwise no problems; I had no punctures on my tubeless setup, even though I carried a pot of sealant for all those miles just in case. I also carried a wrench for removing the brake discs since I didn't want to risk their damage in air transport.
My luggage was very light with Apidura rear saddle bag, a half frame bag, handlebar stuff sack and top tube small bag. All worked pretty well although stuff sack proved not to be waterproof.

For clothing I had 2 sets of bibs and shirts, 1 each of leg warmers and arm warmers, some fairly impenetrable shoes, 3 jackets and a gillet, 2 x neck ruffs, 2 x socks and 3 pairs of gloves + 1 set of daywear including sandals. All were worn at some point.

A great deal of Central Spain is at around 2500 feet so it can be quite chilly, and my highest mountain pass at 4500 feet was into driving snow that was settling on the roadside. Generally I faced a biting northerly wind except on the penultimate day when I was blown along by a 40 mph Westerly in driving rain.

The terrain and scenery was interesting and ever changing – mostly sandy gravel trails, sometimes rocky, rarely technical.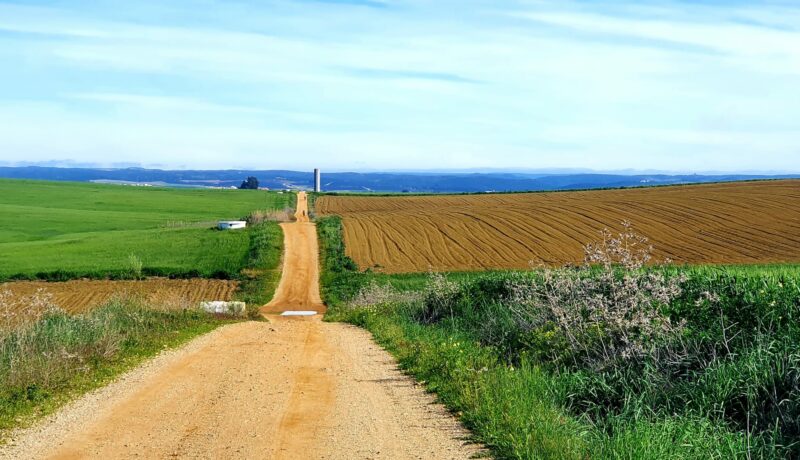 Roads and trails stretch off into the distance with very little traffic. I saw almost no cycling tourist although there were a good number of friendly Spanish road cyclist on the weekends. On the Camino I would generally see 2 or 3 walkers / pilgrims every hour or so but sometimes fewer.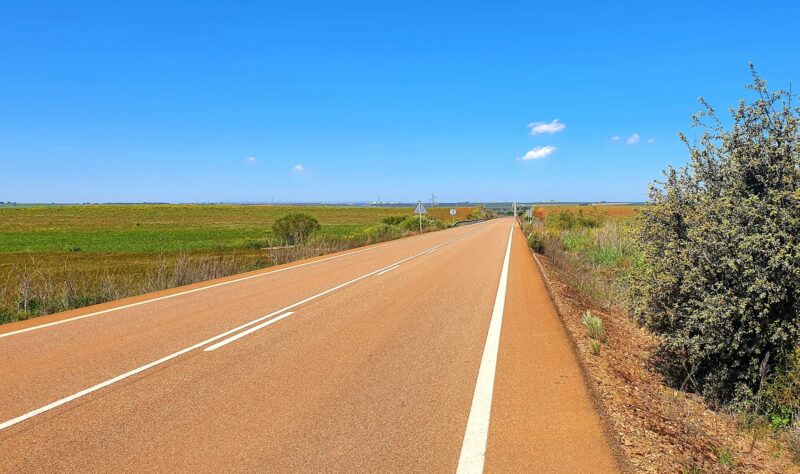 The best views and scenery were up on the Dehesa a high pastoral plateau where the flowers were stunning in their seasonal display. The Meseta, equally high was more barren reminiscent of moorland and the Cantabria mountains were splendidly snow covered and craggy.

Visiting towns and cities was always a bit of a tension. I wanted to see something of their sights and study their history yet often I was too tired. But I especially enjoy the visit to Merida which was originally an old Roman town. Here there is still a lot of the ancient Roman structures. Below is the Temple of Diana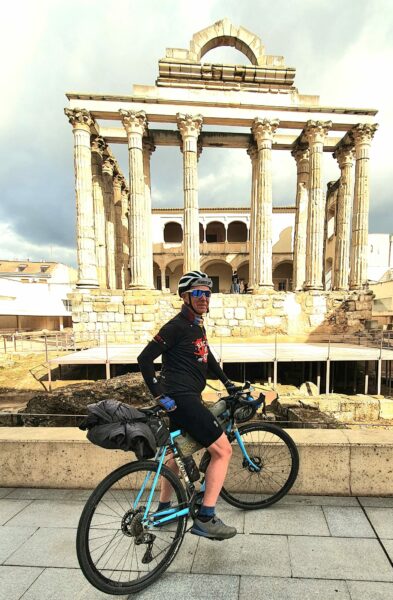 And this, the Puento Romana over the River Guadiano at Merida, all 62 spans and claimed to be the world's oldest surviving bridge.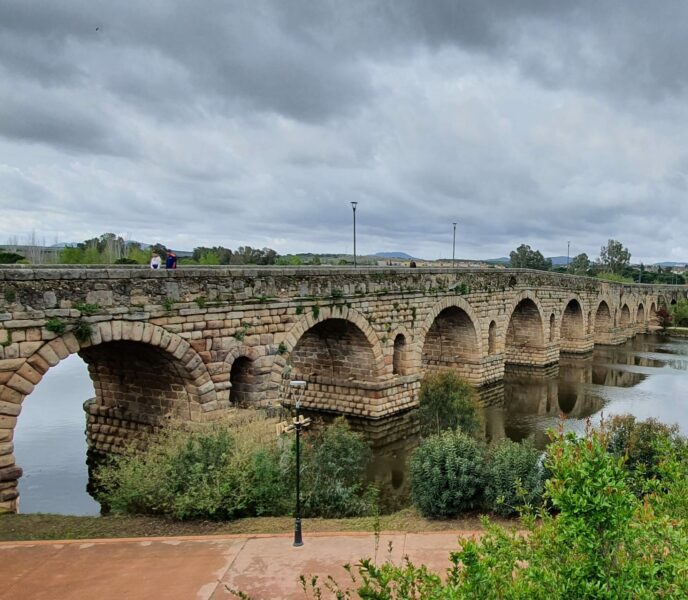 My primary objective was completing the journey in time to comfortably travel home so I mainly concentrated on noticing and enjoying the many sights along the way. Roman bridges were particularly prevalent plus a never ending supply of churches.
This was looking down on another famous bridge which I was soon to cross over on the N630, at San Vicente de la Barquera, not far from my journey's end at Santander. Claimed to be of Roman construction it was actually built circa 1490, at the time of the re-conquest of Spain when the long ruling Moors were finally expelled.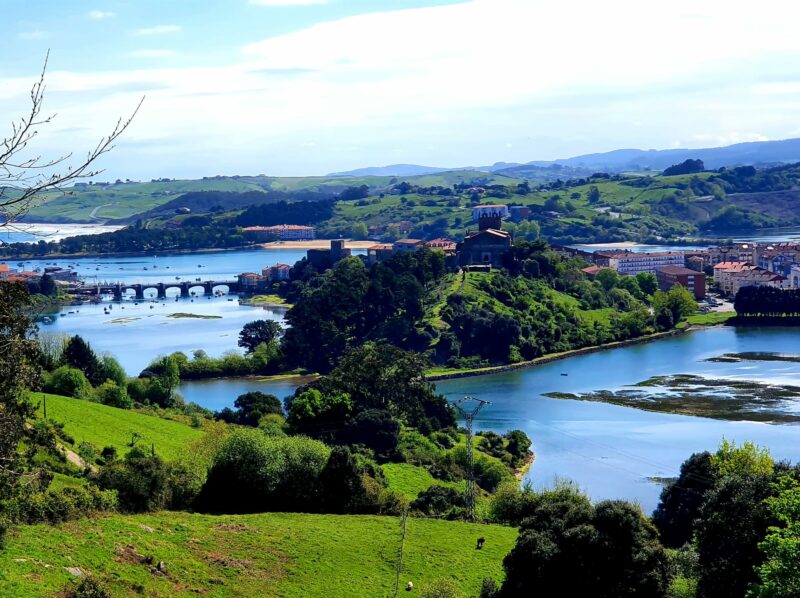 Some of the areas seemed particularly worthy of revisiting particularly for a cycling holiday for example Bejar and Pola de Lena may be worthy of a return road cycling visit.

Emotionally, I almost always felt motivated to ride each day although some of the farm trails were uninteresting and the extent of Spain's farming industry is huge and to some extent disfiguring.
Feeding myself was always a priority and I preferred when I had access to cooking facilities. I usually made myself a sandwich to travel and ate cheap juice oranges. I treated it more as refuelling and in consequence lost about 4kg along the way.

Overall I would recommend this ride to any moderately experienced cyclist. It has lots to offer and felt very safe. You might easily chose to concentrate more on history or local food or spend longer exploring some of the many side trails. Costs are fairly reasonable and in an emergency you will find the Spanish very kind and helpful. Traffic wise I had almost no problems; drivers were all too considerate. I covered just over 950 miles and felt a great sense of accomplishment particularly when I reached the Cantabrian sea.

"Buen camino" (as you will hear them say)
Alan Malarkey