Anerley B.C at Wales 2023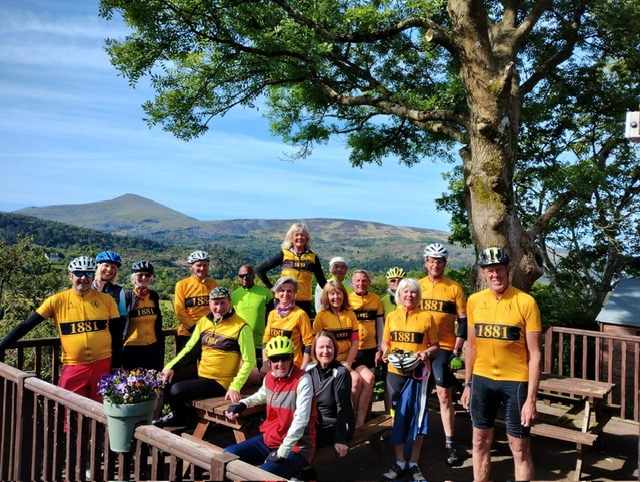 "Didn't We Have a Lovely Time The Day We Went To Bangor "
(Song, 1979 – but more about the song later!)
Meanwhile, huge CONGRATULATIONS to Julie who rode all the way to Snowdonia on her own and clocked up 500 miles in all. Well done Julie.
The rest of us (18 in total) set off on Sunday 28th May, some by train and the rest by car. Warren, Des & Tom Tom, the first to arrive, were soon out on their bikes exploring. Others turned up throughout the afternoon and either walked or cycled while those arriving by train rode the 10 miles from Bangor station up to our accommodation in Deiniolen. Once we were all together, we set off for dinner at a local pub (which was pretty busy being Bank Holiday) and discussed who was riding in each group for the next 3 days exploring Snowdonia.
Our accommodation was at https://www.londrylloutdoors.com/ where we had exclusive use of the main house and attached bunk house which can accommodate up to 25 people in decent comfort. There was also a fully kitted out kitchen with dishwashers, dining room, lounge with flat screen, DVD's etc and separate classroom/ games room which we used to store our bikes. Eve, the owner, is a family friend of Denise so she kindly gave us special rates
Des did a grand job of planning our routes and each day he offered a short or longer option, generally to the same destination. Tim & John Diamond led the longer rides and Des, Peter Roberts & Denise led the shorter rides (in sub groups of 4 riders following the master)
Monday 29 May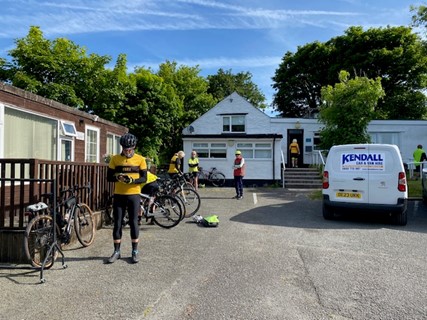 Londryll Outdoors Centre, getting ready for the off on our first days ride.
We woke to absolutely perfect weather which was to last all week. Not a cloud in the sky. Eve (the owner of our accommodation) had never seen weather like it in Snowdonia and was pretty cheesed off as she and her family were leaving that morning for a holiday in Corfu.
We had breakfast and were ready to hit the road by 9.30 & 10am. Today we were heading for Betws y Coed and the short ride clocked up 49 miles and an elevation gain of 4,000 ft and the long ride clocked 58 miles with an elevation gain of 4170 ft. Everyone was stunned by the beauty of the area and Peter & Denise jumped for joy when they reached the top of Llanberis Pass.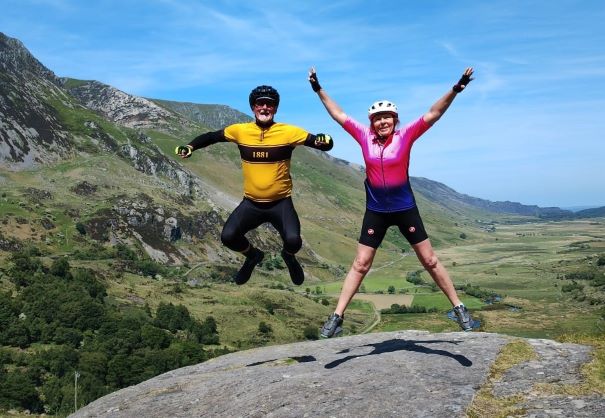 The route also included a section of the off road, and very picturesque, Ogwen Trail which took us through a slate quarry, not great for the tyres but remarkably, we had only 2 punctures throughout the whole trip.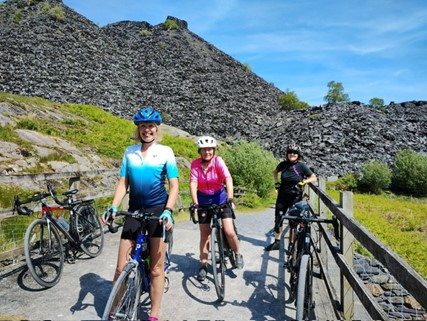 Lunch was a very long drawn out affair at Caffi Siabold, chosen for its famous gigantic scones (think 3 normal scones stuck together). It had plenty of space for our large group but the service was very slow and we had many more miles to go.
And a couple more pics of the rugged scenery along the Ogwen Trail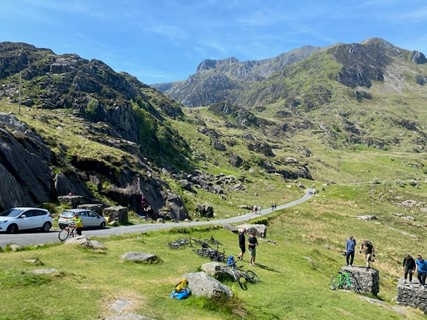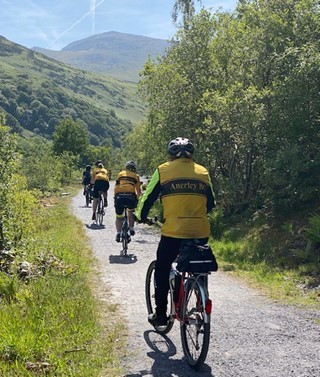 Note the surface – this bit was GRAVEL!
We got "home" at around 6.30pm and tasked John, Brian & Tim to fire up the BBQ and grill the burgers and sausages while the others prepared veggie kebabs, salad etc and Marilyn & Jo were left in charge of the Gin.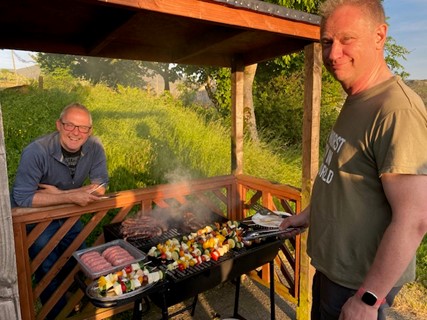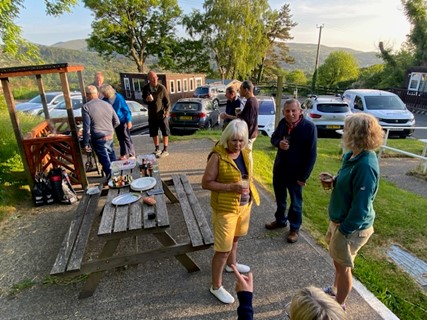 Sundowners on the terrace
Tuesday 30 May
Today Des was leading a walk to Llanberis and Lake Padarn and subsequently clocked up 10 miles. The rest of us set off for Anglesey – Denise's group cheated by driving to the Menai Bridge leading onto the island, in order to skip the long climb home.
Peter had planned these rides and very nice they were too. The long ride was 66 miles with elevation gain of 4641 ft and the short ride 45 miles with elevation gain of 3000 ft. Again we had a mix of coastal roads, inland lanes and gravel tracks. Peter had the fright of his life when a horse jumped over a fence right in front of him, closely followed by her foal. Both trotted off up the lane but then turned back and wanted to pass us. There was a bit of a standoff until Jo suggested we all turn our backs to the horse so as not to frighten her more, which worked and both mum & baby passed by and we were soon on our way again.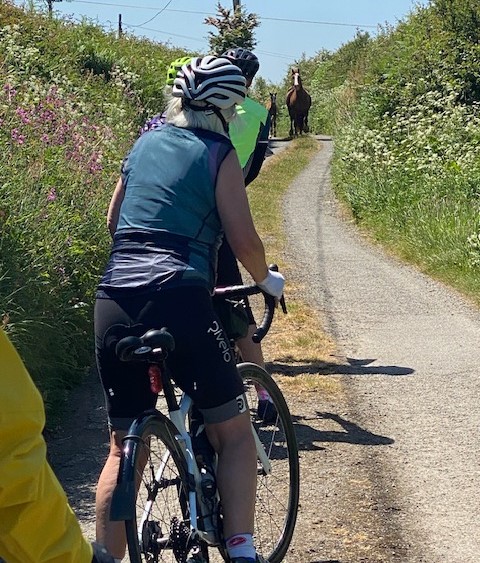 Our close encounter!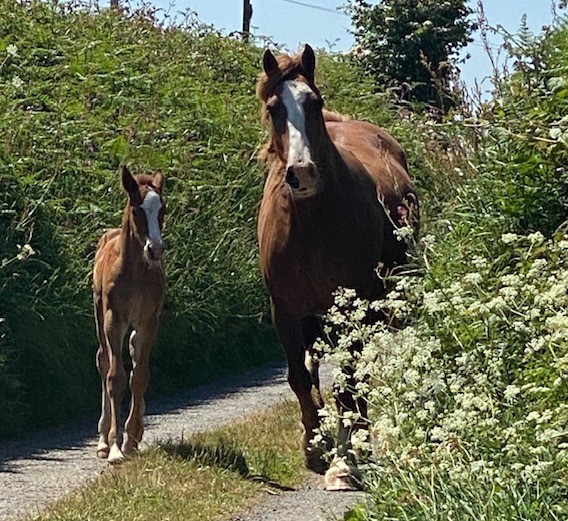 Our first stop was Beaumaris Castle café then a lunch stop at Llangefni at a brilliant Turkish owned café then back to the Menai Bridge before the long climb home (for some!)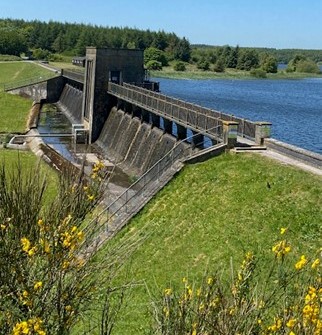 Llyn Cefni Dam, Anglesey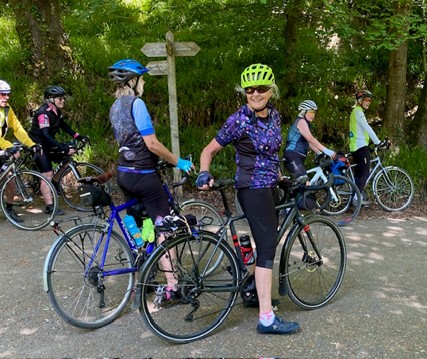 The signposted Llangefni Trail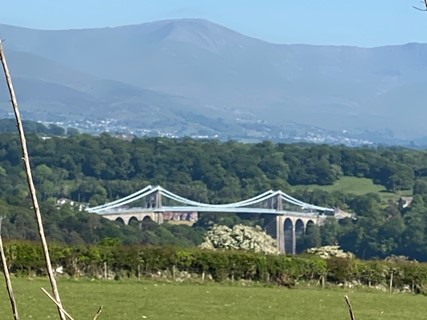 Menai Bridge with Snowdonia at the rear
Dinner that night was a repeat of the previous evening as we had so much uneaten food leftover (Denise went a bit mad in Costco!) The beer, wine & gin were flowing for those partaking which leads me nicely back to the SONG …..
Didn't we have a lovely time the day we went to Bangor
A beautiful day, we had lunch on the way
And all for under a pound you know.
On the way back I cuddled with Jack
And we opened a bottle of cider,
Singing along to our favourite song
As the wheels went round
Jo had started humming this song on a ride and it got into Jo & Denise's heads so they couldn't help but start a sing a long when it came up on the play list after dinner. Thankfully Alison & others knew the words so off they all went. Happy days.
At this point I feel the need to report there were no thick heads next day!
Wednesday 1 June
Des had planned rides to Criccieth, about 60 miles minimum but when we all found out the return included a climb up and over the Pen y Pass there was a mutiny so he hastily re-planned a shorter route. Needless to say, John, Tim and their fast group tackle the pass with glee while the rest of us headed to Caernarfon via the Penygroes Pass and a fabulous lunch stop at Pant Du vineyard with panoramic views towards Caernarfon. This turned out to be a very beautiful route, the most scenic of all and we all appreciated Snowdonia in all its sunny glory. There were many beautiful lakes and Sally & Denise took the opportunity to cool their feet in the clear and surprisingly warm waters. Afternoon tea stop was at Caernarfon Castle before the gradual climb home. The ride stats were 39 miles with elevation gain of 1926 ft for the short ride and 53 miles with elevation gain of 3248 ft for the long ride.
And some pictures on the ride: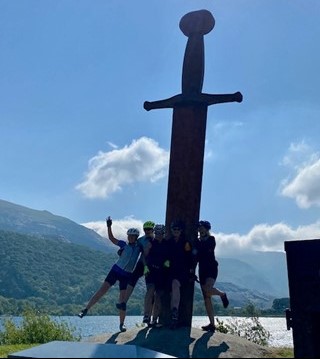 Blade of the Giants, Lake Padarn, Llanberis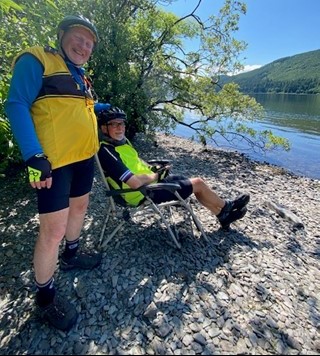 Tom Tom & Peter chilling out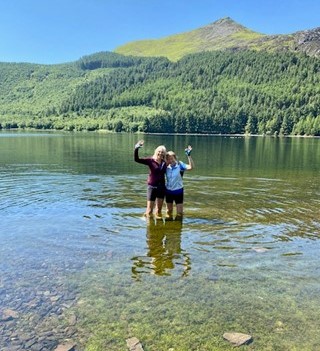 Sally & Denise take a dip to cool their feet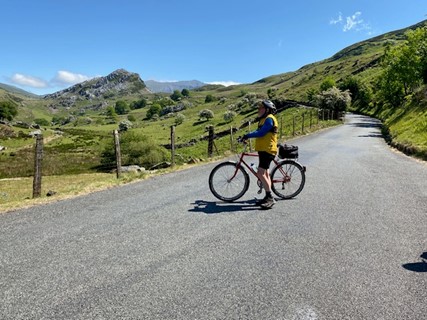 Tom Tom on the Penygroes Pass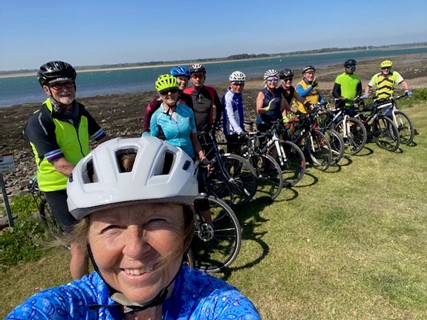 Hitting the coast at Caernarfon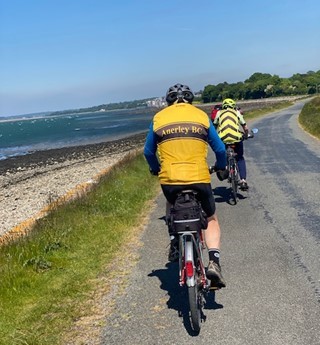 Toward Caernarfon Castle at low tide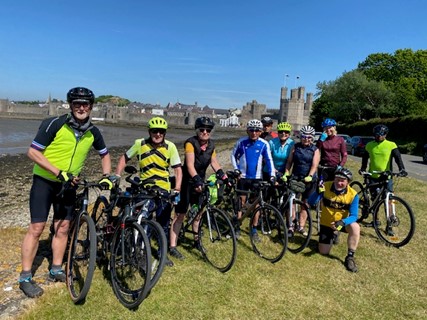 Just the river to cross to arrive at Caernarfon Castle
Back to the SONG again (this time in pictures)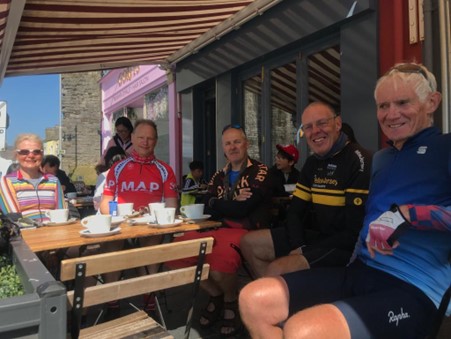 Didn't we have a lovely time the day we went to Bangor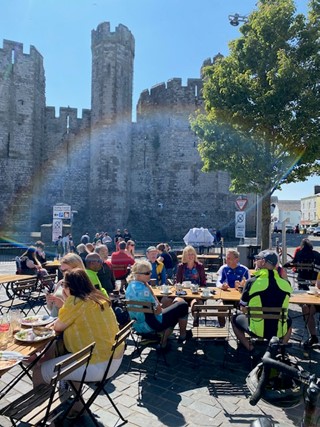 A beautiful day, we had lunch on the way
And all for under a pound you know (not quite!)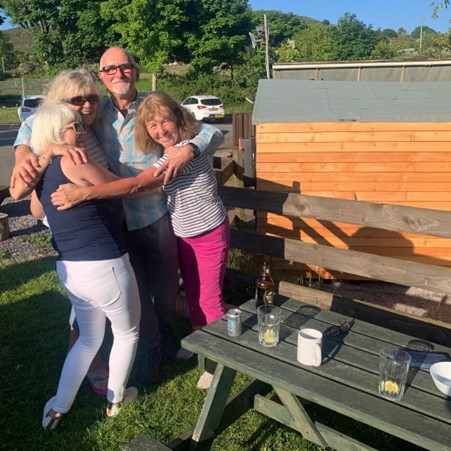 On the way back we cuddled with Jack (ie Peter)
And opened a bottle of cider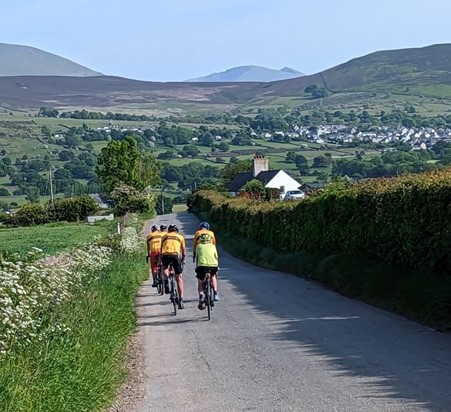 Singing along to our favourite song
As the wheels went round
What a great trip, who wants a week there next year, maybe with a bit of walking or watersports thrown in?
Denise
Touring Secretary 2023