An Inaugural Anerley Hike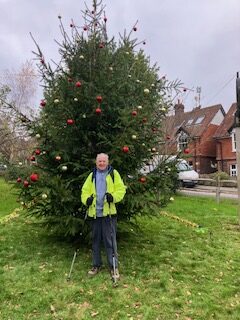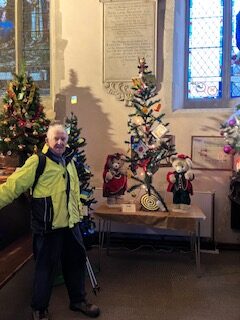 As you can see this was a couple of weeks before Christmas, and on a very cold morning – so it was only a very small Anerley group who braved the the artic chill! Those being Sue Smith, Steve Upton, me – and most important – Gerri Upton who recorded Anerley's first Club Hike. Hence the importance of our photographer – Gerri – who hence does not appear in any of the photos!
We met in the main Westerham car park – free parking on Sundays! And set off for our National Trust walk. Actually 2 walks which we combined. The one to Chartwell and back, and when we arrived at Chartwell we carried on along part of the N.T, Octavia Hill's circular walk to Crockham Hill, and back to Chartwell. It turned out to be just right because when we got back to Westerham, paid a visit to see the Christmas decorations in it's lovely old parish church, it was getting dark. Winter's shortest days!
After a few minutes walk we were in the heart of the countryside – and the Kentish Hills!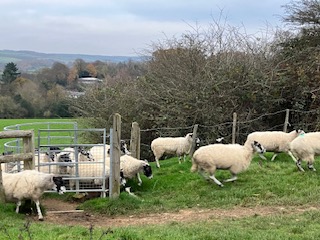 Not us scaring the sheep, but an idiot with a dog off the lead and harrying them!
Soon we were following a network of forest tracks, all marked with signed route markers, spotted and followed flawlessly by our two leading ladies. They set a challenging pace during the whole of our hike!
From Chartwell we crossed the road to join another footpath, up a short steep climb, from the heights of which we could look down on to Chartwell below.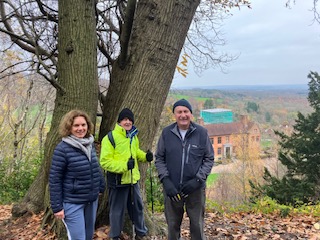 Note the winter woolies. And my walking poles – very useful on slippery slopes!
After this elevated bit we had to go back down to the road – looking for an "old post box". Being observant we soon found this – bearing the insignia of V.R – our Victorian Queen! The very first P.O post box was introduced in 1852, only a very few years after Queen Victoria was crowned.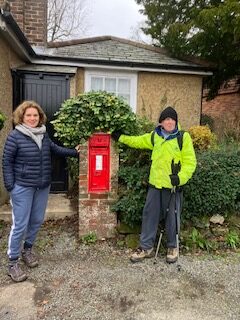 This in turn marked the entry gate to a private road and our joining point of Octavia Hill's most interesting walk to Crockham Hill, via the idyllic tiny hamlet of Frog Hole. This is a place where, like the old TV programme, I kept asking my self in rapt wonder, "Who lives in a house like this! "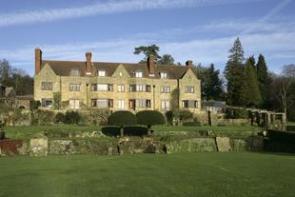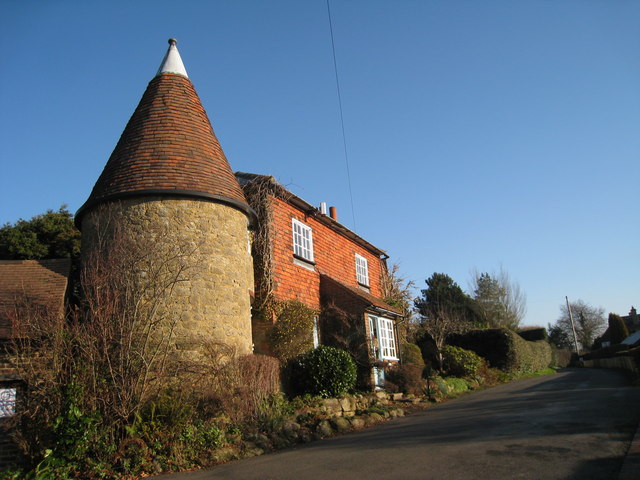 This indeed was a walk through the grandeur of old England at it's finest, and this was brought home to me, just as we were about to return to the 21st century. And for those of you who are too young to have felt real money, a King or Queen's shilling in their hand.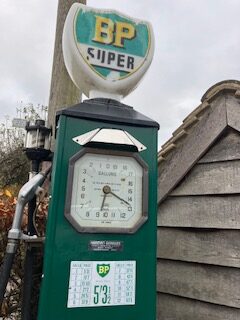 Five Shillings and Three and a Half Pennies is now, in our decimal currency, worth 28p. But that was not for a litre of petrol, but a gallon – which is 4.5 litres. So if my maths is right – whilst we now pay over 150p per litre – when that old petrol pump was last serving it's customers – petrol cost about 6p a litre! After that inflationary shock I was in need of a drink. Luckily, Steve knew of a nice little pub just around the corner. Perfect timing, where we enjoyed hot tea/coffee and the benefit of a good warm up to our chilled limbs.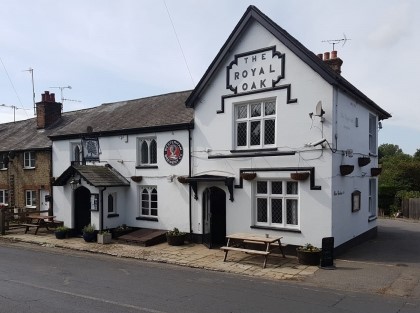 Back out in the cold, we first had to visit Octavia Hill's Memorial Garden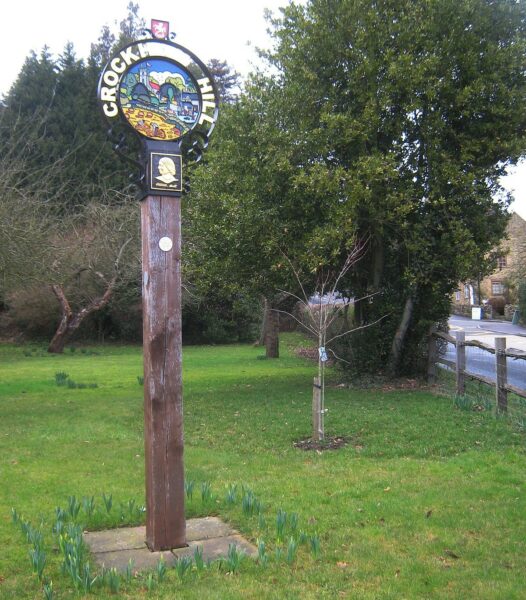 And then her grave in the Crockham parish church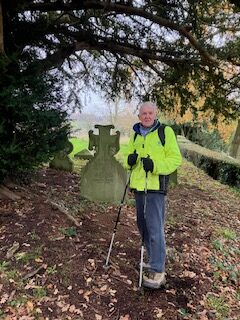 The return hike was much more physically challenging. Going back up Crockham Hill on this scenic route, due to some steep gradients, it had more than one series of big steps to mount. But the views were well worth it on our return to Chartwell!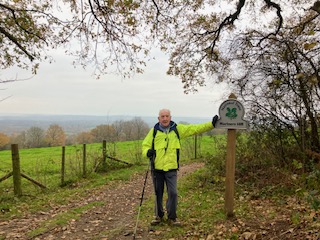 Then it was just the woodland trails and more hills, until we knew we were home, by the Westerham flock of sheep waiting for us to open the gate.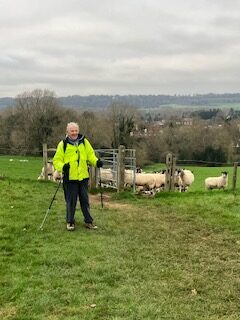 A great, and different day out from cycling. We all agreed this was the start of a new Anerley experience!
Des.
And the next hike was certainly a great success – There's no business like snow business! Read all about it in next month's Gazette!