A Thorny Problem And Winter Woes
On last week's Sunday ride I noticed that the hedge cutting season has started. This means thorny residues left on our roads and a guarantee that some one is going to get a puncture!
It also reminded me that very soon it will be winter, and with it, icy roads and another scourge of cyclists, the very sharp grit spread over the roads. This is another guarantee of winter punctures!
If it happens, or should I say when it happens, the puncture always seems to occur on a day that is both wet, and cold. You end up with frozen fingers and hands covered in a black goo from the residue of worn brake blocks and aluminium dust. But being both wet and cold, sod's law will ensure that it is a back wheel puncture. So add to that, a black and oily mess from the chain! So don't forget to add some wet wipes to your winter tool kit for just such occasions.
With these situations in mind and to reduce, or preferably eliminate the possibility, now is a good time to think about your tyres.
First off is to regularly check your tyres for small particles of glass, stone and other road debris embedded in the rubber. Dig them out, otherwise they will eventually work their way deeper into the tread and cause a puncture. You should also check for any cuts, bulges, or other defects to the tyre before they result in a blow out.
Below is an example of what can happen, if like me, you don't carry out regular tyre inspections!
After several years of use, a very badly worn tyre, showing how the rubber is splitting to reveal the woven carcass below.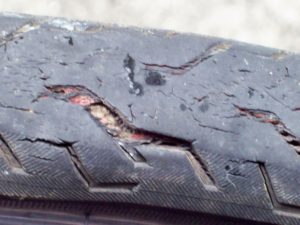 I am sure that you won't be as stupid as me, but if you should get caught out in this sort of situation, a tyre boot should get you home. It did for me (and for a few extra miles until I got a replacement tyre, see below).
In times past when every cyclist had a Dunlop puncture repair kit, the tin always included a tyre boot. A 1½ inch square piece of prepared canvas used as a get you home reinforcement between tyre and inner tube, to cover a cut or split. But this small item appears to no longer feature in today's puncture outfits. So here is a quick fix alternative.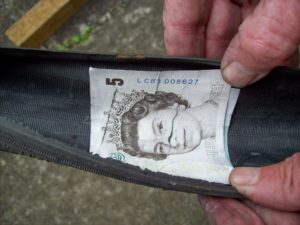 A folded £5 was a perfect size to fit inside my mountain bike tyre. Bank notes are very strong, being made of linen, not paper.  They make perfect tyre boots to stop an inner tube poking through a split or cut in a tyre.
UPDATE 2016: Since writing the above the Bank of England have now introduced plastic £5 notes which should be stronger and longer lasting as tyre boots. But what happens if you should be caught out in a situation when in an emergency you need a tyre boot and you do not have one or a £5 note?
This is a tip which I have used very successfully with a split tyre. Use a crisp packet! You can normally find one dumped in the road or hedgerow and it will get you home. Like the new £5 notes, crisp packets are made of very strong mylar plastic. Just fold the packet up to fit inside your tyre, or better still cut up a crisp bag and keep the ready made "tyre boot" with your puncture repair kit. Here is mine.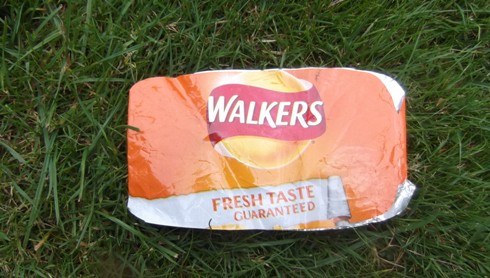 A crisp bag cut to size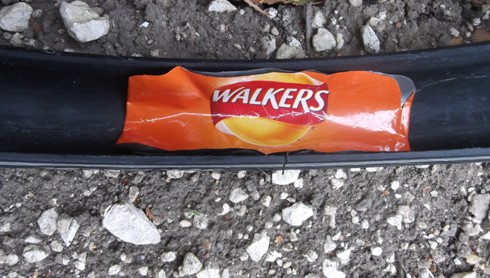 Crisp bag acting as tyre boot
WHAT  TYRES?
Needing a replacement tyre for the worn out one shown above I did a bit of research. With the onset of winter I normally put a new tyre on the rear wheel as rear wheel punctures are more troublesome. I have always used Kevlar (or similar) reinforced tyres. It is claimed that such tyres reduce punctures by 80%. Whether this statistic is true or not, punctures are certainly much less frequent than used to be the case.  However they are not completely puncture free.
A fairly recent introduction, using a new technology, is the Schwalbe Marathon Plus. It has been around long enough to have earned a reputation for being the most puncture resistant tyre currently available. The special flexible rubber insert (known as SMART GUARD®), is deep enough to avoid penetration by most thorns, shards, and other objects which are the normal cause of punctures.  You can see from this picture how the puncture proofing works.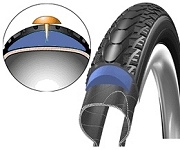 As you would expect, this protective band does add weight to the tyre, it does not however increase the rolling resistance. The tyres roll just as good as tyres without this very effective puncture resistance, and they last for considerably more miles.
These tyres are not cheap but they are well worth the extra cost to avoid the hassle of punctures, especially on cold and wet winter days.  Another bonus is that they save the cost of replacement inner tubes.
Whilst I was at it I also fitted a cheaper, Marathon Kevlar tyre on the front wheel. The Marathon Kevlar has for many years been a favourite of cycle tourists and bike commuters due to their exceptional durability.  My tyres are 26 x 1.5 mountain bike size but the Marathon Plus and Marathon Kevlar are both also available in 700 x 25 and 28 sizes for road bikes which have the necessary clearances for wider tyres. These sizes, and especially 700 x 28s, are popular with many Audax riders for whom the extra air volume provides a more comfortable ride.
So, some tyres which are perhaps worth considering, especially if you are a bike commuter, tourer, or other high mileage cyclist. Also of course to avoid the aggravation of punctures!
Des.