Tuesday Ride: 25th October 2011
This week the number of riders was reduced to four, a great shame because John Dadson introduced us to a nice new tea room. One which I am sure will become a regular venue for future club rides. But more about that later. The fine weather of the past few days continued as we set off in bright sunshine from the Purley Tesco.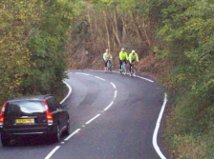 We had been warned of a road closure out past Chipstead which had been in force  the previous afternoon. However this morning, Outwood Lane had reopened, and much to our surprise the most potholed "B" road in Surrey was now a pleasure to cycle along. It had been completely resurfaced. This major event, with it's pristine black surface and shiny white lines had to be recorded for posterity, before it is dug up to fix the leaking gas main!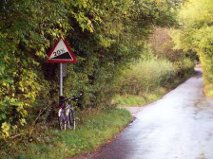 John's route took us along past Headley Common, down the hill and through Little Switzerland, past the bottom of the Zigzag  to arrive at West Humble.
From here we followed the delightful Chapel Lane with it's remains of the 13th century church, opposite Chapel Farm. Now we were approaching one of the steeper climbs in this area of the Surrey Hills, Bagden Hill with it's 20% gradient. Much to my surprise it did not seem as difficult as the last time I went up it!
From the apex it was a quick and easy downhill to our destination, the National Trust tea room at Polesden Lacey.  Free entry and open on Sundays!
Here we met John and Meike, and as it was Meike's birthday a few days earlier, the teas were on Meike!