Sunday Ride: 30th October 2011
Saturday was the last day of British Summer Time, and just to remind us of this seasonal change it was a fine, sunny day.  Sunday was not a sun day.  In keeping with it presumably being our first "winter" club ride it started off as a grey day, perhaps an appropriate setting for Halloween. But more about that later!
After the tea stop, and with the addition of a fine drizzle it became a grey, damp day. However the weather did not deter the nine Anerley riders who ventured out on this first "winter" ride.  For those who missed the ride, or miss the sun, I hope this picture of our sunshine girls, enjoying a summer's day, will lighten your day!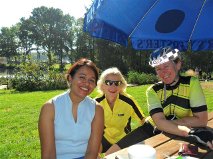 Not wishing to slow the peleton down, I set off on my own to meet them en route, or at the tea stop, depending on our relative speed and routes. Being the first to arrive at Edenbridge Golf Club, I settled in the sumptuous armchairs with tea and toast to await the rest.
Brian was the next to arrive, he also finding his own way to the tea stop. A few minutes later the main party of five arrived, Gina, Jeremy, Jim, Julia and Ricky. It had been six, but Graham, suffering the effects of a virus, decided to call it a day and had returned home.
But this was not all. Better late than never, Ewa suddenly appeared!
Just as well as she was the only one who had remembered to bring a camera, so picture credits to Ewa – and an unwelcome guest.
Toasted and tea-ed, undaunted by the drizzle, Jeremy, Brian and Ricky set off for the climb up to the heights of Ide Hill. Even Jeremy's threat to take them up to the lunch stop via Yorkshill did not seem to be a deterent.  But did they make it up this monster hill? We await reports. 
As it was our Halloween ride I took Ewa and Julia to see the 15th century, haunted, Stocketts Manor in Gibbs Brook Rd. As we peered through the iron gates at this imposing house, suddenly we saw a ghost rider flitting across the lawn. Ewa just managed to capture it's image before it mysteriously faded  and disappeared!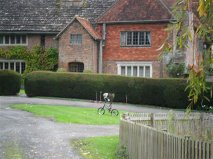 But this was not the last of our halloween hauntings. As we approached Bullbeggars Lane and passed the old Pack House we heard the sound of horses hooves and the clatter of cart wheels. We stopped to let them pass, but looking around there was nothing there!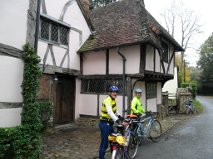 Mystified, and just a little apprehensive, we set off at a fast pace towards the top of the hill at which point the ladies, who left me far behind, disappeared into a cold grey mist.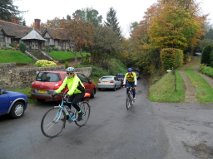 And I do mean disappeared!
As I passed the church and graveyard of St Mary of  Godstone I heard the ring of the bells. Church bells, not bicycle bells. But the two ladies were gone. Whatever could have happened to them?