A Devon and Dartmoor Ride with Denise
Here's the lowdown on the first of Anerley's Away Days this year. The Devon C2C ride that Jo, Sandy, Carmen and I did over 3 days in mid June.
The plan was to ride from Illfracombe to Plymouth and back over 3 days, about 200 miles with a total elevation of 10,000 feet.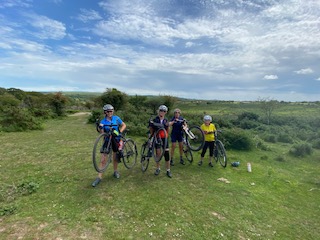 The route was generally following NCR 27. Route 27 combines the beaches and estuaries of North Devon with the green valleys of the Torridge, Tavy and a few other rivers and it also takes us over the western flank of Dartmoor where we got fantastic views over Devon and into Cornwall. The route included 3 off road trails, The Tarka trail (30 miles), The Granite Way (11 miles) and Drakes Trail (21 miles)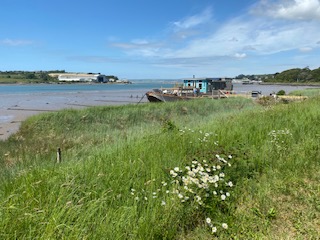 Day 1 Illfracombe to Okehampton 57.2 miles
We start off after a hearty (read unhealthy) breakfast in the pub at Ilfracombe that we stayed at the previous evening.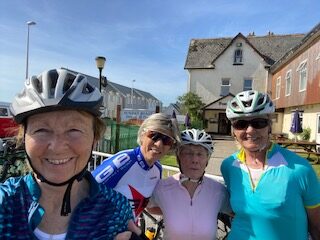 We managed to talk the manager into letting us leave our cars for the 2 extra days then set off on an immediate long downhill to Woolacombe, with me panicking all the way about the impending uphill out of Woolacombe to Barnstaple. Yes it was hard going but once we joined the beautiful Tarka Trail at Barnstaple we had 30 mainly flat miles with stunning views of the estuary and fabulous sunshine all the way.
The trail is a disused railway line so a lunch stop at the Puffing Billy cafe complete with railway carriages you can eat in, seemed the ideal stop. It was then onwards on the inland section of the Tarka Trail which took us to Meeth then on road to Hatherleigh, Jacobstowe and eventually a big climb up to Okehampton on Dartmoor. The reward after the climb was the next trail, the Granite Way, another railway line. After 3 miles we arrived at the impressive Meldon Viaduct.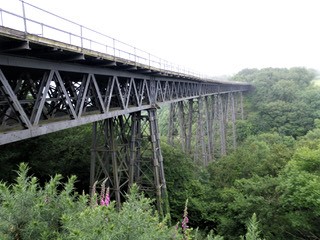 It is 1 of only 2 surviving railway bridges in the UK that uses wrought iron piers to support the cast iron trusses. It was opened in 1874 but all this information spouted by me fell on deaf ears and cry of "are we there yet" from the others! I was pleased to tell them that 2 miles further along we would find our next stopover, Betty Cottles Inn, our home for 2 nights. Shower, food and very comfortable beds.
​Day 2 Okehampton to Plymouth to Okehampton 75 miles
This was going to be a long day, so we made an early start with another hearty (read even more unhealthy) breakfast then a climb back up to rejoin the Granite Way to Lydford. We were now well and truly on Dartmoor and enjoying the fabulous views from undulating Devon lanes eventually leading to our coffee stop in Tavistock. We then picked up the final off road section, the Drake's Trail which continued over Dartmoor and all the way to Plymouth. No sooner we had found the start of the trail, when we then found a massive road closed sign and lots of tape closing the track for tree felling work.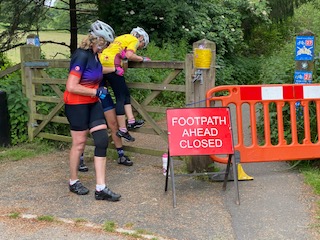 After quick debate we decided to go under the tape as there was no one around and continued on our way for a few more undisturbed miles. Then we heard chain saws and had to skirt round a lorry. The tree fellers were working down the bank below us so we figured we could creep by undetected. Not to be and we were caught by a very angry man who gave us a good telling off and told us we'd have to scale the closed gates another mile along the track. Apologising profusely, we made our exit and headed for the gates. It made quite a photo trying to help little Sandy clamber over the 5 bar gate!

The rest of our journey had no more obstacles and we had a clear and mainly downhill ride to Plymouth. At one point we had to nudge sheep out of our way who were blocking the narrow track.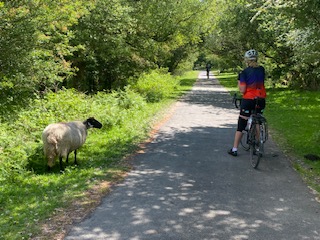 Then we had an encounter with several Dartmoor ponies. Luckily, they were a friendly bunch and we spent some time patting them until one of them tried to eat Jo's bracelet.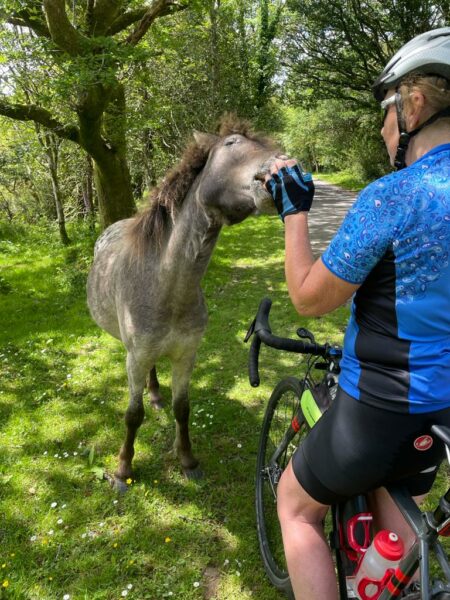 Time to go! The Drake Trail was very picturesque as it took us through wooded river valleys and across open moorland and included yet more viaducts, the new and impressive Gem Bridge and the Grenofen Tunnel. Thank goodness we all had lights as the tunnel had a bend in the middle which made it pitch black and freezing cold!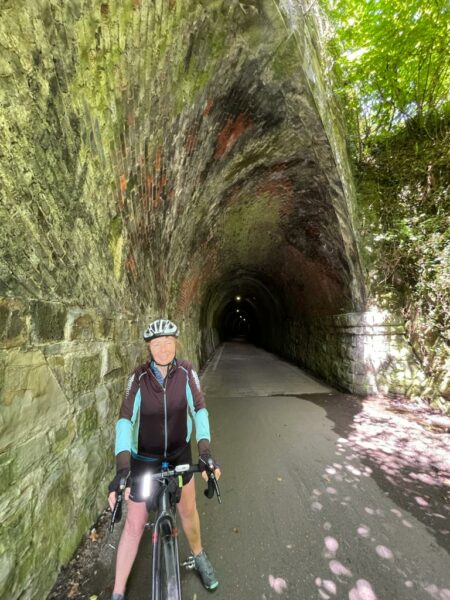 It was quite a shock as we got to the built up outskirts of Plymouth after the wide open spaces of Dartmoor. Soon we arrived at the Barbican where we had fish and chips for lunch before heading back to Okehampton. I'd planned the route with a slightly different return, but we decided to re trace our steps as Drakes Trail was so lovely and of course, traffic free. This was a long day and, as I expected, we didn't arrive back to Betty Cottles until 9pm, half an hour before darkness. Our average speed was only 9.3 mph
​Day 3 Okehampton to Ilfracombe 56 miles
We couldn't face yet another hearty/unhealthy breakfast so we checked out of Betty Cottles our overnight B&B pub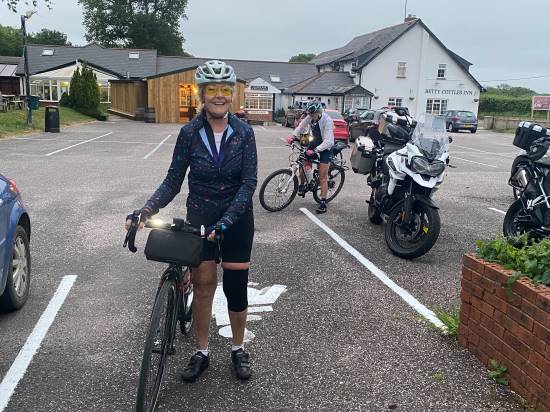 and rode into Okehampton in search of fruit and yoghurt. Except nothing's open at 8am in Okehampton! We had to settle for the cafe in Waitrose which, it turned out, had just reopened after Covid restrictions and we were their first customers. Excellent service from 3 ladies who clearly loved their job. Happy days and yoghurt galore. Then the hills and even more hills followed by the unanimous decision to skip the rest of my planned (hilly) return route in favour of picking up the Tarka Trail again, which I must agree is beautiful. Lunch was another visit to Puffing Billy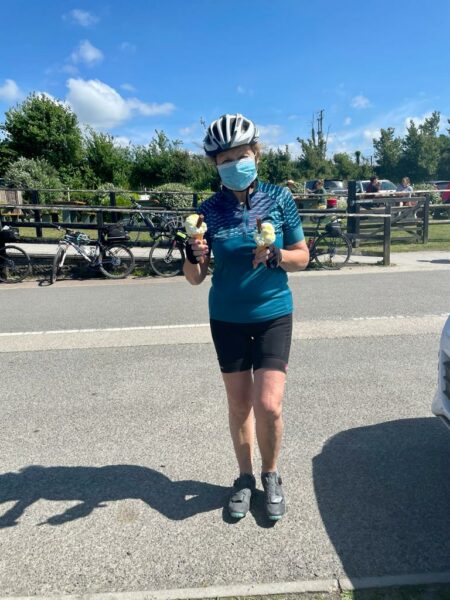 Then 30 flat miles along the water's edge in glorious sunshine with an ice-cream stop. By the time we'd come to the end of the Tarka Trail and I'd reassured the others that we were not going back via Woolacombe, they were all expecting an easy cross country nip back to Ilfracombe. A rude awakening when we took a left turn off the trail onto what looked like a vertical road. Absolutely no chance of riding up so we had to walk. I was sure the top was in sight and indeed it started to ease off enough to get back on the bikes so off we went again until the next bend and the next and the one after. 5 miles of hill all the way (around 16%). We were so grateful to finally arrive back at the Fortescue Arms and the comfort of our cars. After a quick change and a cup of tea with plenty of banter from the pub landlord, we took to the road for the 5 hour drive home. The drivers – Jo and Carmen must have been exhausted, in hindsight it may have been better to stay an extra night.
We all had a great time and can definitely, recommend the route. Accommodation on a B&B basis was £35 each per night.
Denise.