​Herne Hill Track Day 2022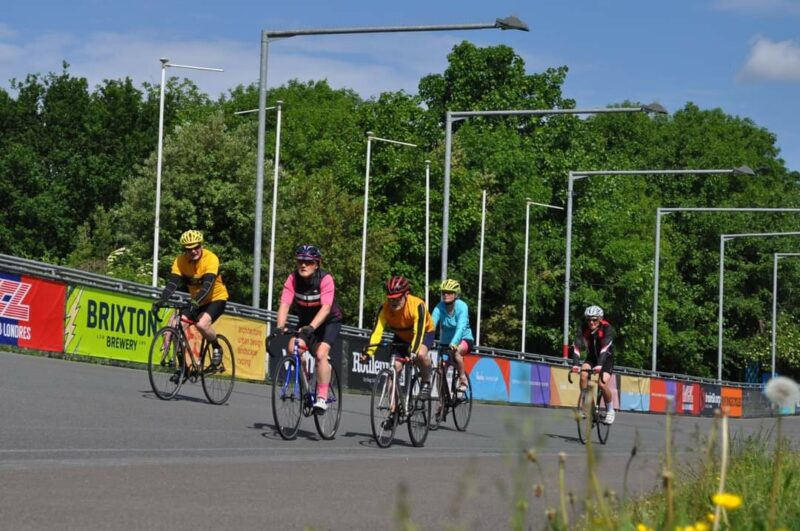 ​Herne Hill Velodrome (HHV). An iconic venue in the history of cycling. And we are lucky to have it almost on our doorstep.
Built in 1891, it was frequented by a number of Anerley members in its early years as the club was formed ten years earlier in 1881.
It is mentioned in the diary of George H Smith, an Anerley member who kept a cycling diary from 1891 to 1896. We are fortunate to have copy of this diary with brief notes of all his bike rides during those years. In 1896 he left on a world tour as a Salesman for the then newish Dunlop Tyre Company. It would be even more interesting if we had a diary of his world travels and bike rides until he returned to England circa 1903/4
And mention of times past, a brief history of the Velodrome since 1891 can be found here: https://en.m.wikipedia.org/wiki/Herne_Hill_Velodrome
​For the last few years we have held track sessions at HHV, organised by Mark Hancock.
This year's session was held on Tuesday 17th May. As in previous years we gathered at the edge of the track to watch the end of the previous session before making our way to the "bike sheds" which are shipping containers filled with single speed, fixed gear track bikes with no brakes.
Most of us fitted our own pedals to the bikes, which involved a hectic 15 minutes of wielding pedal spanners and hex wrenches, before finally adjusting saddle heights.
Coached by a very patient lady from Milan named Elizabeth, we were taken through a series of track exercises, designed to get us used to using the banking, riding in groups, draughting, taking the lead, rotating, and generally watching out for other riders on the track.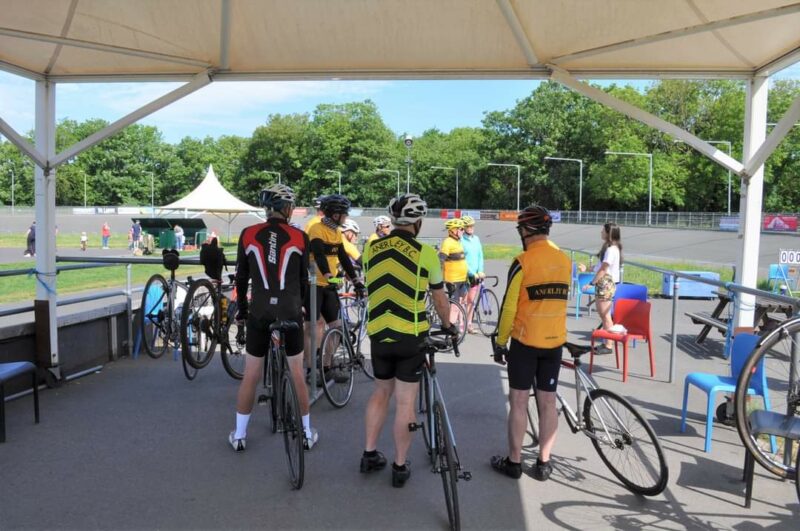 To those of us who no longer ride fixed wheel bikes or "fixies" the first five minutes are always a bit weird and slightly scary. As well as a very high fixed gear and no brakes they have a very aggressive riding position, with an elevated "rear end" and relatively low handlebar position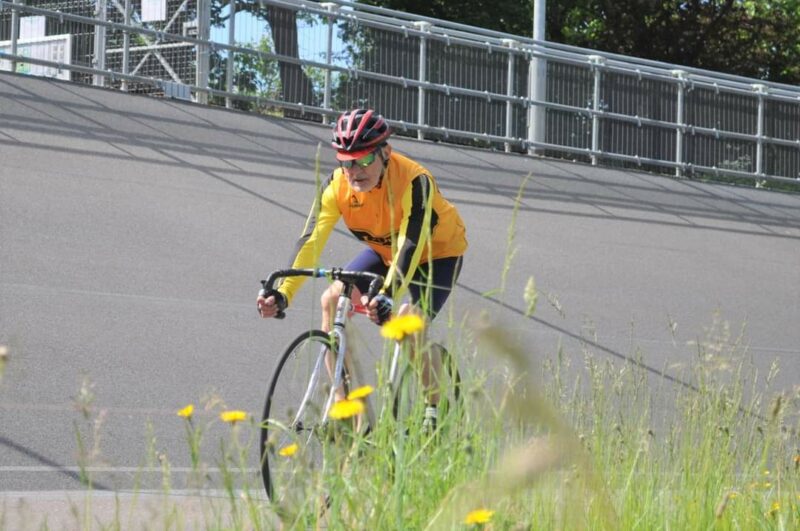 After a few minutes we were at least riding. From then onwards it just became easier and more fun.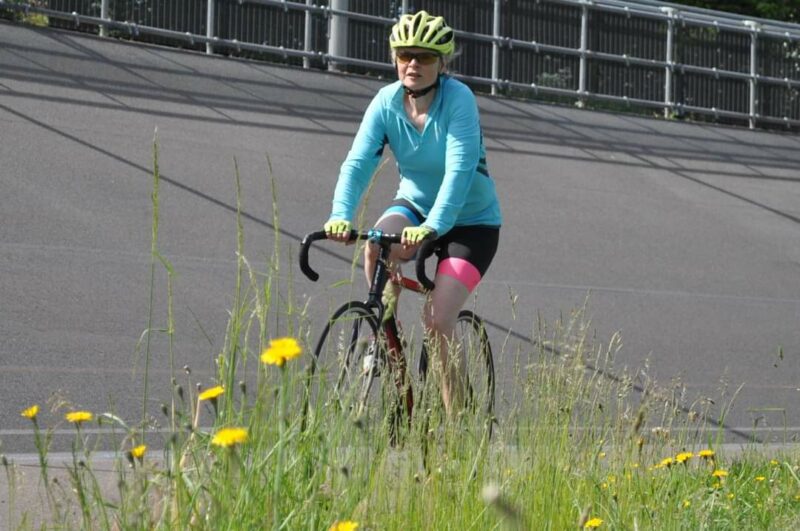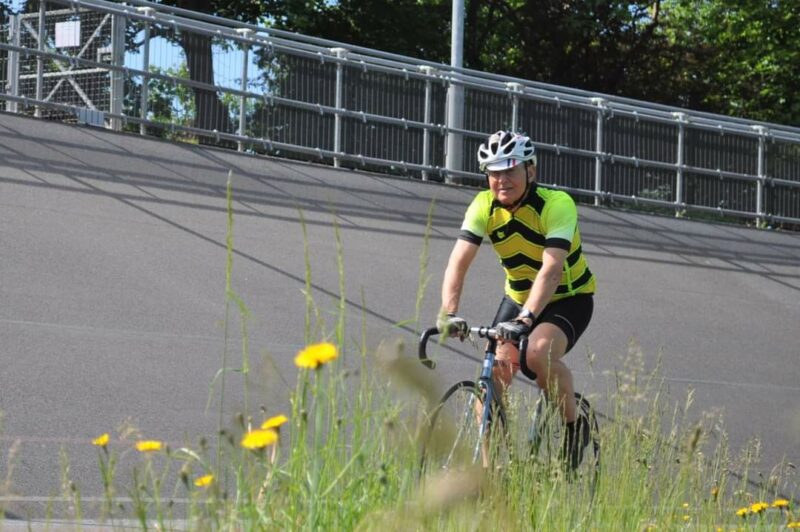 The weather was kind to us and we enjoyed warm sunshine throughout the session.
My description really doesn't do the experience justice, as in practice it is just great fun! It's a bit like learning to ride again and the feeling you get when you finally succeed!
Peter Trimming once again kindly came along and took some superb photos of the event, shown above, and all of us in a group, below.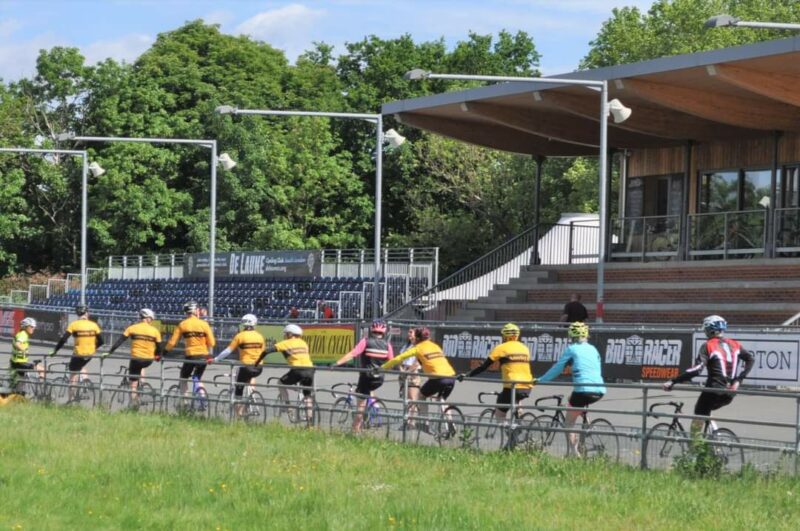 After the track we cycled over to Dulwich Park and enjoyed coffee and a snack.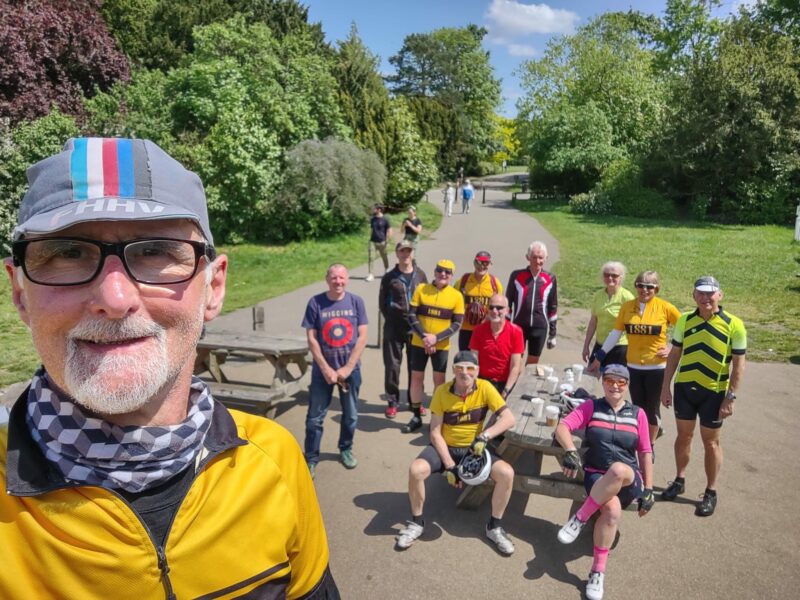 We then cycled up to Crystal Palace where we parted ways.
A great day which everyone I spoke to enjoyed. I can wholeheartedly recommend it! Many thanks to Mark for organising it and to Peter Trimming for the photos.

Peter Roberts
---