Day 1 Monday 20th June
Marked the first day of our tour into the Dales.  John Eden departed for York station and we left for Bolton Abbey, where we stayed in nearby Catgill Farm.
On the way we passed some spectacular countryside, passing through Wetherby, Harrogate, Otley and Ilkley.
At the farm, by coincidence I met a friend of a friend who was looking for a site to build a new house.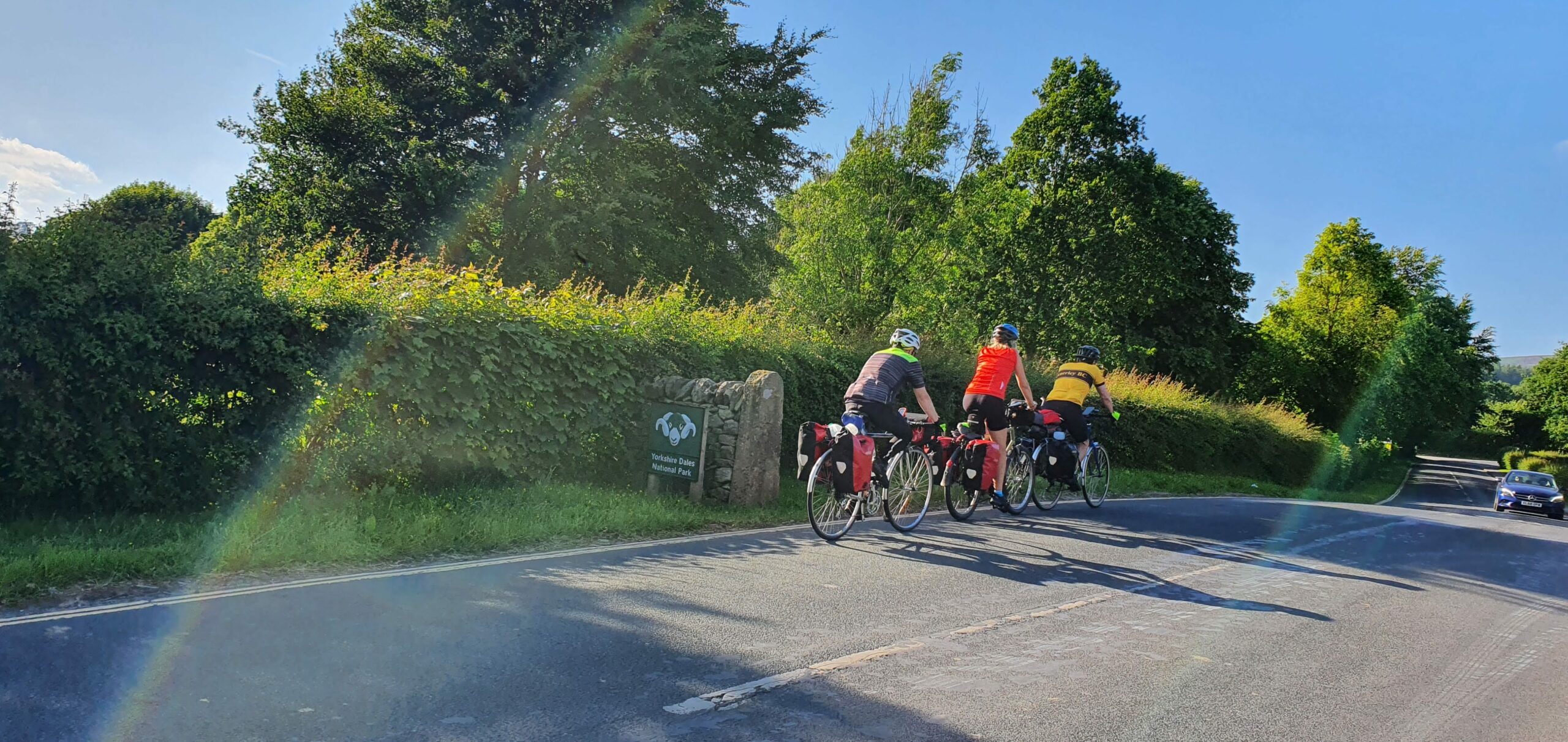 Day 2 Tuesday 21st June
On the Tuesday we set off for Ribblesdale.  The scenery again was stunning.  We made a detour to Malham and Tim, Tom and Tomtom cycled up to the famous cove – a prehistoric waterfall created by glacial meltwater.
Sally and I decided to rest in Malham before taking the easier route to Settle where we all met up. At Settlte we stopped to see the station and Tim found another one of his BCQ's. Also went into a really spectacular bakery!
At the end of our ride we caught a magnificent view of the Ribblehead Viaduct before descending late into the campsite. We were feeling a bit peeved for a horrible moment as the local pub refused to supply us with nosh. Fortunately, the excellent Station Inn back at Ribblehead gave us a superb meal albeit with a bit of late night cycling to and fro. The campsite having earlier seemed overrun with teenagers was quiet as they were army cadets with a major bit of hiking ahead of them.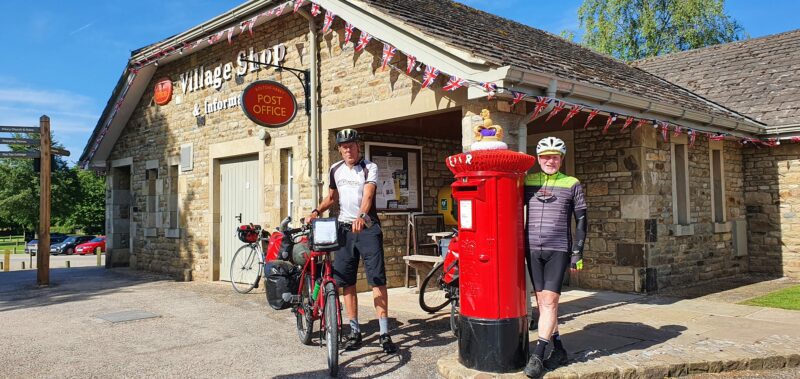 Day 3 Wednesday 22nd June
Tom V woke up early to take a photo of the sunrise and enjoyed the views of mist rising up through the valley.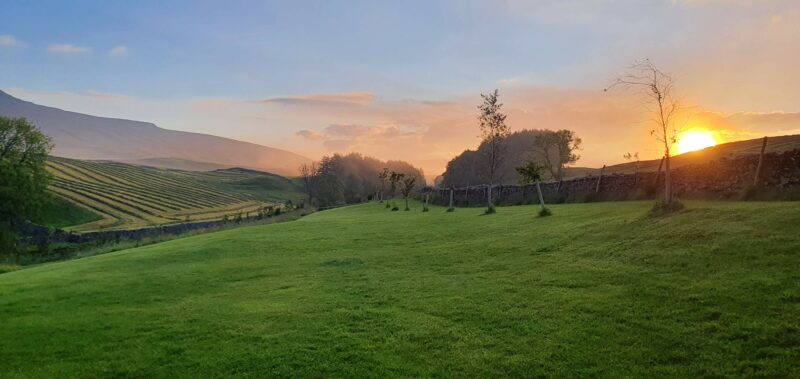 However, after drifting off again, he awoke to find the tents surrounded by cadets, organising themselves for a big hike up one of the three peaks. Occasionally, one of the kids would ask, "Is that someone snoring?". We're afraid so young people, a camp with earplugs is a happy camp.
Tim and Tom had a cunning plan to let the others go on to Hawes while they went down the steep hill to Dent where Tim had a BCQ to collect. The plan was to hide our luggage at the top but we clean forgot until we were too far down. Near the bottom we encountered a flock of sheep where we had to act as sheepdogs to stop the woolies from going in the wrong direction. Mrs Farmer was very pleased with us but she still had a fair bit of running around to guide them down the road into a suitable paddock.
However, the climb backup was not as difficult as thought and they caught up with gang eventually on the climb back up a hill out of Hawes.
I clocked about 45 miles for this trip to Sleningford Watermill campsite, overall an easier day, with a drop overall from 330metres to about 40metres elevation.
Again the scenery was rugged and beautiful. We passed through Hawes, Askrigg and Leyburn, and close to Masham, home of the Theakstons Brewery.
Sleningford Watermill campsite was the most upmarket site we stayed in, with good facilities and a beautiful river nearby.  We cycled out in the evening to eat in a nearby pub in the village of Nosterfield. (No Wetherspoons nearby).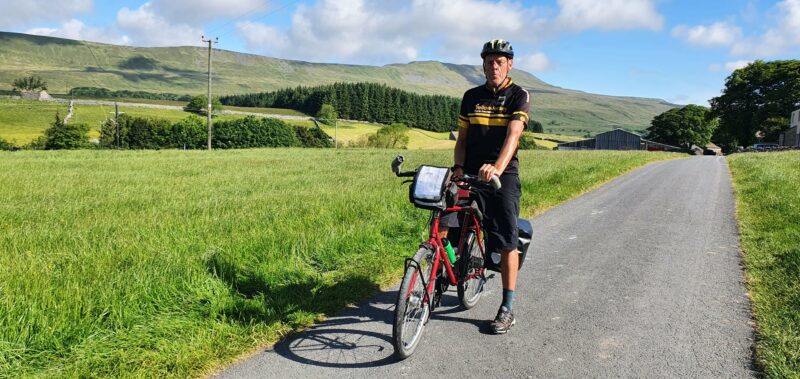 Day 4 Thursday 23rd June
This was a gentle day's ride back to York and as it was the hottest by far, we packed slowly and took a picture of us in the river before making our way. Lunch was at Beningbrough hall – standard National Trust fayre but managed to catch a stunning picture of a couple walking under a parasol.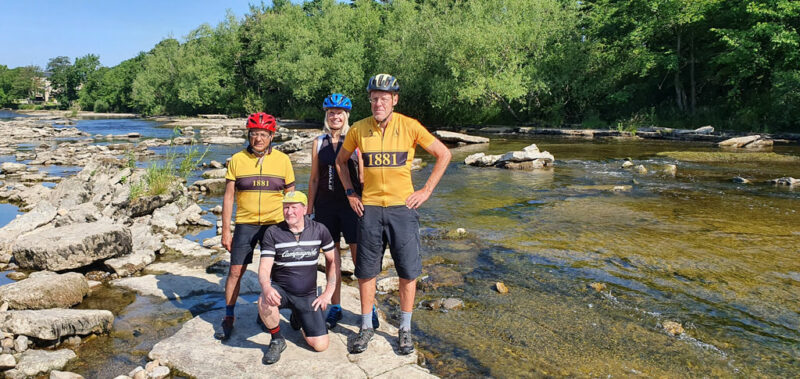 The bells of the Minister were ringing as we rode back into York, however, the trains were cancelled strikes. We spent a night in York before managing to force ourselves onto a train back home.
Peter