During Anerley's visit to Snowdonia our base is a lodge at Deiniolen. To get there by car, after you arrive in Wales, your Sat-Nav will probably direct you along the A5, which starts in London. It is still the major road through Snowdonia to the north coast of Wales – including to Deiniolen! See the map section below, with the A5 coming in at the bottom left corner. We would leave the A5 at number 2 (top centre below) and take minor country lanes to Deiniolen.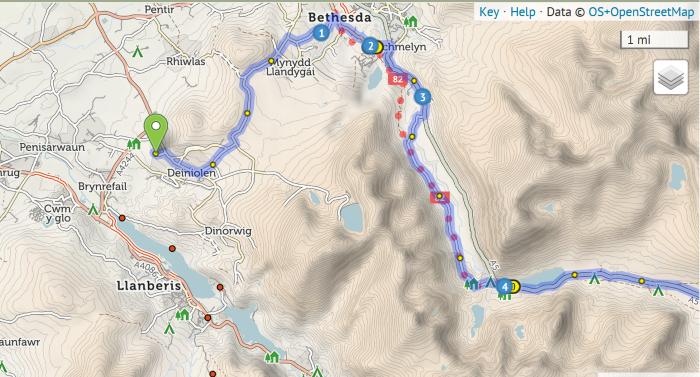 I have added (blue line) the route that we cyclists would probably choose to pedal between the numbers 1 to 4 marked on the map. This being a designated cycle route, No. 82, which parallels that part of the A5.

The A5 being the major route in this area, is likely to be a fairly busy road, no doubt with vans and artic lorries. Much of the A5 (and other Welsh A roads) were not built for today's levels of traffic and are in any case constricted by the terrain – following each twist and turn of the rivers in the narrow valleys. For example, this is a photo along the A5 with its two narrow lanes. Not a lot of room for overtaking slow moving groups of cyclists!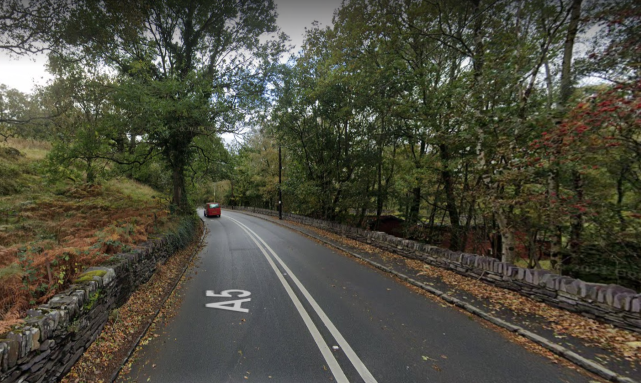 We should take the opportunity on our car ride into Snowdonia, to see what the roads and traffic are like, so that when we do go out on our bike rides, we will have some idea of what to expect, and where. Using Google Street View I have been able to view routes that we could use and show some examples.

Where possible your ride leaders will use routes to avoid the busiest roads or parts of them. There are some off-road cycle routes, but this could mean a bit of gravel ! ! !
For example, along Rt 82 to avoid parts of the A5. The main part of this is thankfully – tarmac! Between Nos. 3 & 4 on the map.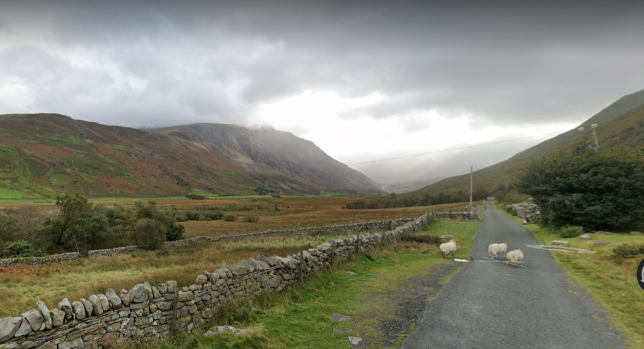 Between Nos 1 & 2 it is gravel. So if you should decide to avoid this bit of the A5 – take your chances. From Deiniolen and heading south the entry onto Rt 82 does not look very inviting – a bit narrow and hemmed in by trees.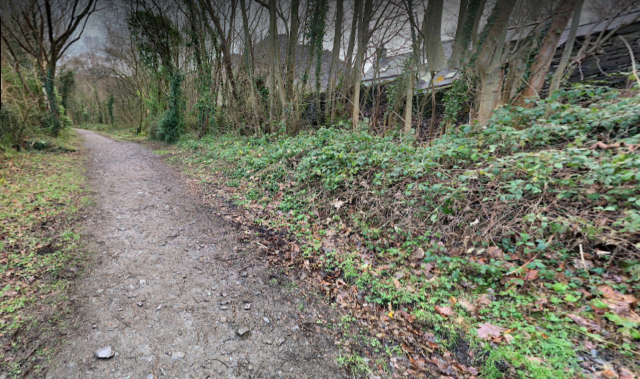 But it soon opens out with stunning views! To meet up and join the main tarmac section south of blue number 3 on the map.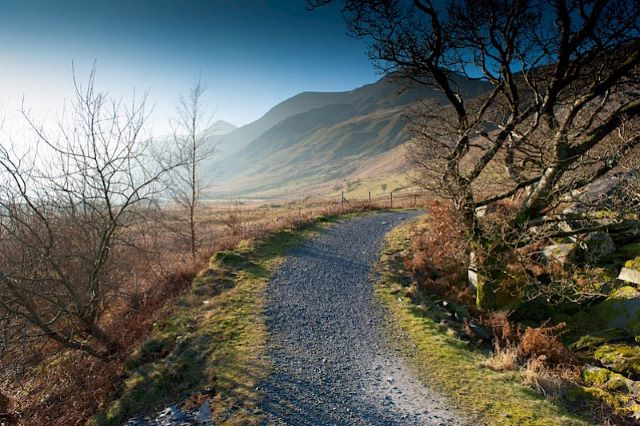 We will be visiting Betws Y Coed as a lunch stop on one of our rides, the main road to which is the A5. After the off-road section following Rt 82 there is a 6 mile stretch along the A5, to a mile south of Capel Curig. See the map below where I have marked the route options. At No 1(Pont Cyfyng – don't ask me to pronounce it!) we cross over the river to take a nice country lane for approx 2 miles where we rejoin the A5. Here we have 2 options. See below map.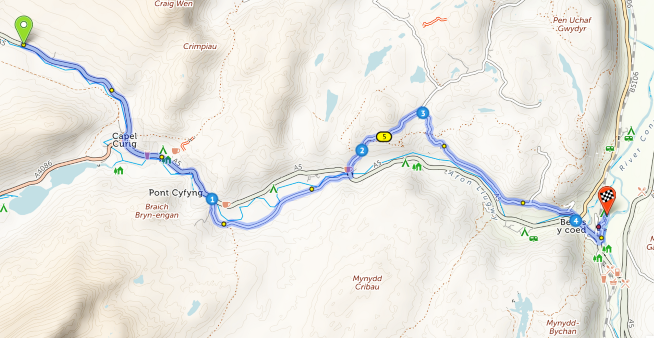 We can stay on the A5 to our lunch stop destination in Betws Y Coed, or cross over the A5 – following the blue line which is a very challenging, very narrow, and very steep, country lane, as pictured on Street View.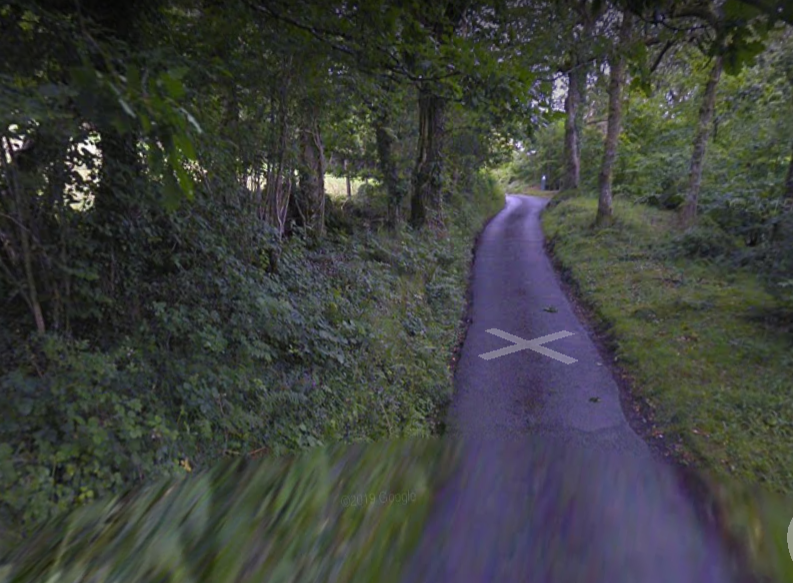 As you can see – very little used – But too narrow for artic lorries! Unfortunately the maximum gradient on this bit of road is 16.4% – up! I think that I might prefer to stay on the A5 rather than take this challenging detour!
This is just a small sample of what we will sometimes encounter on Welsh roads. What I would advise, is that if you do have a gravel bike – use it on our Welsh adventure. If you own/have a choice of bikes, pick one with the lowest gears and fattest tyres for hill climbing and comfort. Robust tyres with adequate tread are of course sensible!
Des,
The whole of this 21 mile route, and which includes a link from the menu options to down load as a GPS file onto your Sat-Nav device, is here.
To download see https://cycle.travel/map/journey/382061