Saturday:
At last a sunny weekend! Not to be missed, so Tom and I made it out for a couple of shortish rides. We need to start getting some miles into the bank to prepare us for our summer cycle tour of the Rivers Rhine and Mosel in June. It is only 3 months away now!
My eldest son, Paul, has decided to join us on our venture into Germany, and went out and bought a bike in the New Year Sales.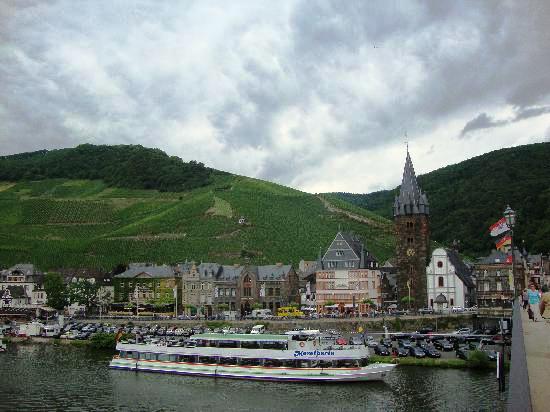 This  weekend was his first opportunity to come out for a ride with us. Next Sunday he and his wife are running the Brighton Marathon, so every weekend since January has been taken up with running training. With only a week to go, this weekend was supposed to be a rest and recovery weekend. This "rest period" gave Paul the opportunity to come out for a short and easy paced ride, to flex his cycling legs.
Living a half mile from Marden Park, Tom and I cycled there to meet Paul by the viaduct.
Cycling together thru the park towards the girls school, who should we meet going the other way, but Jim our Club Captain. He must have been out for an early morning spin as he appeared to be going back home!
Our destination was a tea room at Lingfield which we arrived at after a meandering route. The club's favourite tea room, Browsers, closed down in February, but there are a couple of alternatives.
To mark Paul's first ride with us on his new bike, Tom posed with him beside the old Cage and its adjacent, and very ancient, old oak tree.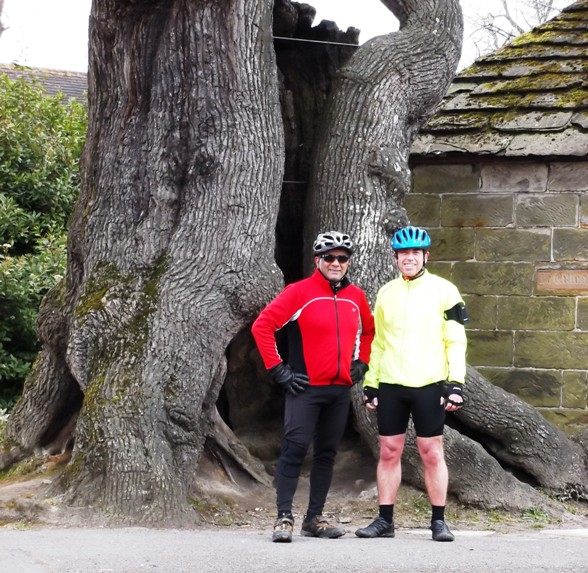 You can see how sunny it was on this Saturday, by Tom's mafiosa type shades. Also, the lack of sunshine so far this year, by Paul's white legs!
My bike computer was playing up and only registered 11 miles, but the round trip to/from Purley would be closer to 30+.
Sunday:
With the thought of the climb upto  Ranmore Common, with our unfit legs, Tom and I decided to give the Sunday Club Ride a miss, and instead do a bit of off roading whilst the dry weather lasted (just as well cos this week it is rain, and more rain!).
After passing over Epsom Downs we took the Shepherd's Walk bridle path to Leatherhead, then onwards to Fetcham.  From there we took more bridleways over Great Bookham Common. Thence onto Downside and by more bridleways eventually arrived at our destination of Squires garden centre at Stoke D'Abernon.  You can follow this interesting route on the map below.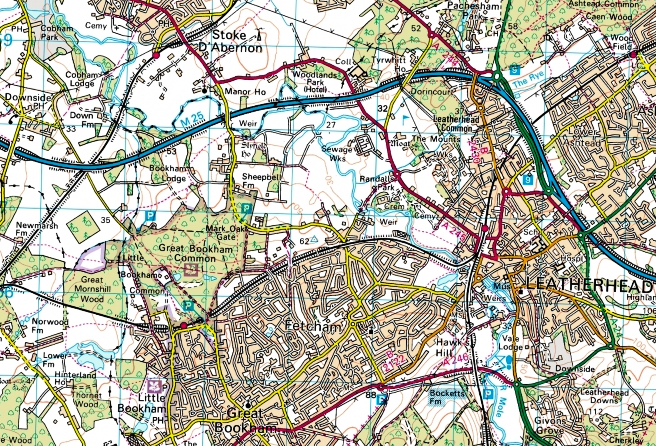 Between Downside and Stoke D'Abernon we crossed over the River Mole, where Tom took a couple of photos on the bridge. Me! and a couple of birds swanning on the river.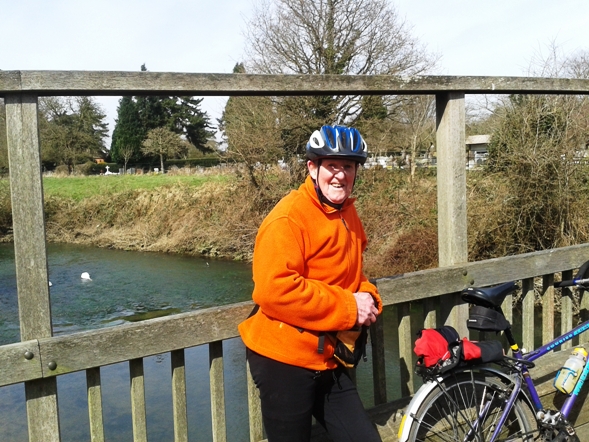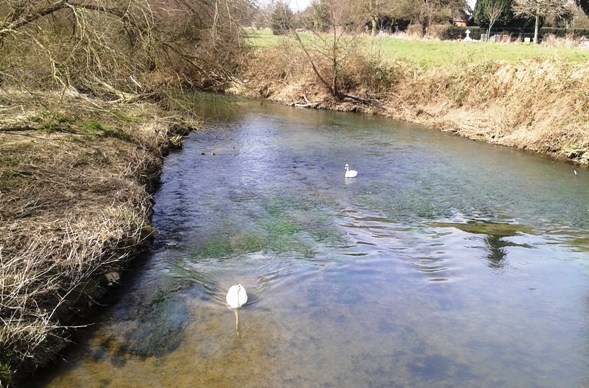 When we got back to Purley my bike computer read 38 miles, so a total of around 70 for the weekend. Adding in the Tuesday Ride, it was close to 100 miles. A good start to the month of April.