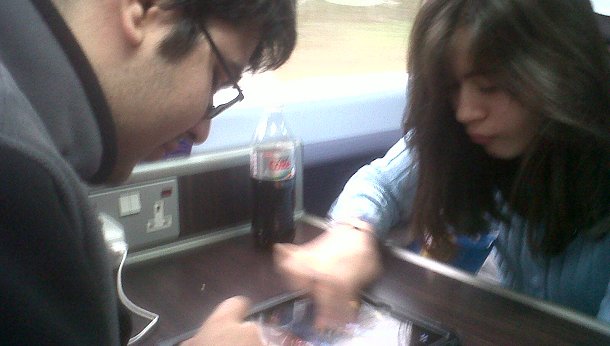 Gina did the LEJoG in 2010: http://anerleybc.org/lejog-2010/
Now she tackles Wales with her kids …
Day 1 (Saturday 31st March): London to Chepstow
Managed to get to Victoria despite the crowds comprising a curious mixture of Crystal Palace supporters and hordes of travellers with very large suitcases and very large prams piling into the bike carriages!
First puncture of the trip as we rolled through Hyde Park to get 14.45 from Paddington – it was Duncan's bike and less than 25 mins to go before train departure. No time for puncture repair – so bundled Duncan and his bike into shiny red cab whilst Sasha and I sprinted to Paddington. With 4 mniutes to spare we made it and patched the hole at Newport whilst waiting for connection to Chepstow.
On arrival at Chepstow – Mama Mias restaurant squeezed us in for plates of pasta and puds – fast service!. Hilly little climb to guesthouse after dinner gave us a taster of what's in store for next few days. Race course guesthouse newly opened – enormous room with werthers toffees in a basket – yay! Biscuits and hot choc – they know how to please! Looking forward to our ride into Brecon and beyond in the morning.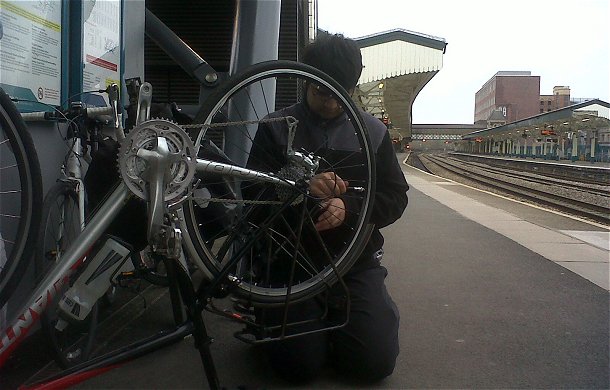 Day 2: Chepstow to Talgarth
A very sunny start to the trip. Followed the Usk from Chepstow to Brecon, through Usk, Abergavenny, Talybont. Followed route 42 for most of day – very gentle rise out of Chepstow and very little climbing to Abergavenny.
Interesting bacon and guacamole salad wrap for lunch – D and S unsure of the merits of toasting a wrap with salad! Lettuce did not fare v well.we probably lingered for lunch longer than we needed to.
Phone call to Wallington Cycles: Duncan's chain slips of 2nd cog at front. Apparently service changed worn chain but not worn cogs! D not v impressed but did a sterling job of alternating between high gear and granny. Not good for the knees and with some solid clmbing the rest of the week needed to resolve this. Problem : we can't really hang around waiting for bike to be repaired…solution after several phone calls in Abergavenny, found v helpful chap called Luke in Hay on Wye Drovers cycles seemed to be the only bike shop open in Wales on Sunday – who offered to dismantle one of his for sale bikes to get us the parts and come to our hotel early in morning to fix it. Amazing!
After all the phone calls left Hay on Wye at 3pm with 30 miles to go. Lovely view of river, v little lambs and the canal into Brecon. Followed the tow path forr a mile or two, welcome relief after steady climbing: river on left and canal on right – perfect.
Got into Talgarth : total distance 56 miles – total climbing 4500ft – so not a bad day1.
Tower Hotel not quite a luxurious but this and the chinese take-away opposite are the centre of night life in Talgarth. Hotel/pub like most places do't do food on Sunday evening so we joined locals in very busy chinese – all waitiing v patiently for their chicken and fried rice. D and S noted a future business opportunity – mobile kebab van for Sunday nights … a good first day.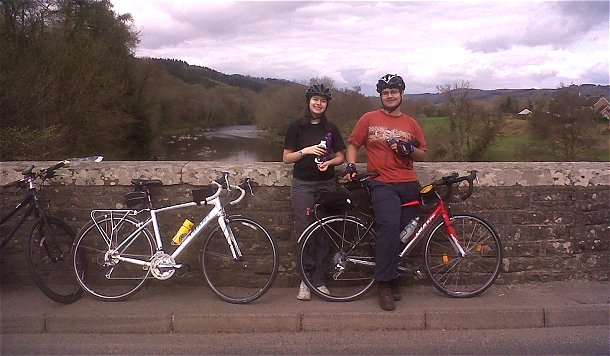 Day 3: Brecon to Clochfaen
Well the marvellous Luke turned up at the hotel as promised like a bicycle knight in shining armour. With two spare bikes on his roof and a mobile workshop. He proceeded to set up his workstand in the car park, dismantled the offending chainset and put in a new one for Duncan – all while we were having breakfast! The company is Drover Cycles – if anyone ever gets stuck in mid-wales!
Sasha used teenagers perogative and had a lie in instead of breakfast so our first stop was by the bridge at Llysfaen for 2nd breakfast! All in all a slightly later departure than planned. Builth Wells our original elevenses stop was lunch and Rhayadar at 4pm. Following route 8 today mostly along the Wye river. We cheated at Newton on Wye and followed A470 instead of the twisty bumpy route 8 version – so smooth tarmac for 10 miles and welcome relief for our ischial tuberosities.
There's certainly a lot of sheep in Wales and as you cycle through the towns – more likley to hear a few bleats coming from sheep trucks than the booming bass of a car hifi.
After Rhayadar back on route 8 and numerous farms with more sheep. One particular field contained a lot of very noisy and excitable sheep making a big racket which could be heard all over the valley. Was it a sheep rebellion? A call to arms?
We arrived at Clochfaen at just after 7.30 – the owners had prepared big bowls of spag bol for our arrival.
Perfect! Tomorrow its the mountains – early start – hoping we get to Macchynleth by lunch!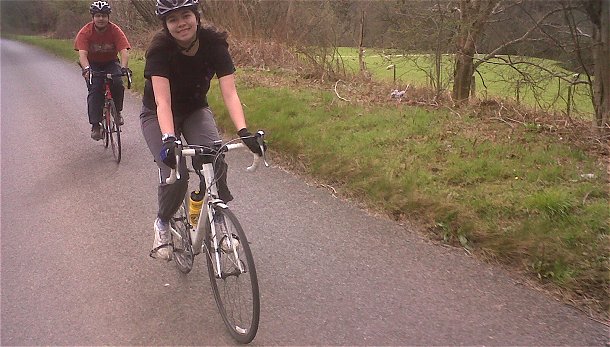 Day 4: Clochfaen to Dolgellau
Leaving the Clochfaen cottages, the rain started – just a drizzle which followed us for the first 15 miles. As we started the first big climb towards Macchyllneth – the weather hit us for the climb – hail and headwinds. D and S stopped singing – a sure sign of a difficult stretch. As we got to the top the rain stopped and the sun came out and they sang the 7 miles descent into Macchynlleth.
Late lunch and a not so difficult last 15 miles to Dolgellau mountains surrounding us!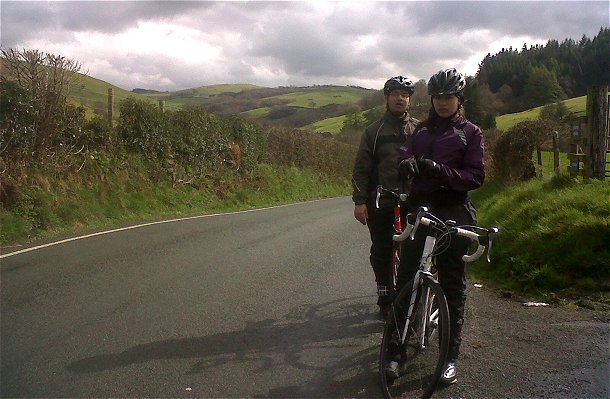 Day 5: Dolgellau to oblivion …
Dolgellau very pretty town in heart of Snowdonia – mountains and hills wherever you look. This morning, they were snow covered!
As we headed out of Dolgellau the cold wind and drizzle gradually changed to sleet and by the time we reached Coed y Brenin for a cup of tea – a full blown blizzard had started. No tea as the centre then had a power cut – presume it was the weather.
As we headed out of Coed y Brenin the wind and snow worsened and it was a challenge to stay upright. If we waited for the storm to die down we would be reaching Bangor at about 11pm so no more cycling today! Freak weather not seen in 30 years thwarted our attempt at day 5.
We'll have come back to do this another time….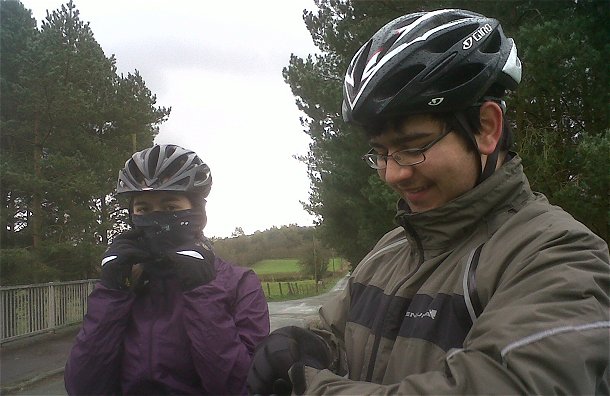 Day 6: Onwards to Holyhead
Blue skies and sunshine – completely different. The snow covered hills and mountains of Snowdonia behind us could still be seen – this was not going to bother us, the wind had dropped down and we were heading for the rolling hills of Anglesey.
The Menai bridge crossing and the road along the Menai strait was spectacular – mountains river and views of the bridge. We stopped to pick up lunch at the famous
Llanfairpwllgwyngyllgogerychwyrndrobwllllantysiliogogogoch.
Sasha was sprinting today averaging 15mph – zooming past the burial chamber and the heron fishing in the canal along route 8. But stopping to chat to the sheep and to enjoy our very large picnic – last day so had plenty of "emergency" snacks to use up.
We reached Holyhead at 4.30! A very good ride and a great way to see Wales!