Tuesday Ride: 3rd April 2012
A must have garment for cycling especially at this time of year is a gilet.  These became very fashionable and much promoted by cycling magazines a few years back.  They give good protection where most needed against the cold winds so common in spring and autumn, but being sleeveless allow very good ventilation when things warm up.
But why do bike shops have to charge rip off prices for the simple gilet (and lots of other things for that matter)?  A typical bike shop price is around £30 but if you have a bigger wallet than brain you can pay £80 or more!
About 4 or 5 years ago I bought a very useful, servicable, and now much used cycling gilet from Aldi for £5.  A couple of weeks ago Lidls were selling a similar gilet for £7 (price inflation over the intervening years and 2 vip pockets against the 1 in mine).  Some Anerley bargain hunters (Tom Vaz, John Dadson and Ricky to name a few) snapped up this gilet bargain as well as few other biking bits. John Dadson wore his to keep out the early morning wind and to impress some of our ladies on this week's Tuesday Ride.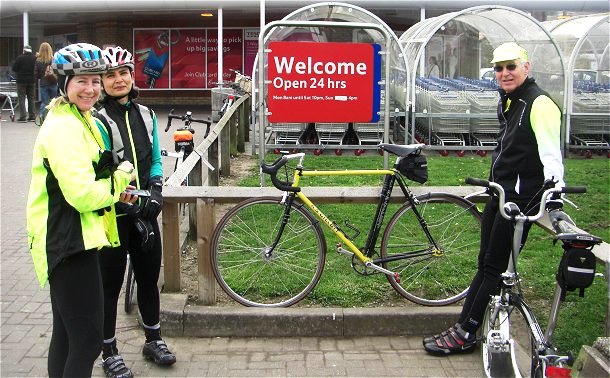 Making the most of the early morning sun and the weeks of rainless weather, I decided to offer our riders a bit of country air.  A bit of off road cycle tracks along NCR 21. Much to my surprise they loved it!
After climbing over Farthing Downs and the descent into the Merstham vale we joined Route 21, off road thru the Country Park and past the watersports centre. Rejoining tarmac we climbed Nutfield ridge for the next descent to shortly come to Redhill Aerodrome. Worth a visit, and there is even a cafe there for thirsty cyclists!
Whilst we didn't stop for a cuppa we did stop for a picture.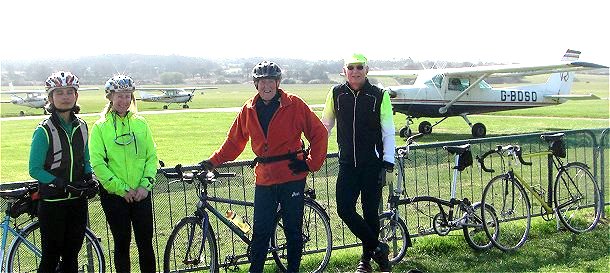 Back on our bikes, I took them for the next bit of off-road Route 21, along a lovely woodland track which took us to just north of Horley and on to our tea stop at Charlewood's Pine Shop.
With the first drop of rain forecast for several weeks we decided to take a chance and extend the ride, hoping to still get home before the now building clouds began the precipitation.
Passing under a thundering Boeing 747 as it climbed skywards from Gatwick airport it was hard to believe that this part of the Sussex Weald was once the home of goat herds, so Goatwick it should be correctly named.  And dating back to these ancient times we soon passed the home of a long gone goat herder,  Peters Farm built in 1570.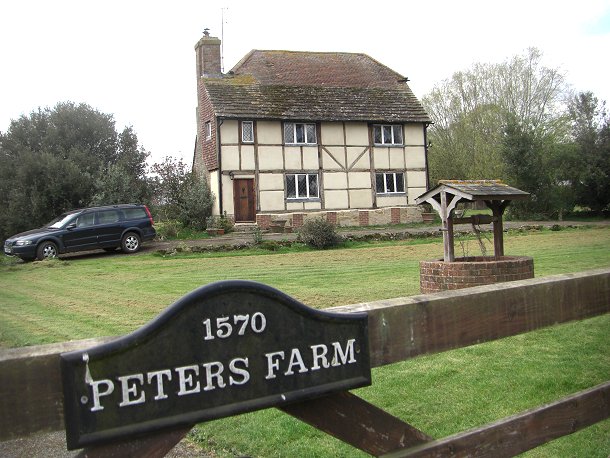 This was another year when terrorists plotted, not then Islamists but Papists. The Ridolfi Plot was financed by a Florentine banker with the intention of assassinating our Good Queen Bess and replacing her with Mary, Queen of Scots. However like the Spanish Armada, this plot was not a success, but it is interesting to note (for observant cyclists) that next door to Peters Farm is Armada Farm.  Does that tell us something about where English loyalties lay in those Tudor times? 
Mary lost her head, Alex Salmond had better watch out!
With summer fast approaching and Gina being the first to cycle across borders into Welsh Wales we thought that this might spur on more of you Anerley riders to follow us in to parts yet unexplored!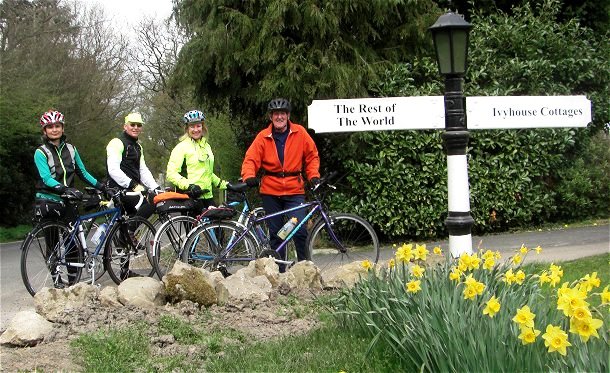 Next Tuesday, weather permitting, the rest of the world beckons.  So do join us at 10 o'clock, by the Shurguard building.
And practising my Spanish for our charity bike ride to Espana, "Hasta la vista and muchas gratias to Stuart for again pointing the camera!"