Sunday Ride: 1st April 2012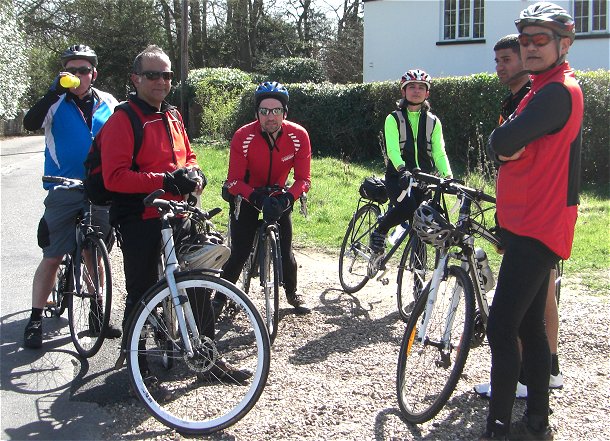 Four of us gathered at the phone box for what promised to be a sunny but chilly ride into the Surrey Hills. We had a first time guest Michael who was looking to do only his second fifty miler.
The climb up Chipstead Valley warmed us up and the ambient temperature was soon in the sixties, well above the forecast. We teamed up with Des, Tom & son at Denbies where Michael showed his credentials by blagging a jug of hot water to double our tea pottage for free. Must remember to sneak in an extra teabag next time!
Sharon had her new steed on display. The fourth Condor Fratello in the club. A beautiful 46cm blue frame appropriately fitted out by Blue Door Bicycles of Crystal Palace with the components of her old green bike.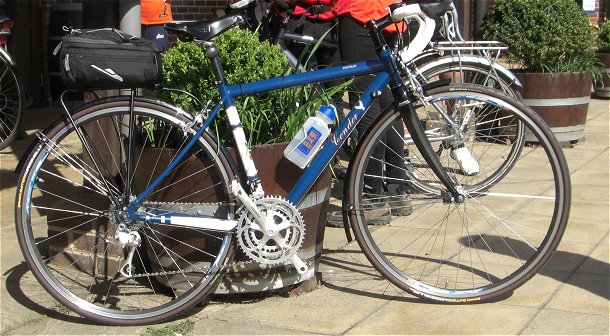 And then another contender showed up …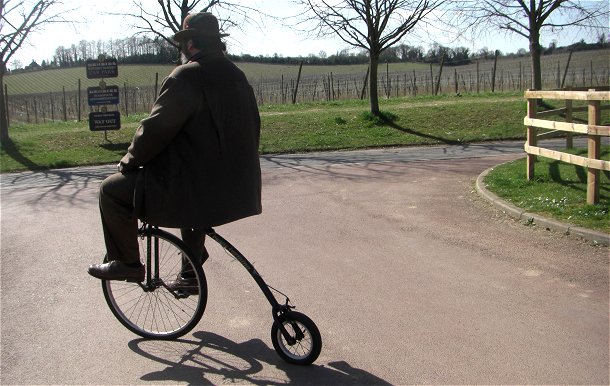 However our Captain had decided this was not a day for fixies as we headed up Ranmore Common. Michael managed it but Des took a more circular route missing the wonderful view from the top. From there it was a pleasant drop down to the Volunteer in Sutton Abinger where we sat alongside the Brook overlooking a medieval hamlet and two of us partook of some delicious Badger Beer.
Setting back our cunning captain stopped for a long rest at beautiful Friday Street …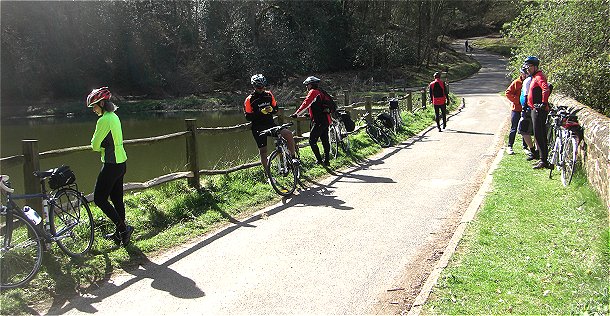 He spoke of a turning on the left which would avoid Leith Hill. He speaks of many things which is why we might have missed it for the climb got steeper and longer until we were there at the top …
Then down to Dorking and along or alomgside the A25 to Reigate. This was now a glorious afternoon so we adjourned to the round chromium and glass creation that is the Pavillion in Reigate's Priory Park for ice cream and stuff.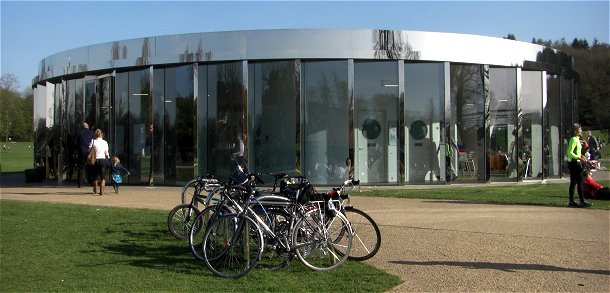 Heading back through the Merstham Gap we completed a great spring ride of a shade under 50 miles.