Tuesday Ride: 6th March 2012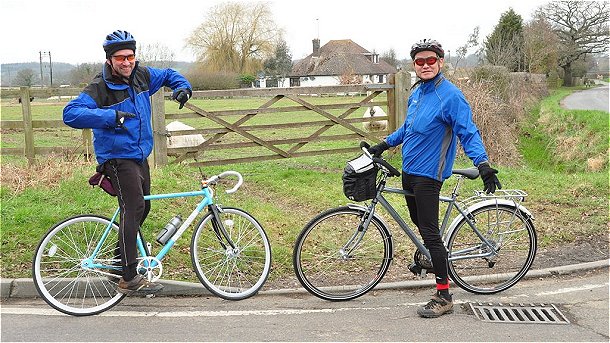 A Round of Golf
No, we weren't playing the game – of course not! As our destination was the
Horne Golf Centre I guess I took extra notice of the courses that we
meandered past. There was the Surrey National Golf Club which boasts that
"complimented by a superb clubhouse Surrey National has facilities that are
second to none. The magnificent building sits perched above the 18th green
with grandstand views over the lake, fountains and beyond."
Then there was Bletchingley Golf Club who reckon that "with the North Downs
providing breathtaking panoramic views, we guarantee you will want to come
and play over and over again." Lastly we approached our destination at Horne
where the main attraction is "reasonably a priced breakfast and apple pie
with ice-cream for John Turnbull."
We had our usual debate of bicycles in which John expressed a preferrence
Jeremy's cheap fixed gear Viking from Halfords to Ricky's shiny new touring
Dawes and my much loved Scott. No accounting for some people's taste is
there. We learned how gears ratios are expressed (something to do with penny
farthings) and the final conclusion was that Jeremy's 65 made him more of a
man than John Dadson's 63. All I can say is that I like to have gears!
On our way home we encountered some large blonde birds who were not
impressed by the new wheels – I told Jeremy that posing doesn't work with
emus. Finally after puffing and grunting our way up Flower Lane to Marden
Park we were rewarded by a sighting of a deer herd closely watched by a
magnificent stag.