Tilburstow Hill and Godstone's Pirate
How many times have you cycled up Tilburstow Hill?  Not one of our easiest hills and one that I can't say that I enjoy.  Perhaps that is because whenever I climb this hill I get the vibes.  It's due to my psychic attunement to the paranormal!
It all started 2 years ago, when on an autumn club ride we visited the Hare and Hounds for our lunch stop.  Tilburstow Hill Road dates back to Roman times and the Fox and Hounds has been there since 1601.  As you might expect it has a bit of a history, perhaps even a ghost or two.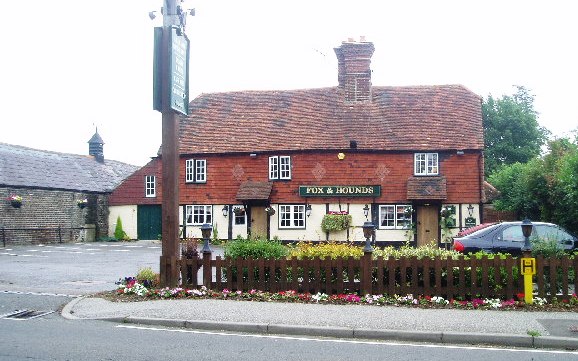 It was on the occasion of this autumn ride that I first got the vibes.  Also visiting the Hare and Hounds on that day, were members of the local Hash House Harriers, a social running club.  And what could be more sociable than running to a pub for a few Sunday pints!
But  all these runners were wearing fancy dress.  All were dressed as pirates. And it was this that started the vibes again, because all my working life was spent as a Customs Officer, tasked with detecting and preventing smuggling. So it was this that lead me to find out about the life and death of John Edward Trenchman, a pirate and smuggler!

Now this is a rum story, but it's true!
Trenchman grew up in London's 17th century dockland, among sailing ships and sailors from a hundred foreign lands.  Inspired by tales of adventure and the gold of the Spanish Main, aged 12 he ran away to sea, joining the crew of Henry Morgan, the notorious Caribbean pirate.
In later years, to avoid another war with Spain, the English Crown pledged to wipe out all pirating by English ships in the Caribbean Sea.  So Trenchman then returned to England and set up as a smuggler on the south-east coast.  Business proved good and within a year he was bringing teams of pack-horses  loaded with contraband up to Croydon every month.
A member of Trenchman's gang was arrested after a fight in an ale house, recognised as a smuggler and sent for trial.  However he turned King's evidence to save his neck from the noose, and gave detailed information of the secret routes used by the smugglers, plus the date of their next journey to Croydon.
Customs men, with soldiers, laid an ambush at Tilburstow Hill.  When Trenchman and his gang rode into a small clearing in a wood the soldiers immediately opened fire.  The fight was short and fierce, with only a fatally wounded Trenchman managing to make his escape through the surrounding dense undergrowth.  Bleeding badly he staggered into the 'Fox and Hounds' Inn where, in 1687, he died from loss of blood some hours later.  The villagers of Godstone took pity on the pirate who had died so far from the sea.  They buried him in an unmarked grave at the south end of the churchyard, and it was then that the haunting began.
One night shortly after Trenchman's burial, two grave diggers were hotly pursued through the churchyard of St Nicholas, by a man in seaman's clothing, who had suddenly leapt up from behind a headstone.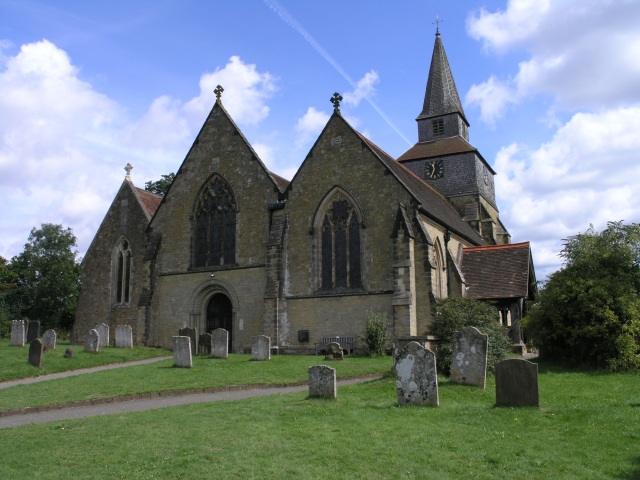 St Nicholas, Godstone.
Other people began to report seeing a shadowy figure dressed in seaman's clothing lurking among the graves at dusk.  Uncanny, weird, and frightening things began to happen in and around Godstone's church.
Finally, the priest and churchwardens removed the pirate's body and reburied him with a full Christian service, opposite the church doors.  Here you will find a most unusual headstone, only a few yards from the church doors of St Nicholas, the Parish Church of Old Godstone.  Carved on it are the notorious skull and crossbones which mark the final resting place of the pirate and smuggler, who died of wounds received in the ambush carried out by customs officers in 1687.  From then on nothing more was seen or heard of Godstone's pirate ghost.  At last he was at peace.
And if you think that I just made this up, take a look at his grave stone.  But not after dark!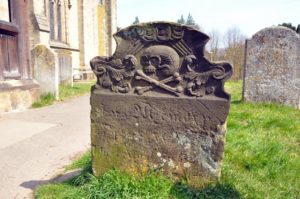 Des.