Tuesday Ride 4th December 2012
Winter has arrived!  I woke up this morning to a grey sky with huge snow flakes falling and the garden already covered in white.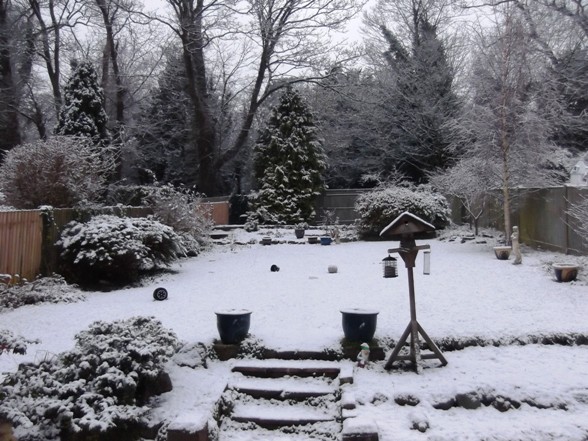 What a difference to yesterday, when although it was very cold, the sun was shining and the sky was blue for our Tuesday Ride.  The sunshine brought out the regulars, plus Tom Vaz who is almost fully recovered from his knee surgery, Brian Penny who had a day free from cycle training, plus Frank Kippin who we hope will also be a Tuesday regular.  That made seven of us as we set out from Shurguard for a ride down to Surrey's second largest village, Lingfield, which is on the county border with both Kent and Sussex.
Passing thru Crowhurst we stopped to admire the imposing gate house of Crowhurst Place. If this is the gate house one can only imagine what the moated, Tudor manor house must be like!  This is genuine Tudor, Crowhurst Place having been built in about 1450 for the land owner, Sir John Gainsford. This knight of the realm was a loyal supporter of Henry VIII. Very necessary in those times, in order to retain not only your lands and wealth, but also your head!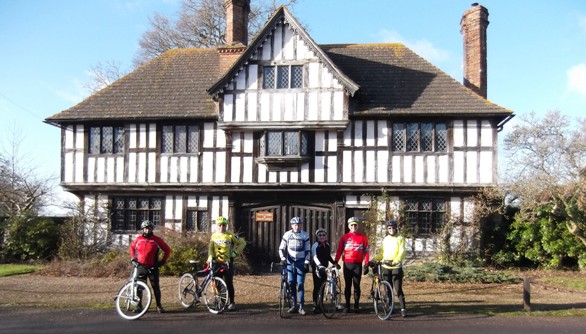 However this peaceful bit of Surrey was not always thus.  In 1533,  Sir John as the Sheriff of Surrey, wrote to Henry VIII 's First Minister, complaining about crime in the area.
"I cannot tell how poor men shall live in quiet, for within these past two years more unthrifty deeds have been done in this hundred than in the whole of Surrey.  We hope to have your aid in punishing such murders and crimes"
Whether or not this resolved the local crime statistics, the size of the later, local gaol would suggest that perhaps crime was no longer a major problem.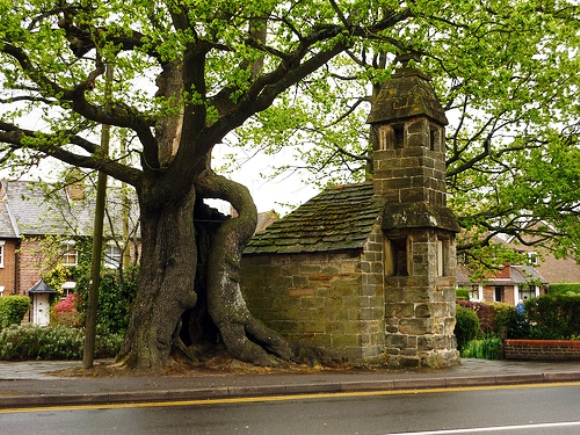 The Cage as it is locally known was built in 1773 and the adjacent, hollow oak tree is of much older heritage. The last overnight guest to occupy the Cage, was a poacher, in 1882.
Today's  problem seems to be cyclists riding without lights, jumping traffic lights, riding on pavements and pedalling furiously .  On this occasion there were a number of such hooligans whom had just been released after sobering up!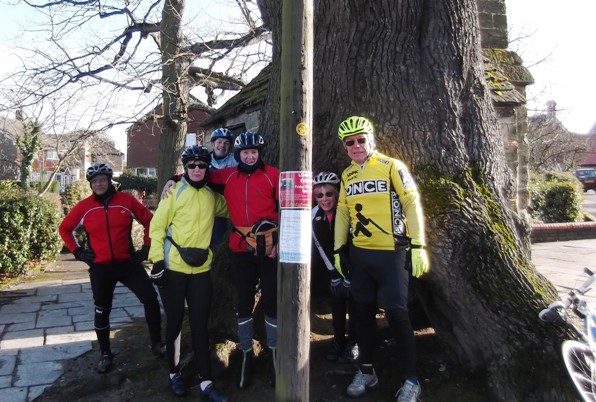 In need of a drink, a hot drink to warm us up, we met John and Meike at Browsers Tea Room.  We were shortly joined by Jeremy who also wanted to get a few cycling miles in on this crisp and sunny day.  After tea, toast, and a natter we set off on the B2029.  Frank sped off into the distance and missed the right turn into Tandridge Lane by the Red Barn, and was not seen again. Otherwise our return ride was uneventful!
So will it be snow or rain next Tuesday, or perhaps ice?  Assuming it is neither nor, hope to see you at Tesco, Purley for another ride into the Surrey hinterland.