Sunday Ride: 23rd October 2011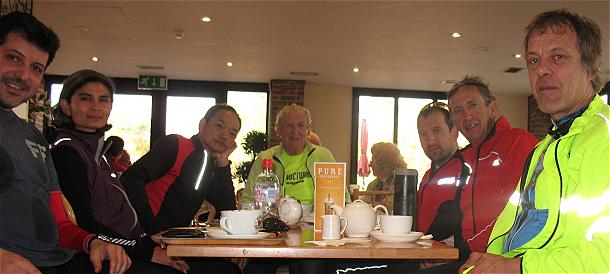 Last of the Summer Rides by The Magnificent Seven
The morning was as good as forecast with an expected afternoon high of 66F/19C. We welcomed a new rider
Yiannis from Canonbury to five other starters. The teachers & those with kids presumably choosing to be elsewhere for half term!
We trundled out past Kenley Aerodrome and Chaldon to a truly beautiful Autumn day with the sun low highlighting the fading leaves, sheep in a field and that the author had forgotten to initialise his camera to catch the idyllic scene. A fast North Downs downhill took us through Bletchingley and an impromptu practice for the ABC Freewheel competition on November 6th. Jeremy won again!
Onward and southward to the gentle roar of Gatwick Approach and our morning tea & cake stop at Haskins Garden Centre at Domewood. The place was decked out with Christmas decorations and I feared the we may be force fed Christmas Pud! But no there was an irristable Chocolate Cake at only £3.55 a slice … Jeremy took one and so did I. Concern about the cost evaporated at the checkout as the lad didn't know his chocolate from a cupcake (what do they do at school these days?) and I got charged only £2.75. My delight disappeared when Jeremy revealed he too had been undercharged – but £2.25 for the same cake! No justice …
We were joined by Des who had cycled there independently to make up the seven for the return. The day was still wonderful and every motorist appeared to treat us with courtesy, hanging back and the overtaking with space. All was very well with the world.
Until our lunch stop at the Royal Oak in Staffurst Wood. No lunch unless you wanted crisps. Despite being nearly empty they couldn't cope with our appetites. Oh dear, but we sat out in the sun with a wonderful vista across the countryside.
Homeward bound took us back round Godstone and up through Woldingham School and back passed Kenley. About 40 miles Purley to Purley.
Pix by Yiannis & Stuart, Track by Yiannis, Words by Stuart