Tuesday Ride: 23rd January 2018

The 'B' Ride was to the Blue Cafe in Leatherhead – except it wasn't.
Eleven of us (including the Coulsdon Contingent) went west with a hint of a drizzle in the air. Nick took a visit from the PF the Chipstead Road which delayed us a little en route through Walton-on-the-Hill and down Little Switzerland and across the A24 and up to Leatherhead. We found the Blue Cafe and a departing Meike & John. I was at the back so escaped the reason for swop of venue. Too full? Were we too muddy?
We adjourned to the Leatherhead Leisure Centre where the hot food was 'off' due to staff shortages. Perhaps this summer we should revert to packing a thermos and sarnies?
Which would require panniers – which brings us to Tina. Tina, as you may recall, is going to sweep the table of trophies at our Annual Dinner next week after her triumph in the Downhill Competition. It was pointed out she should have had two with bricks as training to carry them all away. I thinks she has been diverted by choosing what gown she will wear and worrying about preparing and remembering the mandatory 15 minute vote of thanks with slides. When I mentioned an autocue would make it easy this was the result …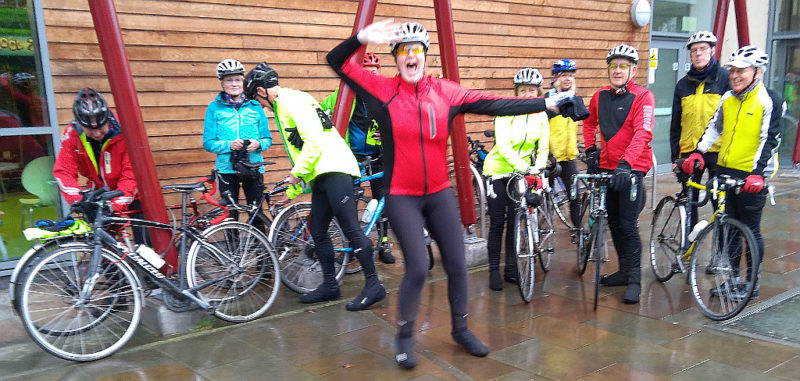 John D took the helm from Pete R for the sojourn up to Epsom before we returned with the wind behind us via Tattenham Corner. 31.97 miles @ 10.55 mph
Download