Tuesday Ride: 20th March 2012
When asked what people most like about Britain the most common answer by far is our beautiful countryside, our green and pleasant land. We are very fortunate in having the Surrey Hills and the wealds of Kent and Sussex on our doorstep. Over many generations our landscape has been worked on and moulded to produce it's mosaic of green fields and woodlands, and we as cyclists, can wander down country lanes to enjoy the views and beautiful old farms and country houses which dot out landscape. For this Tuesday ride the emphasis was to see and enjoy some of our local green and pleasant land (not forgetting the now abundant golden daffodils), via a circuitous, 20+ mile route to the Pine Shop tea room at Charlewood.
The all male cast of travellers were John Dadson on his upright folder, Ricky on his new Dawes Kara-kum touring bike, Scott mounted Tom Vaz, myself, and making up the quintet, Stuart whose absence is the result of being the team photographer. But note that his part folded Brompton takes pride of place in the following pic!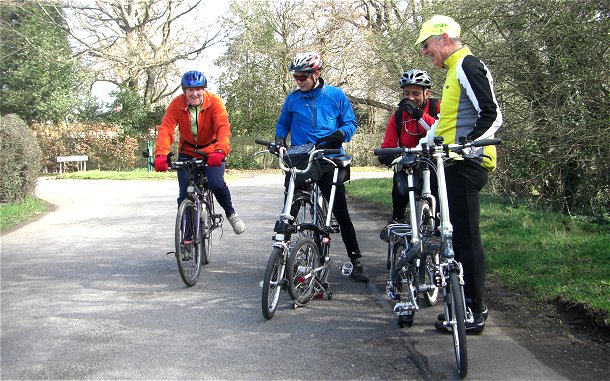 The folders are a good demonstration of how after over 150 years of development the bicycle is still evolving. I only mention this because on the last Sunday ride we came across a vintage bicycle club on a variety of old machines dating back to the early 1900s.  One of these was a Dursley-Pederson, a very innovative and unique design which first appeared in about 1893. It was years ahead of it's time, the first experimental model weighing only 13 lbs, lighter than even the best carbon fibre bikes of today!  For whatever reason (perhaps cost of it's more complex design) it never became a mainstream bicycle to replace the now traditional diamond frame.  It is a bicycle for which a picture is better than a thousand words.  A number of photos were taken, which I hope will appear on this site.  (Hint to our photographers!)
Continuing with the theme of a picture being better than a thousand words, just one of the many old farms and houses which we passed on our way to Charlewood, constructed and extended over centuries from local materials.  A mix of traditional timber framing from the local forests of earlier times, a more recent tile hung front when kilns, brick and clay came into fashion, and to top it all a display of the thatcher's craft.  Another of the farms near here (Peters Farm) has a sign showing that it was built in 1507. That's even before  Henry VIII became king!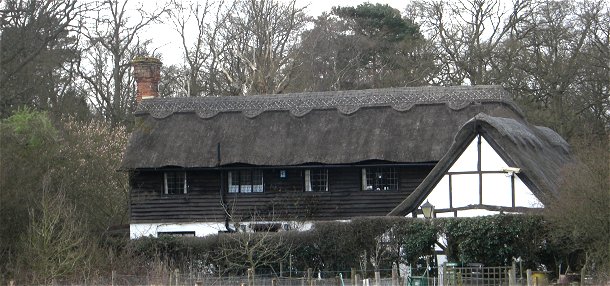 Unfortunately, this part of our green and pleasant land is again under threat. Once more the expansion of Gatwick Airport is under discussion and if, or more likely when  this occurs, not only will we lose many acres of Old England, but also our tea shop!  So let us make the most of the pleasures of tea and toast at the Pine shop whilst we can.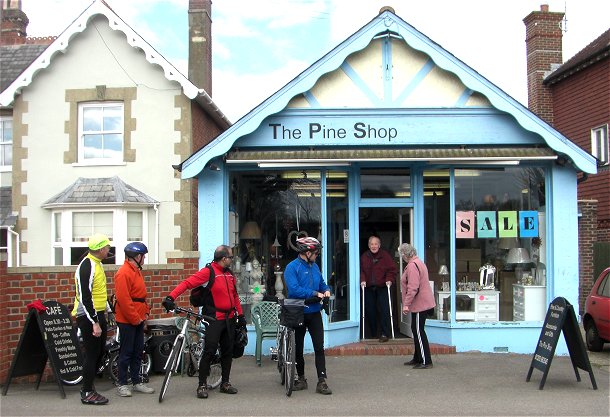 Next week the Tuesday Riders venture into the weald of Kent, so meet at the Shurguard Building at 10.