Tuesday Ride: 1st November 2011
Early morning rain had passed over and by the time we set off on our ride at 10 o'clock the sun was out. The "we" being a wee three, myself with only Sandra and John Dadson to keep me company. It was however a wonderful day to be out on our bikes as the sun remained out during all of our ride. The sun shine high lighting the autumn tints as we pedalled along some of Surrey's country lanes.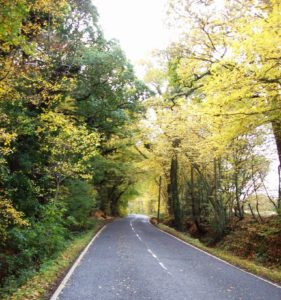 After the climb up over the North Down's ridge to pass by Kenley Aerodrome, we had the fast descent from the Harrow Inn, down White Hill and over the M25 towards Bletchingley. In those few miles we passed through 2,000 years of military history. Kenley Aerodrome seeing much action, death, destruction and defiance, during World War II. Then there is the Iron Age hill fort, now known as the War Coppice, close by the top of White Hill. And centrally in time, the site of the castle which in Norman times dominated the lands around Bletchingley. Whilst all that remains of this Norman fortification is it's mound, the imposing Norman church of St Mary the Virgin indicates the importance of Bletchingley in times past.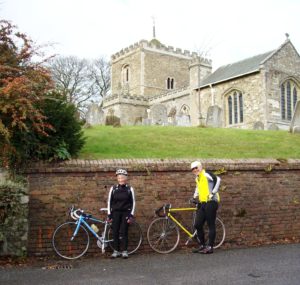 Our destination was the Horne Park Golf Club and it's welcoming tea room, and yet more of our military past!
Here, for 7 weeks during May/June 1944, was established a fighter base from which air support was provided during the critical period of the D-day landings on the beaches of Normandy. But now the Horne Park is a scene of tranquility and a regular venue of the Anerley Tuesday Riders. On this occasion, we again met John and Meike, and the good news is that week by week John is progressing. He can now walk 50 steps without crutches or other support and cannot wait to get back on a bike!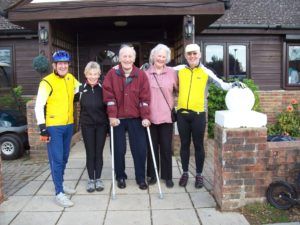 .