Sunday Ride: 16th October 2011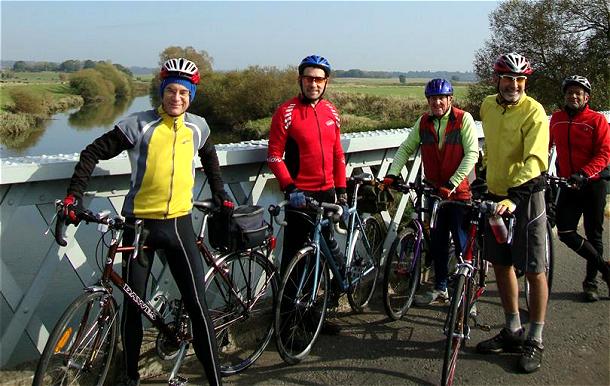 It was with great delight that six Anerley BC members met in Horsham at 10am on Sunday 16th October, ready to enjoy their "away ride" on a beautiful sunny day. After a hard drive to the meeting point, it was not possible to set off on our bikes without a hot drink and plenty of conversation at the Conservatory Cafe in Horsham Park.
Eventually we decided that we ought to start the ride, and headed off out of Horsham led by Jeremy. We had a twenty five mile ride ahead of us to our lunch stop in Petworth. However, it has to be noted that Des started asking where the next cafe was after only thirteen miles had been covered! The ride was delightful: undulating but not taxing, with quaint towns and lovely scenery. The pace was comfortable and the pleasure great. What could be nicer than a leisurely ride with friends through such a beautiful area of the country, on a sunny (albeit chilly) autumn day?
At the river Arun, we stopped on the lovely old bridge for a look at the river and a photo opportunity. After further scenic riding, we arrived at "The Grove Inn", a small attractive pub on the outskirts of Petworth. Whilst Jeremy and Graham braved the garden, the less intrepid Des, Tom Vaz, Tom and I sank into very comfortable sofas inside to enjoy our lunch.
After a longish break, and fortified by a pint of bitter (or two), we headed off again to make our way back to Horsham, a ride of about twenty miles. The sun continued to shine, and the air was decidedly less chilly by now, so we enjoyed our ride northeast back to our starting point. We started with a jaunt through the charming town of Petworth. Along the way, we had a brief stop to admire the classic Lagonda cars on display outside "The Cricketer's Arms", a pub in Wisborough Green.
A very pleasant outing was had by all on this ride, and it was agreed that it would be worth organising more "car-assisted" rides next year. A big thank you to Jeremy, who organised the trip, and lead it with his outstanding map reading – we never got lost!