Tuesday Ride: 17th July 2012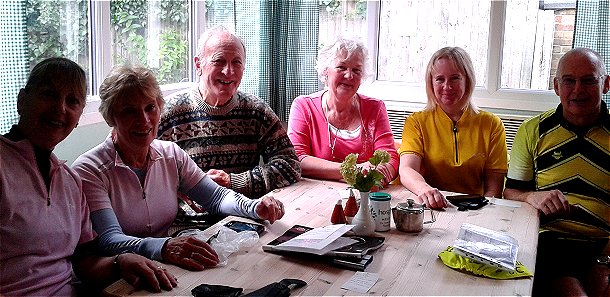 After so many weeks of rain, wind, and anything else the heavens could throw at us, it was great to have a fine, dry Tuesday for a lovely ride to Otford. John Dadson took over the reins as leader, due to Des being away on his Spanish tour. John ably led the ladies (Sandra, Jenny and Julia) on a pleasant and uneventful route along Pilgrim's Way, through Sundridge and then along Ivy House Lane into Otford. Our tea stop was a lovely little charity shop which has a large tea room at the back. There we were met by John and Meike, and we had an enjoyable time together reminiscing.
The route home took us off-road, up the Old Polhill track through the trees and onto Polhill at the top. We then had a quick ride through Knockholt and split up to follow our various routes home.