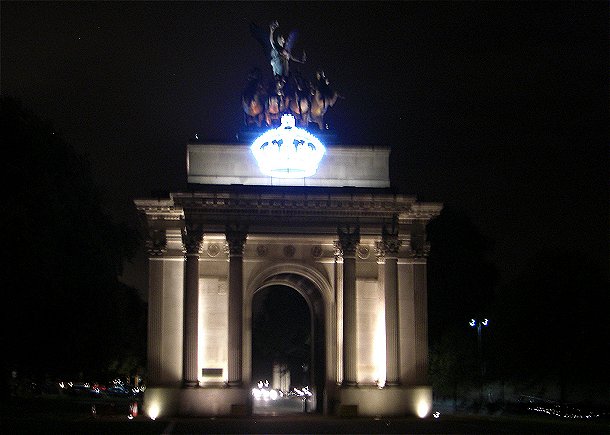 Arch to Arch (Hyde Park Corner to Arc de Triomphe) in 42 hours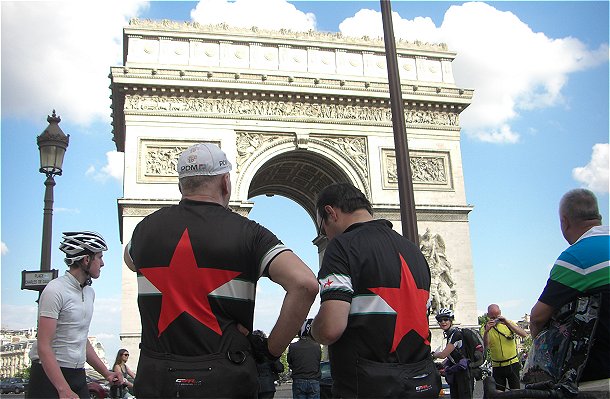 I did it last year on my Brompton as I couldn't get a ferry booking for a proper bike. This year was different. Little could I anticipate this was going to be a great year for a certain other cycling tourist!
The July weather was turning unseasonably warm as left London preparing for the Olympics at midnight Thursday 19th. Neverthless appalling rainstorms of the last few days had left the Surrey lanes in a dangerously gravelly state. Lethal at night. Hence after passing Anerley's Shurguard start point we hugged the A23 to our tea stop at Gatwick Airport. We were about thirty of which eleven planned to go all the way to Paris. The others would peel off and watch the closing stages of the TdF in the comfort of a Newhaven or Dieppe bar …
The Gatwick Cycleway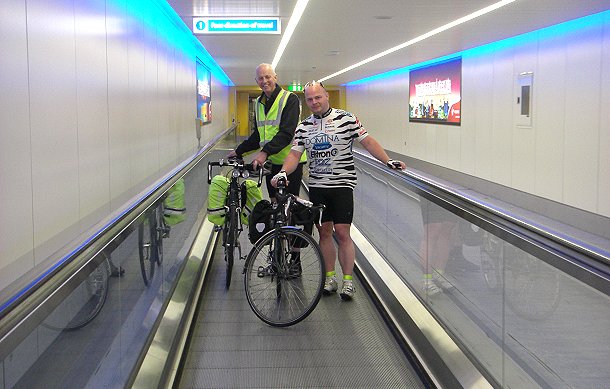 First light after Gatwick allowed us to venture on to B roads and we took the traditional route over Turner's Hill via Lindfield and Lewes to breakfast at the ferry port. The boat left at 10 o'clock and the sensible thing would have been to get a kip during the four hour crossing (we had been awake for over 30 hours). But first a drink, and then another …
No sleep but plenty of regrets as we set off in the warm afternoon sun for the twenty five miles to Saint-Saens and a Chateau for the night. Refreshed next morning we left at 7.30 am for what must be one of the most pleasant rides in the world across the rolling Normandy countrysides along pretty lanes with perfect surfaces and almost no traffic.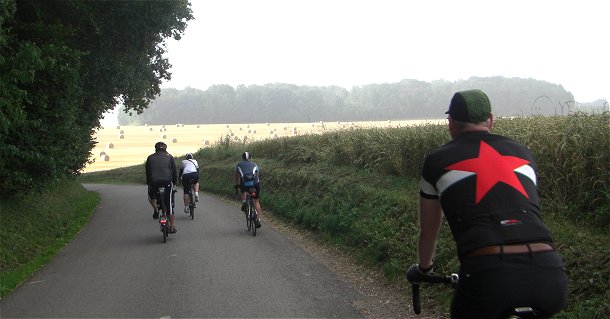 Past Gisors we passed into the Ile de France a not so pretty part of France. The outskirts of Paris are even worse. But Paris itself is so different, so magical. We got to the Arc de Triomphe, too piccies and rode around it. Something to treasure even if it felt a trifle suicidal. And so to a Hotel, a celebratory meal and sleep … 175 miles or thereabouts.
Meanwhile another set of tourists were heading to Paris headed by an Englishman. Or is he Belgian or even a bit Australian?
Everybody was in for a share of his slim body. We got up Sunday and set off on the pilgrimage to meet the and greet the boys. Some were sporting sicky-on sideburns liberated from Elvis shops. We all found a spot around the final circuit and just after 4 o'clock WHIZZ, then minutes later WHIZZ again. By the final ninth WHIZZ I'd got my eye in and grabbed a shot of our Brad …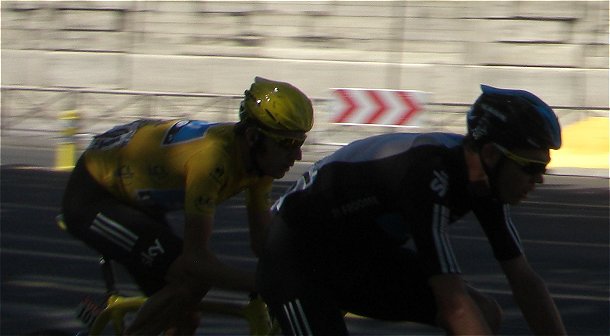 Most of the group Eurostarred home. However a friend and I decide to pedal back to Blighty starting monday morning. Well we did take a train 30 miles out to Mantes-La-Jolie and the countryside. We then followed the quiet, mostly flat, roads along the River Seine to Rouen. Eighty two miles of paradise under a cloudless sky and our last night in France.
Next day we had a hard slog up out of Rouen to the Normandy plain and the forty odd mile descent to Dieppe and the ferry home. Missing out the Rouen bit would make this journey perfect. Anyway getting off the ferry in Newhaven I spotted this beastie. Its a Roberts, but not as I know 'em. The tandem had been given to them as a wedding present. Might make a divorce settlement difficult!