Tuesday Ride: 16th August 2016
This was the first Club Ride that I had lead for 3 years or more, so I hope I managed to make it enjoyable for the 20 or so who turned up to be lead astray. It was also my first, and a Club first, to Bites Cafe at Ockham. The weather forecast was predicting 27 degrees which was one reason why I chose to go to Bites. The cafe is in a cool and shady woodland setting. Perfect for the day!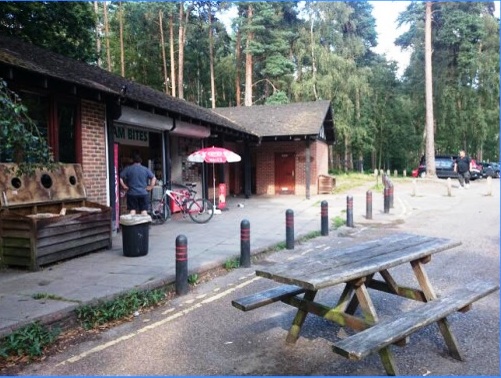 When we arrived, John and Meike were already there. John was especially enjoying the visit to the woodland cafe, because it brought back memories of when, 40 odd years ago he had often been there.  Then it was the assembly point for cyclists who were racing on the famous A3 time trial course, and John was then one of the Anerley's time trial stars.
So that is one bit of history, but there is more!
With 20 riders it was sensible for safety reasons to split into 2 groups. I managed to find my way to Ashstead Park, home of the magnificent mansion which now forms part of the City of London Freeman's School, where we stopped to wait for the second group.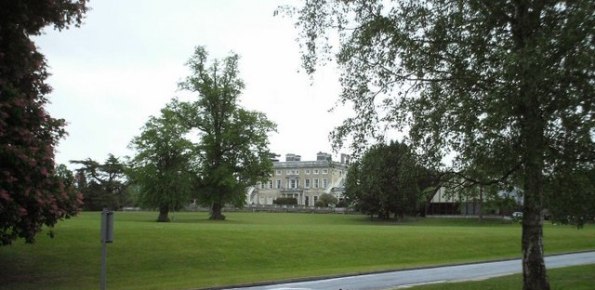 Whilst we waited I gave my group a history lesson.
The most famous owner of what is now Ashstead Park, was Bishop Odo, step brother of William the Conquerer. His reward for bashing a few English heads!
Bishop Odo is more famous for having the Bayeaux Tapestry made. One of the panels of the tapestry shows the Bish bashing a English nobleman. Hence the term "Knight Club"!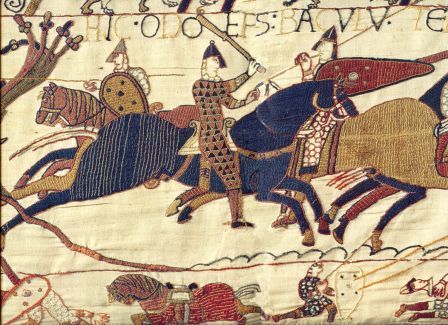 We stopped by the gated entrance to the park, where I pointed out the adjacent, beautiful house with a sun dial on the front wall. The sun dial is dated 1752.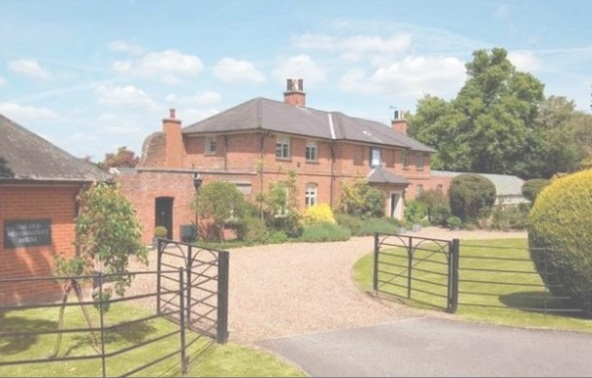 Then Barry pipes up "I've been in there, the school's headmaster lives there".  He might not now as the property is/was up for sale at £2,000,000.
However, Barry told us that in his day job, like the Daleks, he had been an exterminator. No Barry had not been there to exterminate the naughty pupils, just other types of  pests.  On one occasion he was there, when during some building works, a well had been found under the floor of one of the rooms.  Of course turning on a tap was not an option in the 17oo's so a well was a very necessary addition to the homes of the upper class.
But moving on, yes I did lead our riders astray. My plan was to avoid the town centre of Leatherhead, but I took the wrong exit off a roundabout and we ended up going round the town centre one way system. Not all bad, because by then we had lost group 2, but after an exchange by mobile phone, they caught us up whilst we waited by the railway station. Then all together it was off to Stoke D'Abernon,  a bit of off-road to Downside, and some scenic country lanes to the tea stop.
We returned by a slightly different route, with some more off-road through the shady woodland of Bookham Common, to return to Leatherhead. No more astrays, but one puncture after passing over Epsom Downs.  So with 40 plus miles in our legs we did manage to make it there and back.
Des.
And wonders never cease I've received a Comment!