Tuesday Ride: 15th November 2011
The BBC weather forecast promised a grey day, which it was at 8 o'clock. But by nine the sun was breaking through and when we set off at ten it was blue sky and remained so for the rest of the day. It was a great day to be out on our bikes!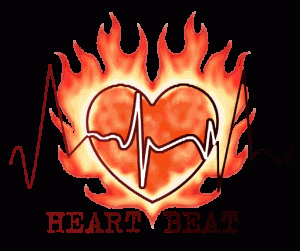 Having missed last Tuesday's ride, and the Sunday ride as a result of Remembrance Sunday church parade, I had to make up for lost mileage by upping the intensity on this Tuesday ride. As our tea stop was the nursery at Four Elms I was assured of lots of hill climbing both on the way there and on the way back. Having extolled the benefits of sprinting to speed limit signs I also took advantage of those along our route. And just to make sure that I was keeping up the intensity, both John Dadson and I were wearing our heart rate monitors.
The first sprint was a short one to the no limit sign, coming off the roundabout just past Sainsbury and going out of Warlingham. The next two were longer sprints for the 30 mph signs going into Westerham and later into Four Elms. Then the long climb upto the top by Botley Hill Farm and later the climb out of Westerham and over Hosey Common, all ensured that I maintained an average heart rate of over 80% of max!
Of course the purpose of the ride was not to kill us, but to enjoy the ride! So arriving at the top of Hosey Common I turned off into Hosey Common Lane, a very narrow country lane through woodland. In April/May this wooded lane is lined by a mass of bluebells, but on this Tuesday it was the autumn tints, enhanced by the dappled sunlight through the trees.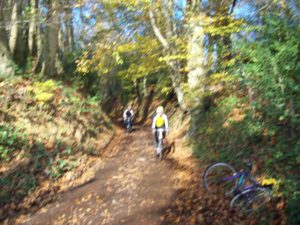 Further on the lane starts a steep descent, made tricky by fallen, wet leaves and a rock strewn road surface. I went on aheard to get a photo of John and Sandra picking there careful way down this sunlit cutting. We were all glad when we reached the bottom and turned into the delightfully named Puddledock Lane!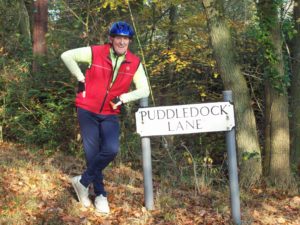 From here it was an easy downhill, except for the final the sprint into Four Elms and the tea room at the Chartwell Barns.
Here we met John and Meike and were later joined by a guest visiter, Sandra's husband, Harvey. He was out on a training ride, longer and more strenuous than our little 30 mile jaunt!
And a bit of very good news from John. On Saturday he went to Croydon Arena where a cycling charity has a variety of bikes and trikes for people with disabilities. Here, John had the chance  to get back in the saddle, pedalling a trike around the arena circuit. You can just imagine how thrilled he was by this. I hope that we can have a photo or two of John's beaming face during his next cycle ride at the arena!
For anyone reading this posting who would like to find out more about this great cycling opportunity for persons with disabilities follow this link  http://wheelsforwellbeing.org.uk/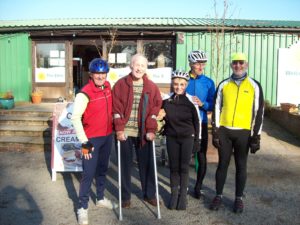 Our return ride was back past Chartwell, through Westerham and over the top at Botley Hill Farm, and to finish the heart beat ride, a final flat out sprint past Knights Garden Centre to the 30 mph sign at the entry into Warlingham Village.