Friday Night and Saturday Morning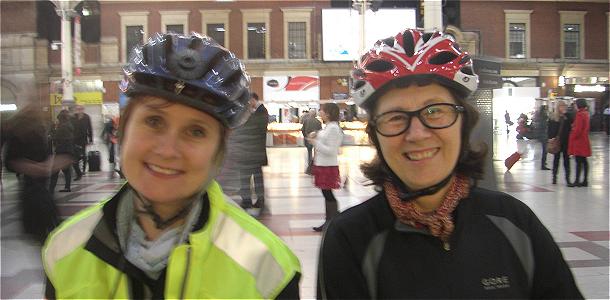 Victoria Station late on a Friday night every month is the gathering point of a strange band of assorted cyclists. This November time the mix included Louise, Marilyn, Clive & myself with one destination in mind: Whitstable 70 miles into a gentle easterly wind. More worrying was the precipitation forecast – heavy rain in central London at midnight!
The Friday Night Ride to the Coast (FNRttC) has, in six years, grown from a pioneering motley crew of friends looking for a nice breakfast by the sea into a regular 80 to 120 band of riders of mixed ability (and occasionally none) who ride through the night at conversational pace for … FUN!
A sort of large nocturnal Anerley.
Having gathered folks from south of the river we ride the short distance up to Hyde Park Corner to meet our friends from the north under the Wellington Arch. All up that was 90 of us on the night and the weather was holding. Reports were that the storm had settled over Forest Hill & Penge so distancing ourselves from Anerley was a really good idea.
On Big Ben's stroke of midnight the tribe set forth through Green Park, past Buck House, on past Parliament Square and along the Embankment to cheers from scantily dressed and ever so slightly tipsy ladies queueing for club nights.
picture by Els
Then across London Bridge and hanging a left under The Shard and into the Bermondsey Badlands. For those that had fortified themselves with a little dutch courage a traditional 'Splash & Dash' relief stop was made at the Surrey Quays 24hr Tescos. Good to know they are good for something! It was also an opportunity to re-gather and deplete the energy (Mars) bar stock.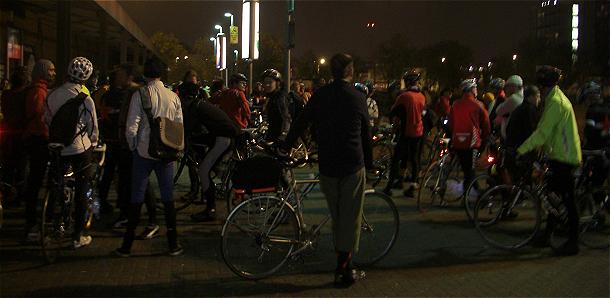 And so on into the night. Greenwich, Charlton, Woolwich, Erith, Dartford by-pass … places you would think twice about riding by day but in the early hours almost devoid of traffic and where a long snake of twinkling red lights puts the few motorists on their best behaviour. Window winds down:
"Where are you all going?"
"Whitstable!"
"Why?"
"For breakfast"
"You're crazy!"
Yes, but happy. We string along not far from the Thames in an area that is neither town or country until we come to Gravesend – a place I only discovered on a Friday Night Ride. I don't know what it looks like by day but in the sodium light it appears to be a well preserved Georgian Town centred on a monumental clocktower. Now we are in real country. Narrow open lanes undulating gently towards Rochester – our halfway stop for tea and sandwiches. On the fast descent my rear wheel finds a nasty pothole and the puncture fairy finds me. My fumbling attempts at changing the tube are calmly elbowed aside by the TECS (Tail End Charlies) whose skill and strength makes short work of it.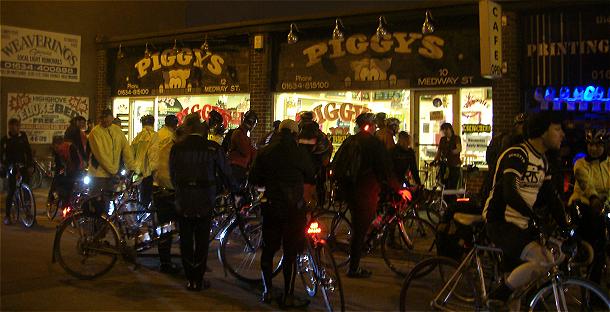 Piggys was a new cafe stop for us. I think its the first time they have had to cope with such a mass of hungry and thirsty cyclists at 4am. So it took a little longer than normal before we were all refreshed for the final push onto our destination.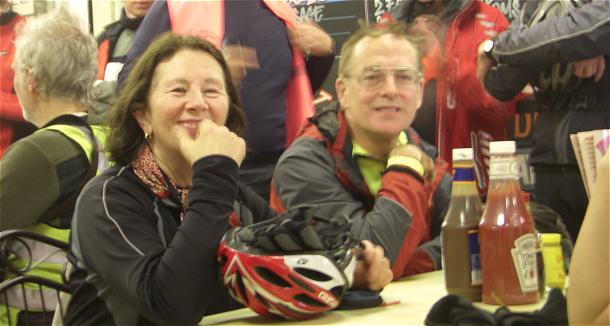 Once free of the Medway Towns and we were back in beautiful Kent countryside. The Church Tower at Upchurch always brings a gasp (unphotographical on a dark 6am November morning) and Milton Regis is the pretty side of Sittingbourne. We ride past the famous Shepherd Neame brewery to regather at Faversham church. That's the end of the group riding bit. Our destination is about ten miles further and the lure of breakfast and bar opening at 9:30 means the last bit is every cyclist for themselves. Some continue at a sedate rate, others 'go for it' across the Graveney Marshes into Whitstable.
This Saturday we arrived rather late but happily dry. Breakfast was taken mostly outside amongst new and old friends. It was all so worth it.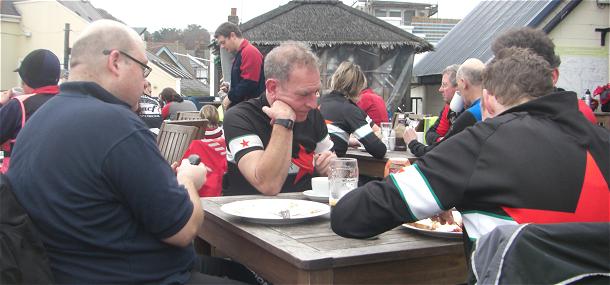 There is one more ride this year. December 2011 in Southend: what could be more attractive?