Sunday Ride: 13th November 2011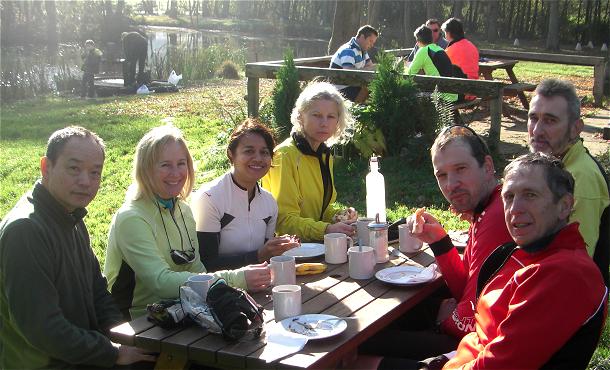 The sunniest, warmest November Sunday in living memory and only seven ventured out to enjoy it!
We pootled along our usual route up Chipstead Valley, down to Betchworth and hung a right towards Brockham. We studiously ignored the ROAD CLOSED sign as those don't apply to cyclists – you can always walk your bike around the obstruction. Except we couldn't. There was no road, just an enormous hole that spread into the fields either side. You could walk, or possibly ride a mountain bike, along a muddy track but as Ewa had forgotten her cleaning kit this was no option. So a roundabout route to Brockham included two 'duck crossing' signs but no ducks.
And onto Hensfold Lakes and thankfully this time the Cafe was open. Not many there either enjoying the sun (see photo above). The AGM was dissected, limericks created and Jeremy had some ideas about a new club jersey design (see here).
Five of us pushed on Outwood and our first visit to The Castle. A very nice pub and one we shall hopefully re-visit. Finally we took a stop to sample an amazing array of windfall apples at the Hart near Godstone. Back via Marden Park. About 50 miles.