Tuesday Ride 15th Jan 2013
It was one of those dog days, all right for a brisk walk, but too cold for me to brave the forecast zero degrees and biting wind.  As it transpired, the sun came out and the breeze was not as breezy as foretold and everyone had a good ride. Except me of course who had other things to do.  Namely to walk the dog!  Not my dog but my daughter's puppy, Alfie, seen here on his first Christmas day.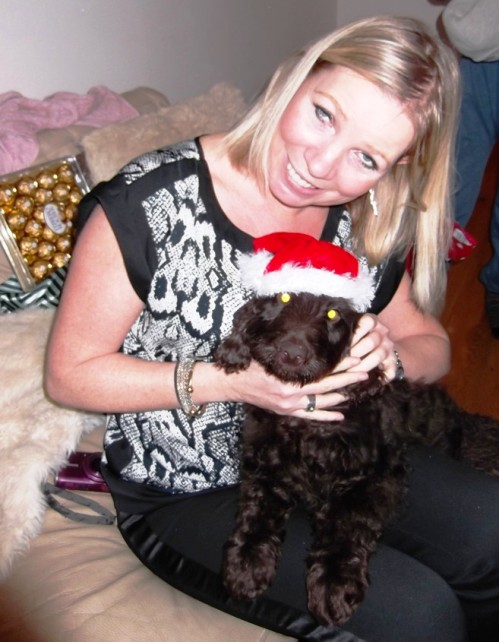 Alfie is now 17 weeks old and I provide the baby (dog) sitting service, which of course includes walkies!  But why all this doggy news?  Only to explain Frank's opening to his report of this Tuesday's Ride.  Frank sat in as the ride leader in my absence.  So over to Frank.
We met at Tesco, that is John D, Tom V, and myself who was Ride Leader for the day.  Even Des turned  up with his chocolate brown, trainee dog just to wave us off!  However a problem arose, even before we started.  A case of too many cooks, or perhaps the cooks did not read the recipe!  The plan as advertised on the Anerley Bugle was, that for a change we would stop at the Walton on the Hill tea room, opposite the Mere Pond, to watch the ducks skating on the ice.  Knowing the destination, but not where it was, I used Google Maps to locate the place and how to get there (I am after all a relative new comer to the club!).  However it would appear that some club members don't keep up to date with club news.  As a result others had made arrangements to have the tea stop at Tadworth and meet John and Meike there, at a tea room that I have never been too.  Fortunately both places are not too far apart, and with some help from others we managed to get there,  so it was not a complete disaster!
So with a woof from Alfie we set off, with the intention of picking up Sandra at Coulsdon Post Office, albeit that I shot past for a mile and Tom had to chase me down to go back to the PO.  Then onto Kingswood, with John leading us well ahead up the long hill prior to turning left into the Warren Estate. Tom came up last, puffing as he was overheating despite the cold weather. Something to do with wrong gloves which were too thick.
Crossing the main A217 we had to make a decision on the best, circuitous route to arrive at Tadworth for about 11.45. Tom proposed a switch back ride which kept us warm on the several climbs. Place and road names flashed by, Headley, Hurst Lane, under the M25, and up the long climb towards Ebbisham Lane and Walton on the Hill where I managed to keep ahead of John until the final stretch.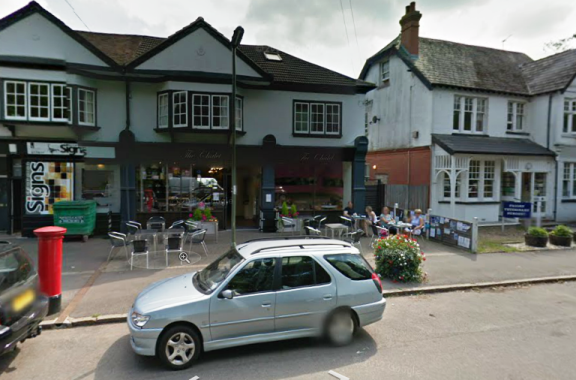 Arriving at the tea room which is next door to a vets, we saw that Meike and John T were already there.  As you no doubt appreciate that is not us sitting outside in short sleeves, but other people at another time!
The warmth of the tea room was most welcome, and even more so the hot tea!  Sandra was well prepared, passing round a hand warmer sachet. My feet were so cold I could have used it in my shoes!
I mentioned the vets next door because on our way out from the tea shop I helped a lady carrying a large Alsation by opening the door to the vets, as you do as a gallant ABC member.
The day seemed to get colder after the tea break.  Maximum exposure down hills facing north.  I must get a ski mask!
Directed by Meike we went home via Tattenham Corner, and then to Banstead,  and down the hill to Chipstead Valley Road.  On this descent a lorry had shed its load of  plaster board, etc, which we had to negotiate at speed. A bit of slalom training!
Sandy peeled off on the approach to Coulsdon, while the 3 Musketeers raced on, only for Tom to escape through the traffic lights towards Purley and we lost him!  I then had the climb up Purley Downs Road and on home to my base at Selsdon, where after changing etc, I had one and half hours  out braving the icy blast from the North with Denzel, my chocolate brown labrador.
So we started the ride with a dog's tale, ended with one and had one in the middle!
Frank.
So thank you to Frank for overcoming all the problems that leadership can bring, and for putting pen to paper, or as it now is,finger to keyboard. I can only add that I did not waste my day.  After my dog walk it was down to some serious training. You can read all about it at http://anerleybc.org/how-to-keep-fit-this-winter/