Tuesday Ride: 11th December 2012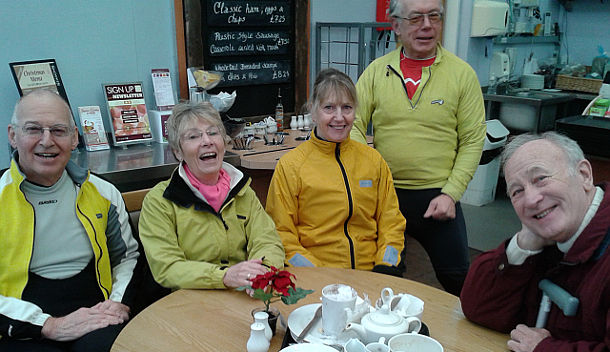 Hi,
We had a lovely easy ride to Reigate & it was frosty & foggy at first. Unfortunately Des wasn't feeling too good so went back early, which. left John, Frank, Sandy & myself for a cuppa at Squires Garden Centre.
Jenny
(Sent from Samsung Mobile)
No Tuesday Ride next week (18 Dec) as it is the Christmas Dinner for the Tuesday Riders, 12.30 at The Windsor Castle (Toby Inn) at Purley Oaks.  This is an old coaching inn which featured in a very famous record setting coach drive in 1888. This  record was to drive a coach from London to Brighton and back in under 8 hours.  Cycle racing was in its infancy in 1888 but this coaching record became a challenge for cyclists to beat, and beat it they did.
In order for John Selby, the coach driver, to set this record it was necessary for him to change the team of four horses at regular intervals. The team was changed at the Windsor Castle on the way to Brighton, and again on the return drive. The team of four could be uncoupled, and the new team harnessed in under two minutes. A lot quicker than we can change a punctured tyre!
This is the famous coach, the Old Times, on the record breaking journey.