Tuesday Relaxed Ride: 23rd July
I took my dog, Alfie, out for a walk early on Tuesday morning. Even at that time of day it was really hot. As a result I contacted Tom V and Peter R to suggest that we shortened the morning's bike ride and only went to Horne Golf Club, rather than the intended destination of Copthorne.
Tom replied that he would prefer the longer ride to Copthorne, so Olivers Coffee and Wine Shop at Copthorne it was. – – – – Or should have been!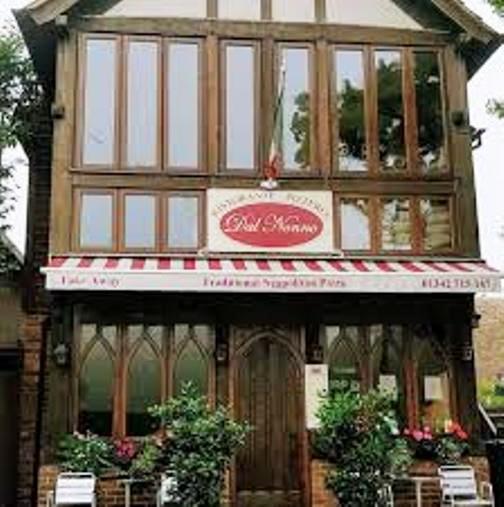 My group of ten more laid back riders, took a different route to the other 2 groups. We went up Welcomes Rd, past Kenley Aerodrome, Caterham on the Hill, and the fast descent to Brewers Street – lots of sand had washed down into the dip by the Old Rectory, from the previous night's thunder storm. After traversing the A25 at Nutfield it was mainly down hill all the way to Copthorne. Heading south we had the benefit of lots of cool shade from the tree shrouded country lanes. A real pleasure to get out of the now, scorching sun
When we arrived at Oliver's there was only Meike awaiting our arrival. So what had happened to Tom's group, who set off half an hour before us, and Peter's group who would normally be expected to beat us to grab the last seats at a cafe?
Denise, acting as our communications officer, and via What's App, found that Tom V had sent a message at 10.53 saying, "Change of plan. going to Horne" and Pete's reply at 11.06, "OK see you at Horne"
So now, at 12.05, Denise sent off our response " We are at Olivers!" To which Robert Gilly (Bob the Builder) responded " So everyone thought Des's idea was a good idea, except Des?!?!"
But Denise snapped back " I call it a stitch up, but the tortoises got there and the hares didn't!"
And last but not least, without the the normal riff raff getting there first, we got the best seats , out on the veranda to enjoy real tea, made with real tea leaves (no tea bags!) and each with our own individual tea pots. A deserving reward, for the breakawayers who were the only ones to reach la fin du cours.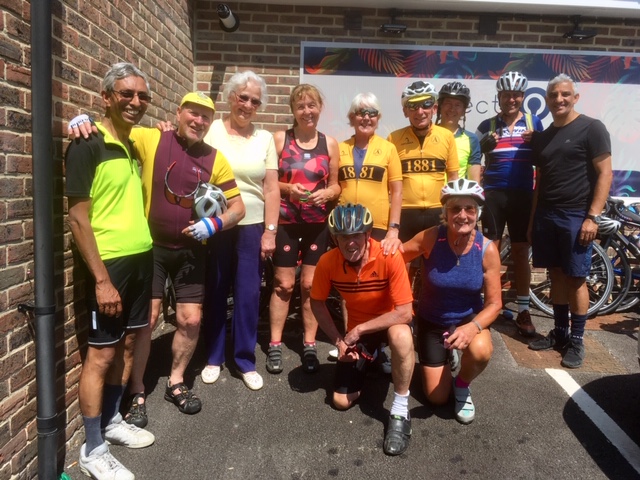 Les dix tortues
We of course went back by a different route. The sun was now high in the sky and hence little shade to protect us from the scorching heat reflecting off the tarmac. But even so, and just to rub in our superiority, we made a detour to go past Horne Golf Club. Then it was past the Red Barn, up Tandridge Lane and on to Marden Park and home.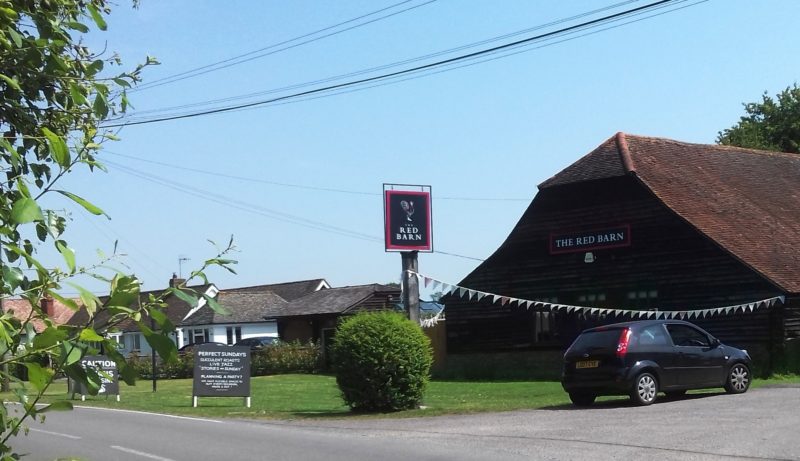 Unfortunately the overgrown hedge in the above photo, obscured the sign behind it on the left. It says "Caution Swans Crossing the Road". Is this a sign of climate change!
Des.