Sunday Ride: 11th December 2011
Spare a thought for Jeremy!  As Club Captain he has to turn out every Sunday whatever the weather, be it wind or rain, snow or ice.  This Sunday was just such a day.  Whilst most of the Anerley riders were still at home, tucked up in a warm bed, Jeremy was out in the cold and rain leading the few.  Only Tom Vaz and the hardy Ewa made it to the meeting point for the 9 o'clock start.  As a late starter I set off to  join them somewhere over the hills and far away.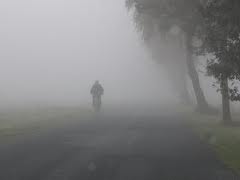 Climbing up towards Botley Hill Farm and into the mist of low cloud, the dampness turned to rain.  Expecting it to cease once out of the cloud and on the downhill towards Westerham I persevered onwards.  But it didn't stop.  So when I came to the Kent boundary sign I stopped to put on my yellow rain jacket.  Past Westerham, and nearing the top of the climb upto Hosey Common, I saw three similarly garbed cyclists coming down the hill towards me.  Not Dr. Livingstone I presume, but Jeremy, Tom and Ewa.
The rain bedraggled trio had already been to Chartwell only to find that the tea room was closed.  Rather than hang about until its opening time of 11.00, Jeremy had decided on an alternative, the tea room at Brasted.  So I joined the party to make up a foursome.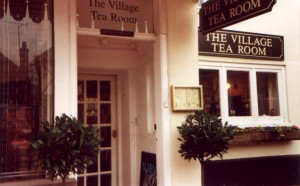 Soon we were relaxing in the warm by a wood burning stove at The Village Tea Room.  Three cheers for Jeremy, hot tea, toast and cake, and we all felt much better.  Definitely a place to remember for future winter club rides!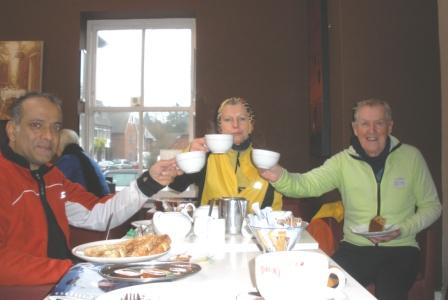 Warm but still damp, and by unanimous decision, we aborted the ride to Tilburstow Hill and the Hare and Hounds.  So homeward bound it was, the best place for our lunch stops.  The Hare and Hounds will have to wait for a future date.
But that reminds me, there is a tale to tell!  To find out what this story is, follow the link: http://anerleybc.org/tilburstow-hill-and-godstones-pirate/