Being the school half term holiday our all male pack was brightened by the addition of Ewa, and Mark was back after an absence of a couple of weeks. The ride started off late because Philip had a puncture enroute to the start at Shurguard. Not an auspicious start on this dank day. Although it was not raining when we set off, the roads were very wet. Definitely a day for mudguards to keep most of the spray off bikes and riders. It is supposed to the first day of summer on Saturday, so what has happened to the sun!
Our destination was the Four Elms Tea room at Chartwells Barn. This means a climb up and over the Greensand ridge. My choice for the climb was Ide Hill, the effort being rewarded by the views from the top, over Bough Beech Reservoir.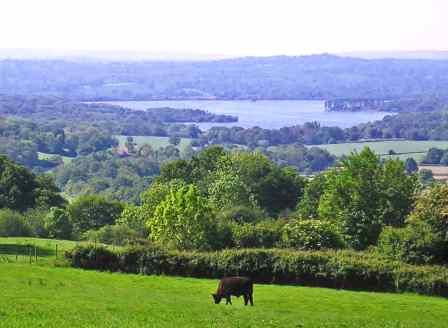 But more appreciated by cyclists than the view, is the long and fast descent from the heights down into Four Elms!  Left at the cross roads, past the parish church and there is the tea room, which today was already full with a couple of groups of cyclists.
Before setting off on our return ride, it was time for the weekly photo shoot, and to prove that Ewa did indeed brighten up this dull dank day!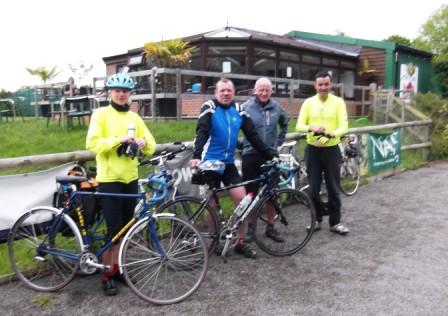 But at least the rain did hold off until the last few miles.  The heavens opened as we began the fast descent into Warlingham, just in time to spur me on as I sprinted for the 30 mph sign.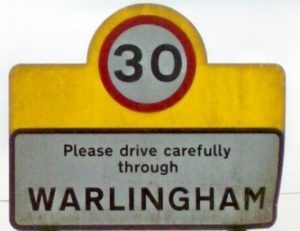 Next week , 6th June, is the first of this summer's Thursday Rides.  After the last two wet Thursdays, will it be a flaming June?
Find out by joining us at Tesco, Purley, 10 o'clock when we set off to the Waitrose cafe at Horley.
Des.