It was a great day to be out cycling on the Bank Holiday Monday, but for John T it was a real high!  A high day for him on his return to cycling on an Anerley club run.  It was his second venture out onto public roads, the first being on the previous Bank Holiday Monday at the beginning of May. On that occasion he set out from Reigate Heath and did a circuit around Leigh. On this week's Bank Holiday Monday he set out to conquer a more demanding ride. A ride from Bletchingley to Horne Golf Academy, with its fast downs and the draggy climbs which lead up to Outwood Mill.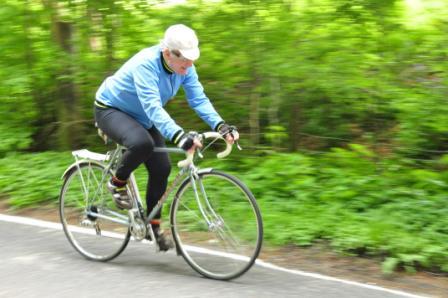 Starting with the speedy descent of the the hill which is used for the club's annual freewheel competition.  Here John took the opportunity to overtake me!
This Monday ride became a club ride with a good turnout of  Anerley's finest to accompany John to the tea stop. There was Tom and Julia Barnes, Ewa, Tom Vaz who took the photos, plus myself. And when we got to the tea stop at the Horne Golf Academy we found that we had been beaten there by Sandra, Carmen and another lady rider of the S.L.H tri-athletes.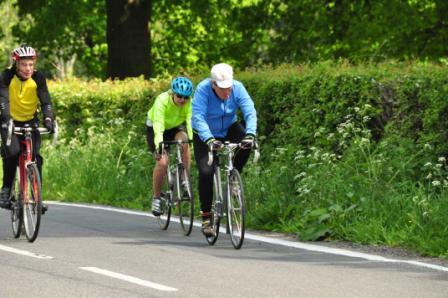 The outing became a club ride, with the bunch sprint being hard fought with John being chased by Tom Barnes and Ewa.
As well as taking the above photos, Tom Vaz caught some of the action on his mobile as he pedalled ahead of John T on his return to cycling on an Anerley club ride.