Thursday Ride: 25 April 2013
The first of the new Thursday Rides was a great success, due in part to it being the warmest day of the year. And I do love the sunshine. We all did!
We being myself, Dave and Ricky from previous Tuesday Rides, and a very welcome Mark Hancock who I remember as a bike racer wearing Anerley colours, in the last century. No not the 1880s but the 1990s! It appears that Thursdays are often his scheduled day off work, so he could become a Thursday regular!
Since hanging up his racing strip, Mark has continued riding, and with some quite exotic machinery. Today he was riding a carbon fibre Specialised Roubaix.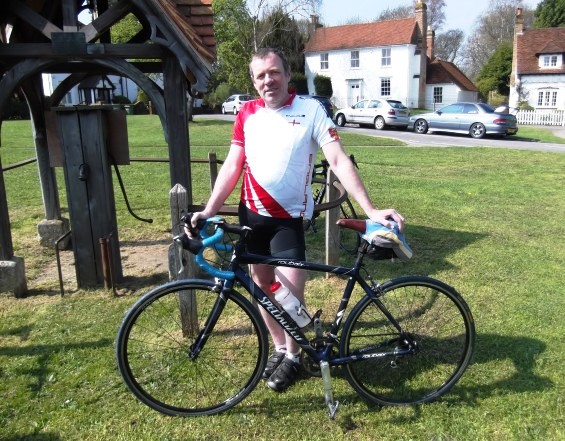 Of late Dorking has dropped off the mid-week ride list, principally because our favourite tea rooms have, one by one closed. However the memories of some years back suggested a possible place. One which was at least worth a return visit to see what it was now like. So off we pedalled, Kingswood, down  Pebble Coombe, Betchworth, over the River Mole, and along Wellhouse Rd to Brockham. We stopped here, by the village pump, for a group photo.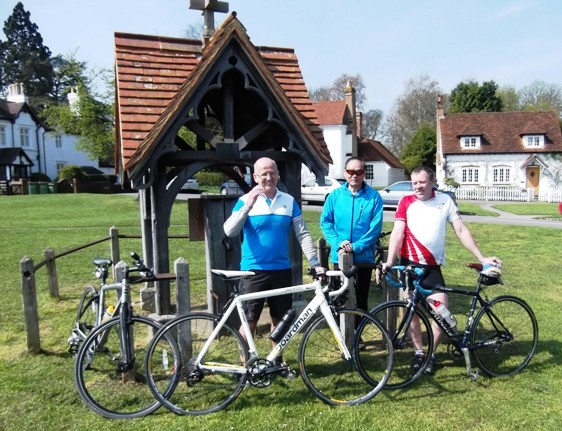 I mention above that we came into Brockham along Wellhouse Rd. It is only in recent times that the luxury of tapped water has been available at our homes. For example the artesian well that first provided tapped water to most of Purley was not dug until the beginning of the 20th century, and the 1867 Ordnance Survey map of Purley has marked the very few wells that then existed. So Brockham's Jack and Jill would have gone to the Well House to get their pale of water.
The village pump (above) was a modern luxury to the locals when erected in about 1880/1890.  It would have provided a most welcome refreshment stop to early members of Anerley B.C, who at that time often cycled thru this village. No country tea shops then!      
Following in the wheel tracks of these early cyclists we continued westwards past the old school house, following the back lanes until the last climb up Punchbowl Lane and then down into Dorking.  Here in the town centre is the old parish church of St Martin, and in the modern church hall, our bargain tea room. Toast and jam, plus a big mug of tea, all for £1.10! Now that's what I call Christian charity.
The journey home was up the now famous and much cycled, Boxhill.  When we  came to the junction with Headley Common Rd, we noticed that we were one man short. After a very short wait we espied a runner, who cyclocross style, was carrying his bike on his shoulder!
It was Dave, who with this amazing burst of speed, strength and endurance, soon caught us up. The man deserves a medal!
The problem was a rear wheel puncture caused by the innumerable potholes that now litter Boxhill Rd. Soon, fixed and reflated we were off again, heading towards Chipstead and the sprint for its 30 mph sign, won but only just by Mark on his Roubaix.
So that was the first of our new Thursday Rides. Next week we meet at Shurguard and pedal off into the border country of the counties of Kent and Surrey. Destination, Bridges at Edenbridge for tea.