Thursday Ride: 3rd March 2016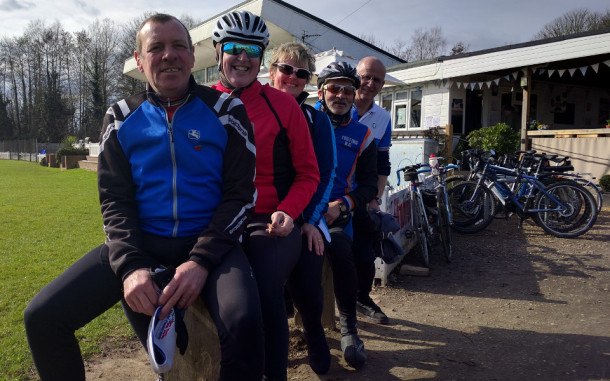 We had a ride to the Thames today. We went to Thyme by the River. This is a venue we went to last year.
Riders out where Belinda, Tina, Barry, Stuart, Dave G, Frank who turned back at Woodmansterne and myself. We rode up Foxley Lane and into Woodmansterne, onto Banstead and across the A217 onto Epsom Downs where we dropped down hill into town,turning left we reached the crossroads at Malden Russet. We rode across and up to Oxshott were we rode under the A3 and into Esher riding through town and alongside Sandown Park racecourse. We finally reached East Moseley Cricket Club and Thyme by the River.
Glorious weather today we sat in the sun eating welsh rarebit and sausage sandwiches. After lunch it was a fast ride back with the girls setting the pace. What goes downhill has to go up so we had to climb back up to Epsom Downs where we stopped for coffee.
46 miles in 3 hours 25 minutes ave speed 13.2 mph.