Sunday Ride: 6th March 2016
It has been a very long time since the Anerley cycled to Wisley so it shouldn't have been a surprise that details of routes were a bit sketchy. I was a bit nervous as I had three people asking if we were going "off road" before we left. The answer as usual was not intentionally!
Mark came out on his beautiful shiny machine, Ewa on her spotless "Black Widow", two new riders Rick (new to club cycling) and Pete from the Addiscome as well as some of the usual motley crew.
Nonetheless after Leatherhead came Bookham Common and there we came a little unstuck. There is a hard packed gravel and dirt track through the commons and at one point I took a wrong turn. Rather than following me back most of the club followed the instructions of a total stranger – going in the wrong direction – which made me very cross. Anyway we were reunited after 10 minutes thanks to a phone call and a trip back into the woods for me to fetch them.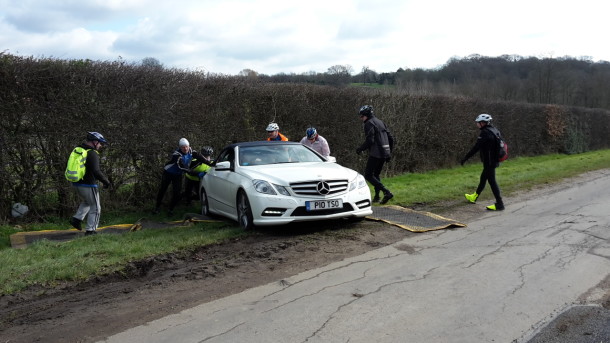 As we left the common we came across a Mercedes stuck in the mud and the Anerley provided the rescue of a posh but distressed damsel. The excitement made us a team again and we moved on through Downside and Ockham where Guildford council wish to build a new town on a disused airfield.
Sadly my plotted route ended a few hundred yards from Wisley on the wrong side of the A3 and meant we had to turn back at a mud bath. We met Jeremy heading towards the same mud bath and after a little discussion we ended up crossing the A3 at the Ripley roundabout. Here we tried following a road with a sign for the Wisley which turned out to be a gated golf club so we took the last resort as and used the hard shoulder if the A3.
The coffee room at Wisley only contains a small indoor seating area but fortunately the sun was shining and we sat among the garden lovers soothed after having had quite an adventure.
To get home we crossed the pedestrian footbridge and discovered that the A3 has a cyclepath along the Southbound carriageway which provides a more sensible route for a future visit.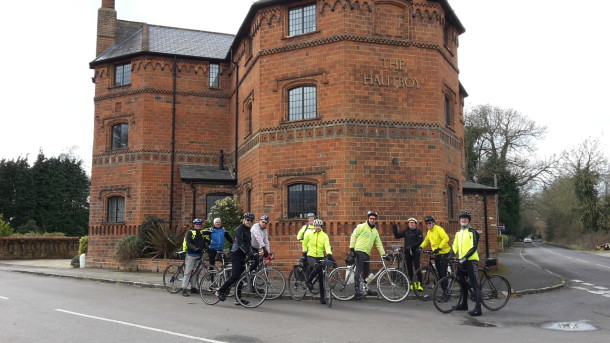 At Ockham we passed the famous Hautboy Hotel. A great injustice had been done in this establishment in 1899 when Lady Harberton was refused service on account of her rational cycling dress.
The Cyclists' Touring Club, founded 20 years earlier, took up the case but lost in the courts. Lady Harberton was Florence Wallace Pomeroy, (1843-1911). Wealthy and eccentric President of the Rational Dress Society from 1883, a body devoted to liberating women from "humiliating" over elaborate clothing.
No punctures on the way home as we left the drinkers at the Stepping Stones before climbing Boxhill. Mark went back to rescue new boy Rick who suffered from cramp and walked it.
Somehow my 44 mile route turned into 55 miles but with only gentle climbs it was good.
My special congratulations to Emma who came out for a Mother's Day ride before going home to her lunch. Hope you didn't fall asleep in your spaghetti!