This Thursday we beat the record set by the Tuesday Riders. A few weeks back they were bragging about having 7 riders out, plus John and Meike, making a total of 9. Well we topped that. We managed a grand total of 10!
These were Dave and Frank from Selsdon, Mark  and George from out Carshalton way, Philip from Forest Hill, Brian from Redhill, me and Ricky from Purley, plus John and Meike who met us at the tea stop, The Pine Shop at Charlwood.
Knowing that this destination is a weekly venue for the Addiscombe mob, I decided to go by a different route to keep my group guessing. This seemed to work well because we lost Frank before we had even left Coulsdon!
He did manage to find his way back to us as I had told him that we would head out via Netherne.
Netherne used to be a mental hospital in extensive grounds. It is now an up market housing estate with a maze of cul de sacs and several traffic free paths. Brian knew the area better than me and navigated us thru a very nice network of tarmac paths. Certainly a route that I will return to on future bike rides. This is what Frank e-mailed me:
Hi Des, Excellent new route today to Charlwood via Netherne Hospital, not with standing my early aberration on to Farthing Down. More discussion over refreshments about Anerley shirt as I was wearing Addiscombe C.C, as you know. Brian held forth on the subject. I said I would switch shirts as soon as I can buy the phantom ABC shirt when available…………
Last weekend was the last 2 stages of The Tour of Britain. Saturday's ride, starting at Epsom and being over our own Surrey roads, naturally attracted several of our club members to spectate. Frank, still awaiting his Anerley bike top had to desert us and go out with the Addiscombe contingent.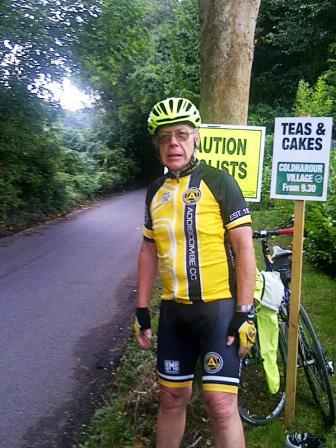 Tea and cakes were not enough for thirsty Frank who informs me that he met Mark in the pub at Coldharbour. Mark apparently having ridden out to spectate on his Moulton. No pics of Mark or Moulton, but Frank did provide these of the big day, big event and big hill (Leith Hill).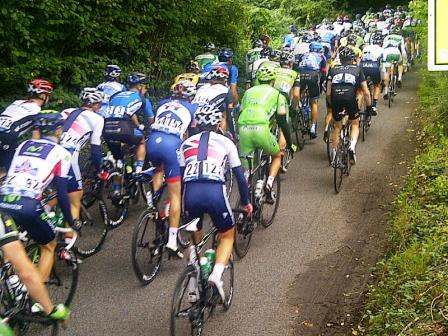 Do you recognise these famous back sides? 
Well that's it for this week, next Thursday meet at Shurgard when we set off for the Place to Meet coffee shop at Lingfield.
Des