This item was posted on the club website in 2013 when disc brakes were relatively new amongst British club cyclists. Mountain bikes led the way with these better and more efficient brakes, followed by cyclo cross riders, now road bikes are catching up.  Discs are now very popular, even standard equipment on many new bikes.  This is evidenced with several Anerley riders having bikes with discs.  Perhaps it is time to revisit the original posting, with a more recent update added, and which compares discs with the long established rim brakes.
This is an extract from a 2013 newsletter from Road Bike Rider (for much more, new products and other interesting items) access the  current issue here
 Disc Road Bike Brakes
Technology marches on in road riding. The past few years have been dominated by the introduction and slow expansion of electric shifting, and by the ongoing variations on a theme in approaches to power systems.
Both continue to evolve and are slowly gaining traction on the road. But both remain prohibitively expensive and somewhat of a novelty for a huge swath of road riders. They are, in a nutshell, elective products that for many would be nice to have, but are not at all necessary.
Enter the new kid on the road tech block: hydraulic disc brakes. Both Shimano and SRAM have entered the market with road disc brakes (as well as hydraulic rim brakes). But, since this is, in fact, trickle-down technology (they've been used on mountain bikes for years, and are now UCI-approved on cyclocross bikes), the cost-benefit of road disc should make this tech much more acceptable to the average roadie – at least when it comes to buying a new bike (you can't just upgrade to road disc!).
I had the chance to ride bikes equipped with both Shimano's (photo) and SRAM's hydraulic road disc brakes, and I was impressed with both. Both are super-responsive, 1-finger brakes. By that I mean that you can stop the bike – not just scrub some speed, but stop it completely from pretty much any speed – using just 1 finger on the brake lever. That gives you a good indication of the power these hydraulic systems have compared to rim brakes.
The modulation of these systems is crisp, and hydraulic road disc allows a somewhat different approach to braking compared to rim brakes. Whether heading fast into a corner or otherwise approaching a point at which you need to slow down, or stop, fairly quickly, you no longer need to "plan it out" so far in advance. In other words, you can brake later, and faster, with the hydraulic disc brakes.
Both Shimano's and SRAM's systems have the reservoir built into the shift lever. A 135mm hub width is standard, and both offer 140mm and 160mm rotor sizes. A major difference between the two in their first iterations of this new-to-the-road tech is that Shimano's system is only available on a non-series (Ultegra Di2) electric shifting platform. SRAM's comes in an 11-speed Red mechanical system, and a non-series (Force-level) 10-speed system. Because SRAM's is built into mechanical levers, the shifters are somewhat bulkier.
Both makers say they have done massive amounts of testing and tech to guard against heating issues (cooling fins on Shimano's caliper, for instance), ensure easy bleeding, and both migrate the mounting systems from existing technology. Both acknowledge a slight weight penalty with road disc, but benefits over rim brakes are obvious, they say. And trickle-down tech should help keep the increased cost of the new systems (as part of a new bike) more affordable than, perhaps, electric shifting systems.
Nate Newton, SRAM's road tech rep at Interbike, characterized hydraulic road disc and rim brakes this way: "We consider disc brakes to be the future. Discs are the best braking option. Hydraulic rim brakes are a great stepping stone. If you're coming from regular rim brakes, it's a great way to give yourself a massive braking upgrade."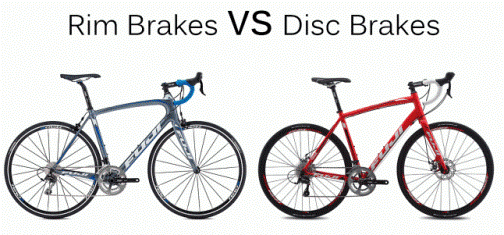 So in 2016 what is new?  Disc brakes have long been used in competitive cycling, but not in road bike racing. That has now changed as the U.C.I has given its approval.  Being a new technology as far as bicycles were concerned, some teething problems have occurred, and further developments are still being made. So read on for the pros and cons of discs as we enter 2016  .