Another week goes by and the summer weather continues, but perhaps not for much longer. The threat of thundery showers did not materialise so we a good ride down to the Pine Shop at Charlewood. Frank who joined us for this week's Thursday Ride had already been to the Pine Shop with the Addiscombe mob. However, unlike the Addiscombe cyclists we don't stick to the same route, week in week out. So specially for Frank's benefit I made up a route which I am sure was new to him, and hopefully also for others on our ride. We ended up doing about 38 miles, and at a fairly fast pace.
Frank has been one of our newer club members who has been waiting patiently for one of the new Anerley B.C  cycling tops. However as no progress seems to be taking place in providing them, he has given up waiting. Instead he has bought  Addiscombe C.C top and shorts.
Philip also came out this day with a new cycling top, one provided by Scope, the charity for which he is doing the 100 mile Round London Bike Ride in just over a weeks time.
So here is a picture of them both resplendent in their new clothes!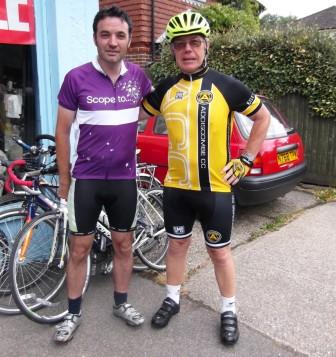 And so that the rest of us did not feel left out, Ricky took a pic of our little group outside the Pine Shop tea room.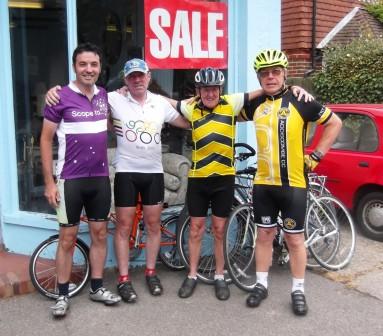 Next week I am away at Scout camp by Lake Windermere, so I hope the good weather lasts another week! And will there be any news on the Anerley bike tops when I get back?
Julia who could not make it out today, is making up for her absence by volunteering to lead the ride next week. So meet as usual at Shurgard, 10am, and Julia will let you all know by a Chat posting of her choice of tea stop destination.
Des.