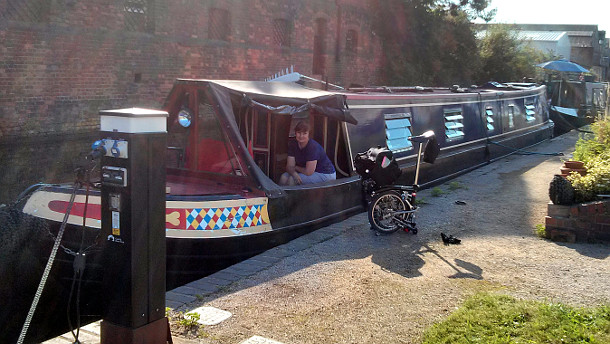 This is not the first time we have lost the Club's leading Audaxer. Louise whose memorable Paris-Brest-Paris 1200km ultra Audax won her the Club's 2011 Calder Trophy is alive and well and not quite in Birmingham.
She has set up a new home with two cats on a barge. By chance she has it moored less than half a mile from my mum's Nursing Home in Smethwick. I visited Louise on first day of August I as she was preparing to sail south to Alvechurch in Warwickshire for a bit of greenery during the school summer break. I'm not sure she is taking a break from her School admin job but at least she can do it remotely.
Louise has had no chance to ride her bike until very recently and claims to be really out of shape and struggling on 50k rides. She claimed that before and then went on to do the PBP. Looks like history repeating. A 100k Audax at the beginning of September followed by a 200k in at the end are already on the target list leaving plenty of time for the 2015 edition of PBP. Though whether she will be doing it in Anerley colours is another matter – and yes she did ask about the new strip – and no I didn't promise it ahead of the 2019 run.
Louise is now riding with the Tamworth club which has some old friends she knew from YACF.
She asked me to give a BIG HI to all the members of the club.
Great to see her again. And that's my semi-folded Brompton if you were wondering … I'm not impressed with Birmingham's canal tow paths masquerading as NCN5 but that's another article.