Sunday Ride: 21st July 2013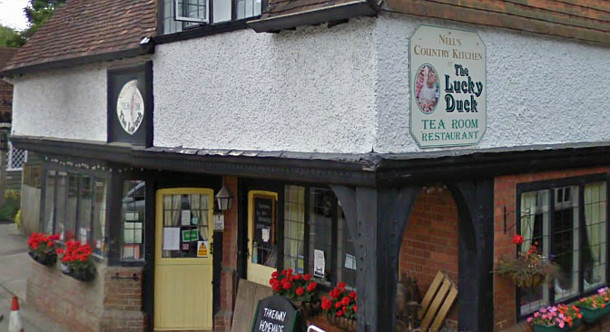 Here is a brief report on Sunday's ride:
The day may have started dull and grey but that didn't last. A group of six riders headed to Shere for 11's via the Piccadilly Circus of cycling routes "Box Hill". Great to see all these cyclists out and about, but where were they 18 – 24 months ago? Once leaving Box Hill the group entered the tranquillity of the bridle path from Denbies to Ranmore Common then down to the A25 before heading along to the teastop. Alas I have to report an instance of road rage when one of the group was "cut up" by a motorist!
Now some may say because I come from norff of the border that I'm a wee bit tight when it comes to money, but £7.35 for a egg & bacon sannie and a cuppa tea, well what can I say!!! Most of us could leave the "Dabbling Duck" formerly the "Lucky Duck" after our cuppa, poor Julia found that she had chained her bike to a bench and lost the key!!! After a prolonged search and still no key, the dreaded call to Tom had to be made "Help, bring spare key!!!". At the time of writing this report no confirmation had been received that Julia managed to release her bike.
As we left Shere the sun came out and the decision was made to cut the ride short (only by 7 miles or so), so instead of going to Walliswood we turned off at Ewhurst, heading home via Capel and Newdigate. Both Ricky and Jeremy had chains come off, the heat was blamed. An ice cream stop was made at Reigate and very welcome it was too. 55 miles in total was covered, well done to one and all.