Thursday Ride: 24th October
The last Thursday Ride started on an ominous note. A short text message from Philip's mobile "I may be late my chain is broken".
Not knowing where this had occurred, or if he had the necessary chain tool to effect a repair, we decided to wait for another 15 minutes as we didn't really expect him to get it fixed. With time up we were just about to mount up when Philip arrived!
But this little episode was not the first, but second such problem in this month of October.  Tom Vaz suffered a broken chain on a recent Tuesday Ride. Both Philip's and Tom's bikes have the latest 10 speed cassettes and corresponding narrow chains.
In recent years gears have proliferated from 7 speed cassettes in the 1990s to 10 and even 11 speeds, with ever narrower chains, in the 2010s. Is this perhaps the reason for what now seems to a more common  problem with bike chains. In my early years in the Anerley Bicycle Club, broken chains were a rarity, but of late the problem is becoming an annual event. Why is this?
On this year's cycle tour along the Rhine and Mosel rivers we suffered two chain breakages. The first was on our first day when cycling thru Luxembourg towards Germany. We had been climbing a steepish incline when it happened.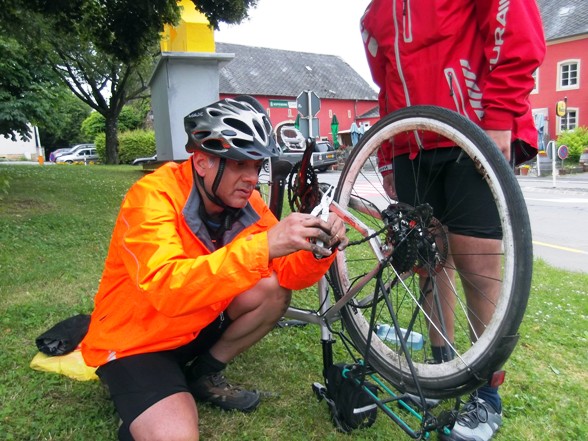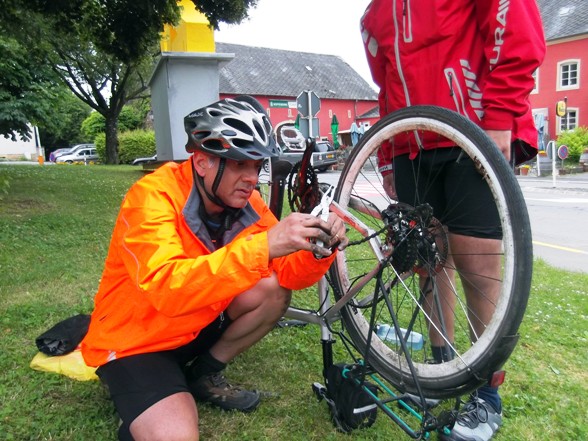 Here Tom is fixing the problem which occurred on the bike that his son Christopher was riding.
Whilst this was quickly fixed by removing the broken link, it was only the first of the chain problems.  On our penultimate day, whilst coming back over the hilly Hunsruck from the River Rhine en-route to the Mosel, this same chain broke again whilst under severe tension  when cycling up another steep incline. This time the damage was much worse as the chain snagged in the rear derailleur.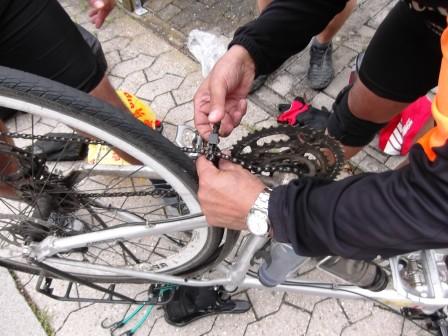 A chain rivet extractor tool in action as a new chain fitted is fitted.
However on this occasion a new chain did not fix all the problems, the bent rear derailleur was another matter! A bit of metal bending did eventually get the gears working, or at least most of them. Fortunately Christopher was fit and strong enough to ride this hilliest part of our ride, and the remainder of our bike ride to get back home to the UK, without the full range of gears.
I had earlier, written an item about how to fix a broken chain, and the necessary tool required – a chain rivet extractor. See http://anerleybc.org/bike-chaining/.  This web posting was as as a result of a broken chain, suffered by Louis. The item generated a number of comments from others  (including one from Stuart) who had also suffered broken chains. Whilst my web posting was about how to fix a broken chain, I am now wondering why we seem to be having so many problems with chains breaking for no apparent reason.
In over ten years of cycling with the Anerley I have only had one broken chain, and this was with a new bike which had done only about 500 miles.  Since then I have done many thousands of miles with this same bike, and others, with no re-occurrence  of this problem. On the occasion that my chain broke I was climbing up the last and steepest part of Flower Lane, just before turning off onto the bridleway that leads into Marden Park. The bike in question was fitted with the latest Shimano gears, which at that time was the newly introduced 9 speed cassette with its corresponding narrower chain. Now cassettes have expanded to 10 and even 11 speed cassettes, and with ever narrower chains.
Is it the combination of these wider cassettes and narrower chains which are causing the problems with chain reliability?
Although I do not know the reason for my broken chain I suspect that it was the result of inappropriate use of the gears. We are advised not to use the big chain ring with the biggest rear cog, or smallest chain ring and smallest rear cog. With the extra cogs of the modern cassettes, this becomes the two smallest/ two largest rear cogs.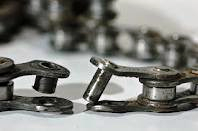 These combinations result in excessive bending of the chain and the sideways bending puts excessive strain on the rivets and side plates of the chain. This is probably the cause of our broken chains.  The increasing number of cogs on the rear cassette makes it easier to lose track of what gears we are in, and hence a greater likelihood of inadvertently using incorrect chain ring/ rear cog combinations.  It is many years since my broken chain and I have been more careful in the use of my gears and have not had a re-occurrence.
Des.