This week's Ride report is a joint effort by Frank Kippin and myself, but my bit was inspired by Frank who was the first to put fingers to key board.
Meeting at Shurgard we were joined by John Dadson out for his first Thursday Ride. He is of course one of the Tuesday Ride leaders so I hope he enjoyed the pace and company provided by the Thursday outing. Another welcome face was Eva, making the most of a day off from school.  Not truanting, but striking – industrial action by teachers! To make sure it was not just a rest day for her, I set off and went immediately into climbing mode, up the long and steep Purley Downs Road, to Sanderstead pond. From there it was a long and easy downhill, thru Selsdon to Addington and along Featherbed Lane with its final climb upto the White Bear, country pub.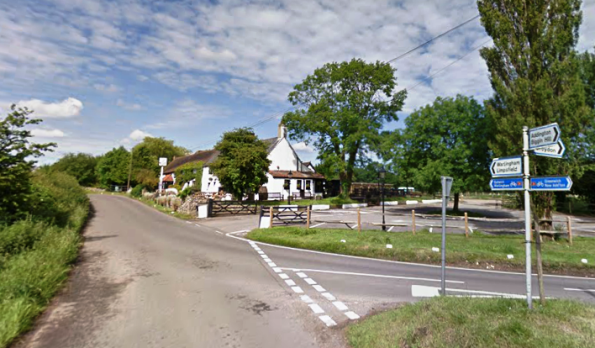 The country lanes soon took us over the border from Surrey into Kent towards Keston. Right on the boundary between Keston and Downe was our tea room at Holwood Farm.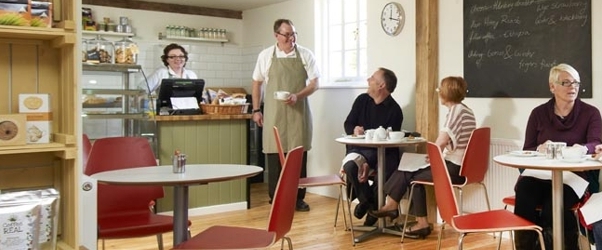 But it was only five past eleven when we arrived, and much too early to stop, so I continued on into the lovely old village of Downe, with its very old parish church, the George and Dragon pub, and note, another tea room! However we didn't stop but carried on around its network of back lanes before returning to the tea room at Holwood Farm.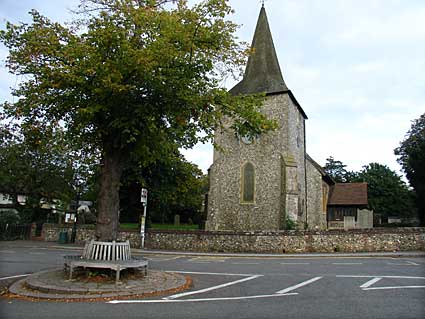 .
And so, over to Frank:
Hi Des
Enjoyed ride today and your final circuit round the village of Downe to add a bit of extra mileage to the tea stop at Holwood Farm.
Weather quite good and not too cold. Next time must get a picture of the nicely cleared pond opposite the White Bear.
After you and then John Dadson left us at Holwood Farm we went off to Botley Hill via the interesting hill climb on Clarks Lane up to Tatsfield Village.
Eva was present due to School Strike today!
Phil, Mark, Eva and myself acted as John's Preatorian Guard from Botley Hill to Lower Barn Road, to the Turnbull's house. John was as pleased as punch with his ride. We had a short sharp shower coming down Mitchley Hill. Meike kindly provided hot drinks and French bread. Phil was finishing his master class on wheel building with John T for his new tandem. Phil will be asking for volunteers to ride with him on a ABC cycle run in due course!
And mention of  Phil's tandem reminds me that he sent me a photo of the bare bones after  he had stripped it down for renovation and re-building.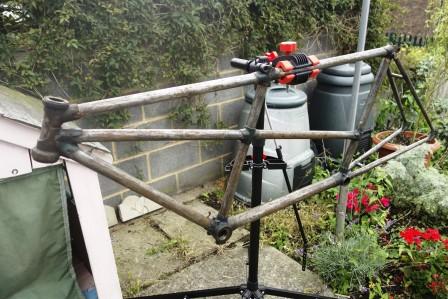 Obviously the project is progressing! So Phil, I am sure that more news and photos would be greatly appreciated by us avid cyclists.
Des.