Sunday Ride: 27th October 2013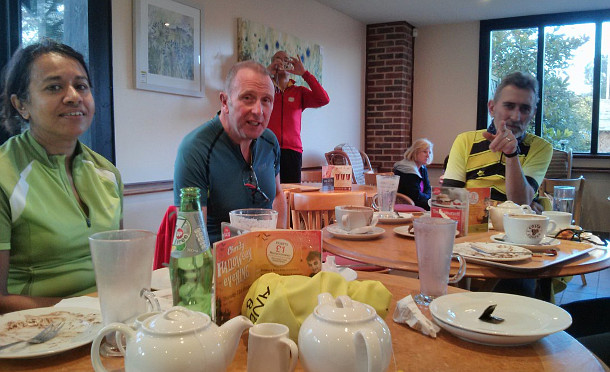 A horrendous night of rain abated at 8am just in time (helped by the clocks going back) to get to the start unsoaked. Six started including Pete making his first appearance with The Anerley. We grew to seven with Jeremy catching us up en route over Farthing Down, Chaldon, Nutfield, Smallfield and the back lanes to Snowhill Garden Centre.
We were joined for tea and cake and being photographed by Tom & Julia. They forsoook us for a sunday lunch out. We pedelled up the Royal Oak at Staffhurst Wood arriving on the stroke of noon. Its good to report that Oak has not been entirely converted to feeding the masses and retained its true country pub credentials with a blazing fire. Even better the rather splendid beer came out at only £4.43 including the mandatory plain crisps. A significant low in our quest for good value pubs.
There was a big discussion on doing something exciting next year. The consensus was for an outing to Mallorca. Great weather, great cycling and good bike hire if you don't want to take your own. Gina is going to have to work hard to avoid organising this one!
Jeremy, a man of so many parts, gave us an origami demonstration featuring three crisp packets transformed into the club emblem. Bravo!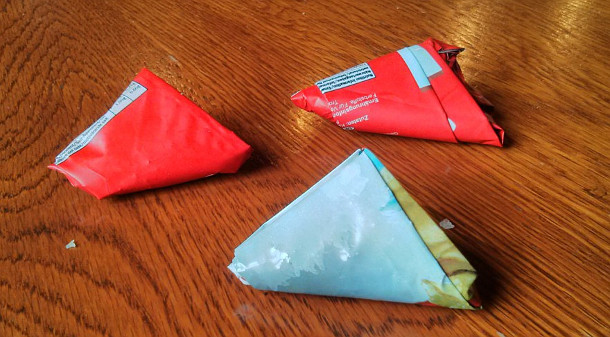 We got back in good time in front of the upcoming storm that closed the railways till the following afternoon. A great ride between the weathers.