It's  catch up time!
Getting my bike fettled for the tour in Germany, packing, last minute arrangements, etc, meant that I didn't have time for the write ups for the last Thursday Rides in June.  So better late than never!
Thursday, 20th June, was the longest day of the year but nearly the shortest ride of the year for Philip!
When we met at Shurgard he was busy on his mobile, phoning for help at the nearby Bike Plus. The bike shop then had a go at fixing the problem. If you have sharp eyes you will notice that something important is missing from his bike in the photo below.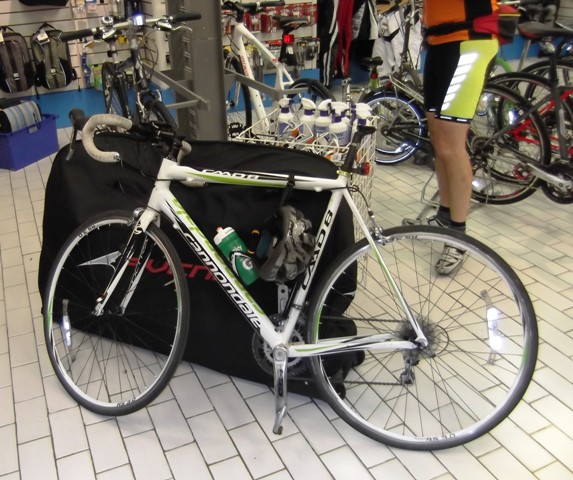 You can't see the missing item?  Well I will give you a hint.  Check the contact points!
As Philip was cycling past Crystal Palace on his way to the ride start point at Purley, something very important on his bike failed. Something which necessitated that he pedalled the rest of the way standing up! It was a problem that I have never heard of before, something hopefully rare because  Bike Plus were unable to effect a repair.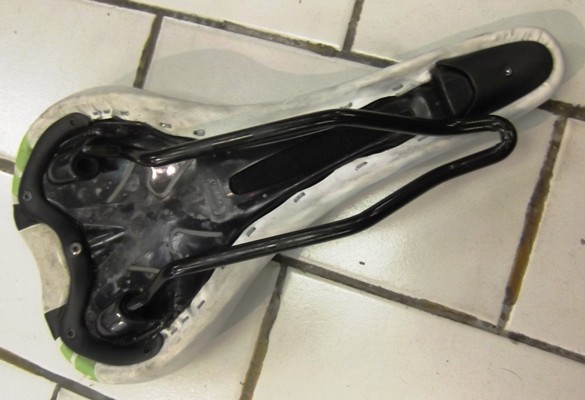 The problem is shown above. The saddle rails had come out of the lugs moulded into the underside of the saddle.  How and why this happened is a mystery.  Apparently there is a tool for fitting the rails into the saddle but not many bike shops have it in their workshops. Philip's only choice was a new saddle! Problem solved and his Thursday Ride was completed.
I was interested to hear on yesterday's Thursday Ride, that Philip did get his saddle repaired. A bit of lateral thinking by him, suggested that a blacksmith might be better at metal bending than a bike shop. So he popped into a one man smithies at Surrey Docks and the saddle was soon back to its intended purpose of a bum support. And the good bit, asking hesitantly about the cost of this repair, the smithy said "Just give me a quid for a pint of beer". Beer must also be cheap in London's Dockland!