Another, better late than never.
As  I was off to Germany on the following day, with a 5.15 am start to our journey, it was just a short ride on this Thursday.
I had arranged to meet John and Meike for our weekly rendezvous, and as Meike had an appointment to keep that afternoon we had arranged an early meeting point at a place not too far away.  The tea room at Walton on the Hill met these criteria nicely, but to add a bit of umph for my accompanying riders I added a few hills to the indirect  route to our tea stop.
The accompanying riders were Philip, and Mark, plus a newby who normally rides with the Addiscombe  pack but wanted to see what the Anerley had to offer.
The first climb was up Portnalls Rd to the heights of Chipstead on the Hill, then after a loss of altitude down White Hill it was a much steeper climb up Southern Lane and the undulations around the back of Mugswell to eventually come out on the main A217. From there it was the Dorking Rd to Pebblecombe,  Headley Common and a loop back from the top of Langley Vale to end with the climb up Hurst Rd/Ebbisham Lane to Walton on the Hill.
We arrived at the tea room just as John and Meike arrived, which offered the opportunity for a photo of our assembly with Walton Pond in the background.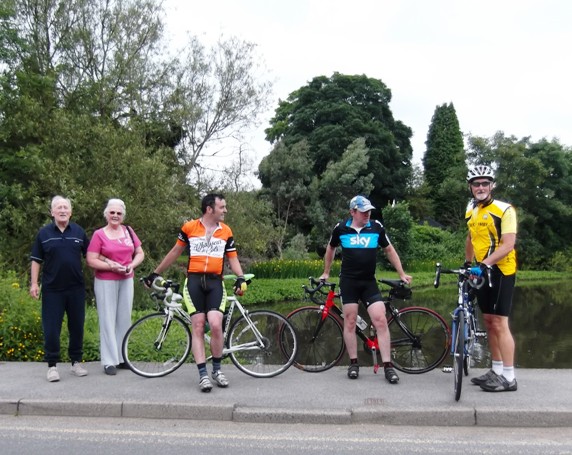 Philip who is in training for his 100 mile charity bike ride, the classic Ride London, wanted more miles in the bank. And more hills. So the three riders shown above, set off after the tea stop for another circuit to take in Box Hill as this features in the many climbs in Philips upcoming Ride London event. You will all (I hope!) have read his Anerley Chat message. If not check out his request for support at  http://bit.ly/philip4scope