Thursday Ride: 17th March 2016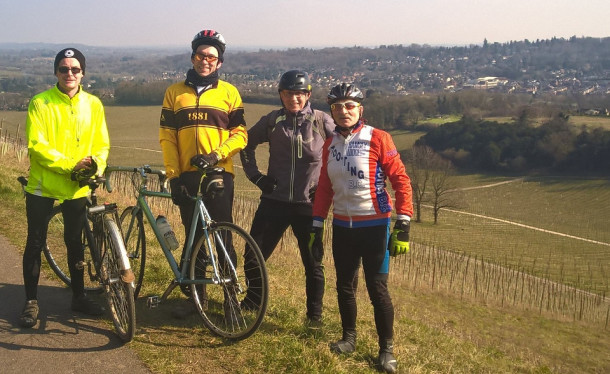 Belinda's Report:

Thursday's Sunny but cold ride started with 4 Anerley members Dave, Barry, Jeremy and Belinda. We were joined by Tim who introduced us to the delights of Strava and also proved to be quite a climber! We started the ride at quite a clip as we climbed up towards Kingswood and through the private estate . We flashed down through Headley , Little Switzerland and started the long slow climb up to Ranmore common. As predicted Barrie and Jeremy were first up , followed closely by Tim , who as new to the climb almost got caught out by the switch back!
Then on through Ranmore down the corkscrew turns of Whitedown Lane, arriving in Gomsall with smoking brakes and rumbling bellies. We were joined by John and Mieke in the lovely Compass Inn were we debated the merits on NOT climbing back up through Whitedown lane. Needless to say there was no alterative and Belinda was coached up it by Dave who taught her the benefits of using a low gear early on!
Photos were taken at in Denbies, before Box Hill. This time Jeremy again was first up and Dave was regretting his lunch of a pint and a packet of crisps and he bonked in Coulsdon requiring energy gels (he even said that they tasted nice!)
Approx 52miles not sure of average speed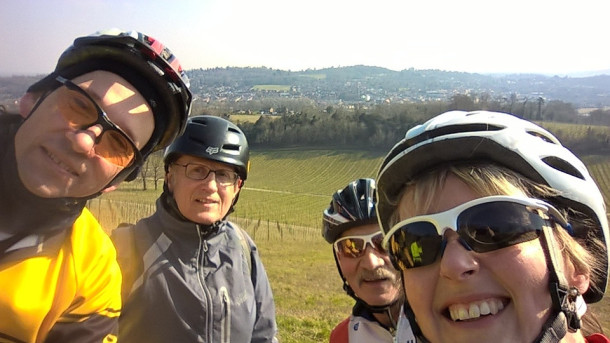 New Boy Tim added:
I should be able to add to Belinda's report, with an average speed for the way back, thanks to my Strava, although I'd prefer first to do some maths to factor out the part of my ride after I left Barry – and managed to get totally confused getting across Croydon. On the way out, Strava managed to lose me before Ranmore Common, so it appears I flew as the crow on a totally smooth descent flight path from Walton on the Hill.
If only – coming down from Ranmore Common – Whitedown Lane – I was terrified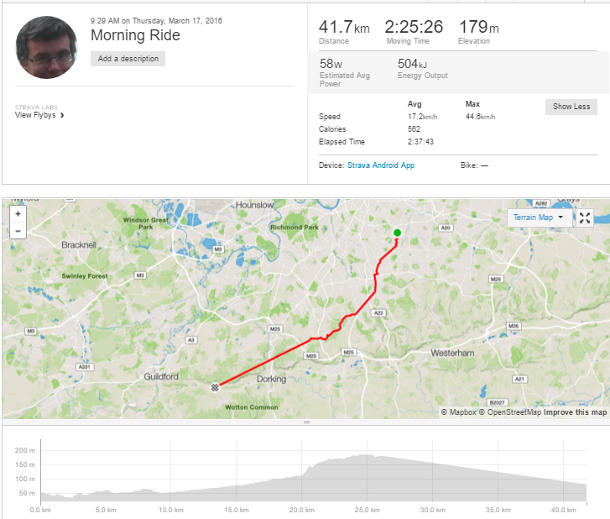 Anyway here we were on the way back up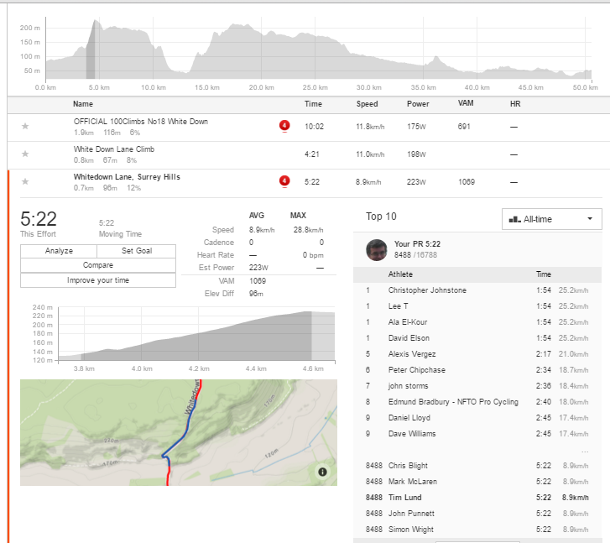 although I'm not sure what all those numbers mean.
Forgetting about the numbers, it was a great day, weather, route chose and company.